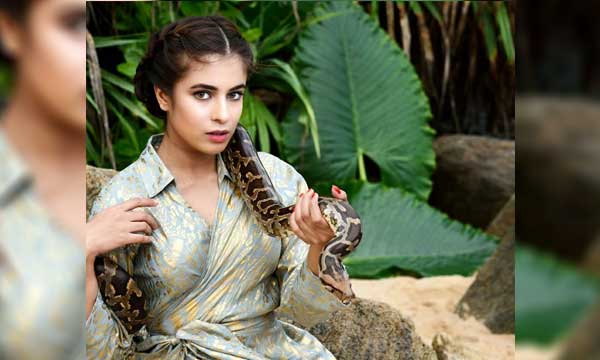 The rising stunner, Zainab Raja was crowned the Miss Veet Pakistan 2016 winner last night. Amidst a tough competition of 12 contestants, Raja made her way to the top and is now all set to join the ranks of Pakistani's top models like Cybil Chaudhry, Sadaf Kanwal, Amna Ilyas and Mehreen Syed.
Truly, she has it all to take Pakistan's modeling industry by storm. Her scintillating looks and uber- chic style made her stand out from the rest! It is apparent that now all the spotlight will be on Zainab Raja and people are eager to know more about the new pretty face in the industry!
Here is all you need to know about Miss Veet Pakistan 2015 winning Haseena!
The 20-year old Raja resides in Islamabad! Born on 20th December, the scorpion is nothing but fierce & passionate!
With snakes being her biggest fear, she posed with such sass with the monstrous snake around her neck during one of the challenges
It is not just pythons she was afraid of! It was all sorts of animals seems, but Veet's Contest made her stronger!
Her Lifelong Dream? Becoming Pakistan's most prominent Actress!
Many might know, she has debuted in the latest ARY Digital drama, Mora Saiyaan, co-starring Uzair Jaswal & Neha Rajput.
While other brothers don't encourage their sisters to model, her bro became her support system in her rise to fame!
Zainab Raja turned out to be even more groomed after her Veet voyage!
[fb_embed_post href="https://www.facebook.com/zainab.missveet/photos/a.327676624271990.1073741827.310385772667742/328791170827202/?type=1&theater/" width="550″/]
Speaking at the Miss Veet Pakistan 2016 Grand Finale Lunch, the brand manager of Veet revealed that they will continue this legacy by taking this platform on an academic level in 2017!
She divulged that charm, confidence, fitness, and health are the must-have traits in every budding model.
Check out what Amna Ilyas had to say about being a mentor at Miss Veet Pakistan!
Congratulations to Zainab Raja on bagging Miss Veet Pakistan 2016 title. More power to the star!