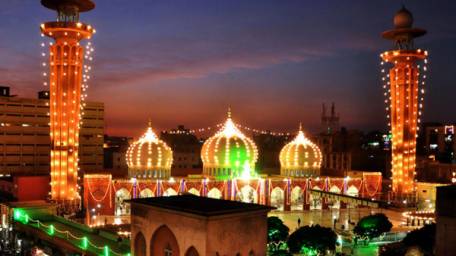 To mark the celebration of the pious day of Eid Milad-un-Nabi 2015, a massive cake weighing a whopping 12,000 pounds was prepared by 20 chefs over the span of 10 days at the shrine of Chaddar Wali Sarkar in Multan.
A total of PKR 3 million was spent in the making of the cake with no artificial flavors used. The cake was cut on 12 Rabi-ul-Awal in the presence of hundreds of devotees.
A shrine manager said that the cake was distributed amongst the devotees and they prepare a cake every year in order to celebrate Prophet's (P.B.U.H) birthday in this special way.
Hordes of people from Karachi, Faisalabad and Gujranwala traveled to Multan in order to get a glimpse of the cake and be a part of the celebration.
"We made every effort to ensure hygiene and cleanliness in the preparation of the cake. All the workers and chefs were directed to follow a strict personal cleanliness routine," said Syed Ali Hussain Shah, the custodian of the shrine to the Express Tribune.
The visitors seemed ecstatic to be a part of the ceremony and expressed that all Muslims should celebrate this day in its truest form in order to keep its essence alive. One of the chefs also said that he found solace being a part of the making of the cake and he volunteered for the job.