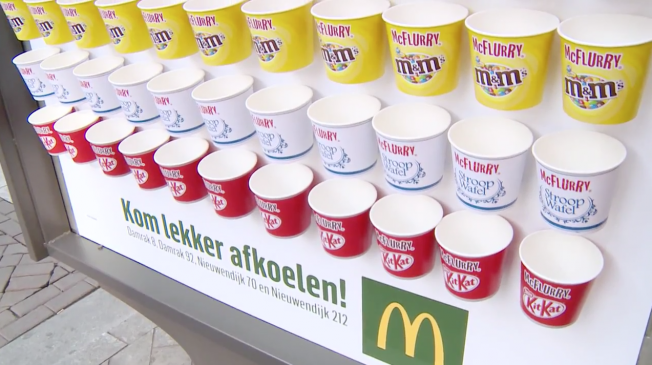 McDonalds  has made an amazingly creative billboard to beat-the-heat and let consumers rejoice by offering a free McFlurry.
This innovative idea was brought by McDonalds along with JCdecaux, an outdoor ad company, McDonalds Netherlands created a billboard containing 100 McFlurry cups. The Billboard was operated through heat-sensitive panels that open up when the temperature reaches a fixed point i.e. 101.48°F.
Inside the panels, there are 100 McFlurry cups comprising of flavors including McFlurry KitKat, Mc Flurry Rocky Road, McFlurry M&M's and McFlurry Stroop Waffle. People can grab a cup of McFlurry on their way and can collect the free ice-cream from the nearby McDonald's restaurant.
Read More: McDonald's Pakistan Invites People to Visit Their Kitchen
McFlurry is one of the most popular offerings of ice-creams by McDonalds acrossthe world. The Outdoor advertising stunt is more like a vending machine and less like a billboard. Despite this confusion, it is still a creative and attractive attempt at luring in customers and cheering up people in heated weather.
See how this creative billboard works:

For the panels to open, the temperature must be 101.48°F that is pretty high for such a promotion. McDonalds have yet again proved itself as the company that brings happiness to peoples' lives.