Raees promotions are in full swing ! Other than the controversies attached to it, Shah Rukh Khan is up and about creating all possible publicity for his upcoming gangster flick! Of course, Mahira Khan is an inevitable topic of conversation amidst all the hype. And every time her name pops up, SRK can not stop singing praises for our Pakistani Queen!
In an interview to BizAsiaLive.com, Khan revealed his happiness on having MK as his co-star!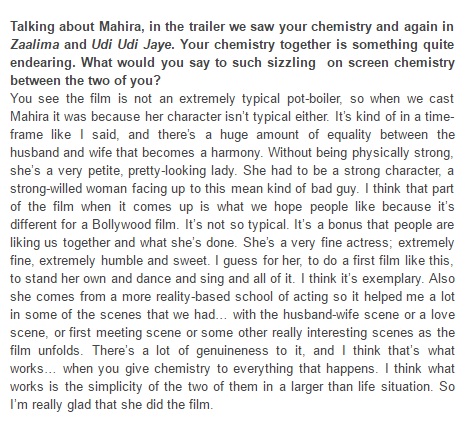 Courtesy: BizAsiaLive.com
Talking about his dancing skills in Udi Udi Jaye, SRK revealed that he felt the pressure of having Mahira around as she turned out to be a great dancer!
I think Mahira (Khan) is really marvelous. She had rehearsed and worked it out very well, so that was double the pressure. But I'm glad that I got the feedback that everyone thinks I can do a garba, so next time I won't feel shy going to Gujarat.
Watch what Mahira Khan had to say on grooving to the Garba tune!
While the Humsafar haseena has not joined Khan for Raees's publicity campaigns, she is currently in Dubai doing a solo spree of promotions of her dream debut in Bollywood.
Khan is a having blast while at it and seems really excited for the much-awaited release of Raees!
Raees is just releasing in three days and we just can not wait for the reviews to start pouring in! Let's see what both the Khans have in store for us.
Mahira Khan's Mother Ends Up In Tears Because of SRK? [Watch Hilarious Video]
Stay tuned to Brandsynario for more updates!