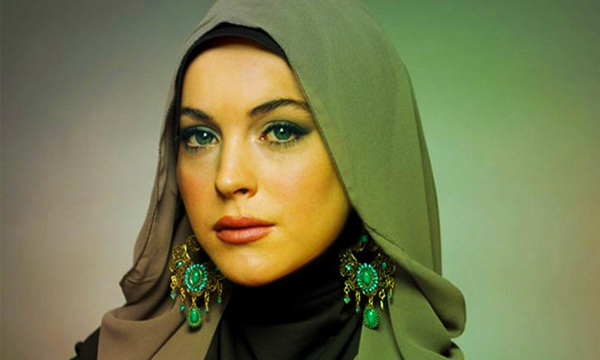 Lindsay Lohan is no stranger to the media. She has always been in the limelight for something or the other. Just recently she created quite a ripple when she was spotted in a headscarf carrying a copy of the Holy Quran. Since then, everyone has been curious about what she's upto. And she just dropped a hint of what she's doing: coming up with Lindsay Lohan Fashion line!
While the collection is still under work, she shared a picture on her Instagram and Twitter.
As soon as the post went up, people began speculating about the fashion line. The sequined headscarf she donned in it has caused a great deal of commotion. Many people are calling it a 'modest' fashion line. The comments under her post range from praises to heavy criticism.
Lindsay Lohan has been on quite a journey. She has had some troubles in the past and she has found a way to make amends. Why anyone cares about how she chose to do it, remains a mystery. If Lindsay Lohan fashion line helps her and her target audience, again, it is nobody's business. Already modest fashion line is gaining a steady momentum.
Fashion week New York 2016, for the very first time saw a showcasing of a modest fashion line with designer Anniesa Hasibuan presenting flowing tunic and gowns, paired with hijabs.
Since then, many international designers have tried to add a more modest fashion line to their collections, targeting Arab and Muslim women. Just a few days ago, leading label Nike made the news with their modest sportswear collection.
Contrary to popular belief, modest fashion isn't just for Arab and Muslim women. Also, it doesn't just feature headscarves. it includes long flow-y tunics and gowns featuring exquisite embroidery and sequined work, using soft luxurious fabrics, much like the picture Lindsay Lohan shared.
With so much already happening, we can't wait to see what Lindsay Lohan Fashion line has in store.