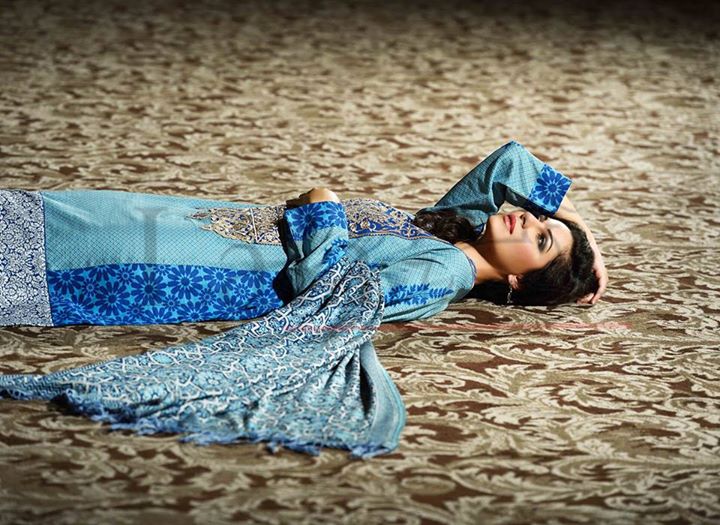 LALA is gearing up for the winters with 'LALA Brocade Winter Collection 2015!' With the introduction of the first of its kind Signature Series platform in June 2015 as well as being named as the fastest emerging ethnic brand in regional markets in October 2015, the powerhouse in the unstitched retail industry, leading textile group LALA introduces its latest winter collection Lala Brocade Winter Collection 2015.
Inspired by traditional designs and colours of the sub-continent that includes botanical and Persian patterns accompanied by with Kashmiri motifs, Lala Brocade Winter Collection 2015 features 20 designs thus putting forward a contemporary take on classic floral tapestry and colours.
The collection is in direct line with international trends of creating your own ensemble from hues of blacks, shades of blues, greys and oranges. With add-ons that include Woolen digitally printed shawls, Lala Brocade Winter Collection 2015 is best suited for the winters.
Read more: LALA Textiles Named Fastest-Emerging Ethnic Brand
Founded in 1947, Pakistani textile brand LALA is best known for its seasoned experience in manufacturing, producing and retailing quality textile with a commitment to principled trade. Indeed, it was with the inception of the quintessential LALA retail label in 1972 that the trading house first started consumer retail.
LALA currently encompasses a series of diverse retail brands providing accessible summer; midsummer and winter fabric ranges throughout the year within Pakistan, India, Bangladesh, the Middle East and the UK.
Read more: Lala Textiles introduces Magnifique Vol 2 Kurti Collection
 Let's view the LALA Brocade Winter Collection 2015 below;
The brand regularly participates at prestigious fashion and retail platforms across the world such as PFDC Sunsilk Fashion Week [PSFW] and Fashion Pakistan Week [FPW] in Pakistan as well as at exhibitions and shows across Europe, India and the Middle East.
LALA is also a patron and co-sponsor of Pakistan Fashion Week Dubai. LALA also maintains a dominant and independent brand presence in India through shows, marketing and retail – a status unique to LALA as a Pakistani brand.
Read more: Lala Textiles introduces Magnifique Vol 2 Kurti Collection
Further, the company pioneered a first of its kind collaborative platform in Pakistan, the LALA Signature Series, established in the spirit of channelling the international trend of cross-brand synergies.
LALA is a socially conscious and responsible brand, and currently sponsors vocational training programmes across the Sub Continent under their #LALALightsUpLives project.
Read more: Gul Ahmed Winter Collection 2015 Feat. Mehwish Hayat & Humaima Malick
Stay tuned to Brandsynario for more updates!