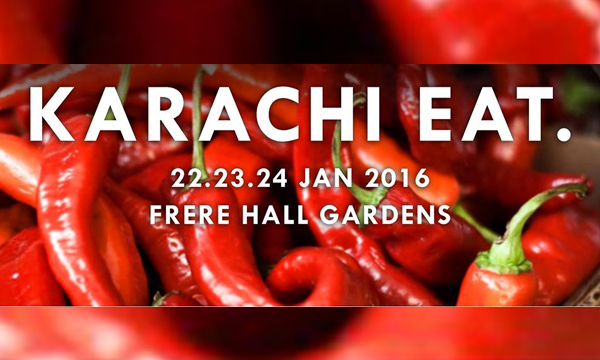 After the initial success and aplomb received last year, the third Karachi Eat Food Festival 2016 is finally here!
Here are some live updates and event highlights from Twitteratis visiting the place:
Couldn't wait. #KarachiEat pic.twitter.com/Y0h6IogUDC

— TQ (@khattaAngoor) January 22, 2016
Come cheat with a Churro! #rayyandurrani will be cooking at #KarachiEAT at Frere Hall all weekend! #Karachi #Food pic.twitter.com/zQVcCOp70i

— Raania (@Raaniad) January 21, 2016
We're heading towards #KarachiEat! Don't forget to stop by for your favorite cup of Chai! #ChaiWala pic.twitter.com/VwY3jwELgT

— Chai Wala (@chaiwalapk) January 21, 2016
Karachi eat is a food festival that aims to create a common platform for food lovers! The event will be held on the 23rd, 24th  & 25th of January 2016 at Frere Hall; the place will be entirely transformed into a 'foodie wonderland' for three days showcasing the best of eateries.
From the most talented chefs to the street side vendors, Karachi Eat will celebrate the diverse variety of foods the city has to offer.
The leading entertainment channel, Urdu1 is the official sponsor for the event.
You can choose from a plethora of different kinds of food. From authentic street food to culinary taste from around Karachi and the world, Karachi Eat 2016 will be a heavenly 3-day food galore for the foodies and the food thrill seekers.
Many well- known eateries will be showcasing their food along with the online food businesses; these food businesses will provide the potential customers with a chance to taste the ultimately delicious goodness.
One can expect to indulge in sweet surrender or succulent savories such as Churros and Choc, Taha's Choc Mania, Spoonful are a few to satisfy those sweet tooth cravings. Other eateries from last year will hopefully be there too, serving a greater turnout.
Tickets for the event are priced nominally with PKR 250 per head only.
For more details visit Karachi Eat 2016 here!
Stay tuned to Brandsyanrio for more updates!