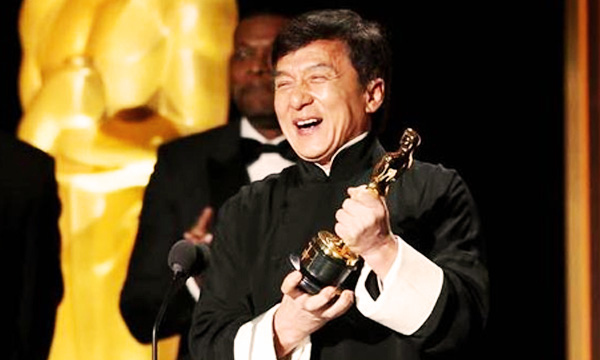 After a five-decade long career and making over 20 movies, actor Jackie Chain was finally awarded an honorary Oscar on Saturday, November 12th at the 8th Annual Governors Awards held in Los Angeles.
The 62-year-old actor was presented with the award by the Rush Hour co-stars, Chris Tucker, Tom Hanks and Michelle Yeoh, reports NBC News.
 "As you know the Governors Awards are a chance for the Academy to recognize unique achievements across an artist's whole body of work, because [throwing his arm out demonstratively] Jackie Chan, the man that puts the 'Chan' in 'Chan-Tastic,' because he has worked mostly in martial arts films and action comedies, two genres that have been, for some reason, shall we say, historically underrepresented at the Oscars, a fact that will change if I have any pull on the board of Governors," said Tom Hanks.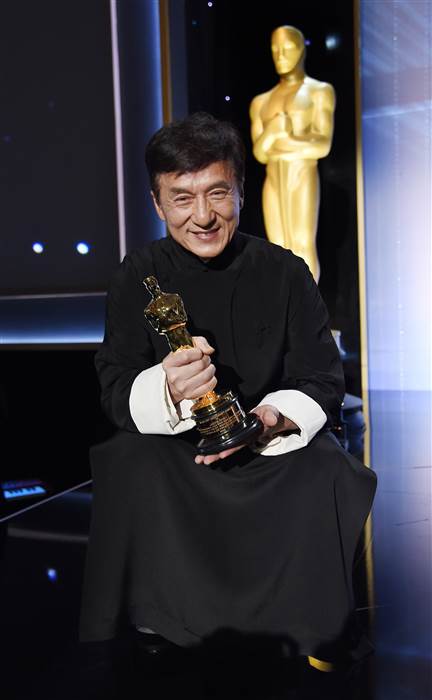 Jackie Chan saw an Oscar at Sylvester Stallone's home back in 1993 and that's when he decided he wanted one too! The martial arts star and Chinese actor finally received the golden statuette on Saturday and was more than overjoyed!
"After 56 years in the film industry, making more than 200 films, after so many bones, finally," Chan said while receiving the Oscar.
The actor revealed how he watched the Oscar ceremonies with his parents and his father always wondered why his son never won one despite making several commercial hits.
Watch Jackie Chan's emotional Oscar-winning acceptance speech below:
Chan also lauded his hometown Hong Kong, revealing how he is a "proud to be Chinese." He thanked his fans and said, "I continue to make movies, jumping through windows, kicking and punching, breaking my bones."
Jackie Chan was finally awarded an honorary oscar for a career spanning over 5 decades and twitter had a field day!
Congratulations to #JackieChan on being awarded an Honorary Oscar by the Academy for his lifetime achievements. #Oscars https://t.co/CU2fVVcdFg

— KABIR BEDI (@iKabirBedi) November 14, 2016
and the Oscar of Honour goes to Jackie Chan presented by Sylvester Stallone, 12th November 2016 @TheSlyStallone #JackieChan pic.twitter.com/o0XqLggZcP

— SlyStalloneFanbase (@TheSlyFanbase) November 13, 2016
I grew up watching all the Rush Hour movies so standing with these two greats was an epic moment #ChrisTucker #JackieChan #GovernorsAwards pic.twitter.com/kUJrDhewZm

— THADDEUS LAGRONE (@ThaddBoii) November 14, 2016
After 5 decades, over 200 movies & several broken bones, #JackieChan finally gets his Oscar statuette! 🙌#SBSPopAsiahttps://t.co/yoA9671E1w pic.twitter.com/5ieJq6TxbY

— SBS PopAsia (@SBSPopAsia) November 14, 2016
Congrats #JackieChan
After 56 years in the film industry and 200 films later, Jackie Chan finally wins his first #Oscar pic.twitter.com/1TWaSM474N

— Rohit vj (@Rohit55Ro) November 14, 2016
Congratulations #JackieChan for the well deserved #Oscar,no doubt one of the greatest artist of all time..really enjoy your movies !!

— shantanu khare (@khare_shk) November 14, 2016
Finally Well Deserved Oscar Award Legend #Jackiechan !!! pic.twitter.com/5q5J1TKiaB

— # CineNewsWorld# (@Cinenewsworld) November 14, 2016
do you have something to add to this story? Comment below.
Stay tuned to Brandsynario for more news & updates.