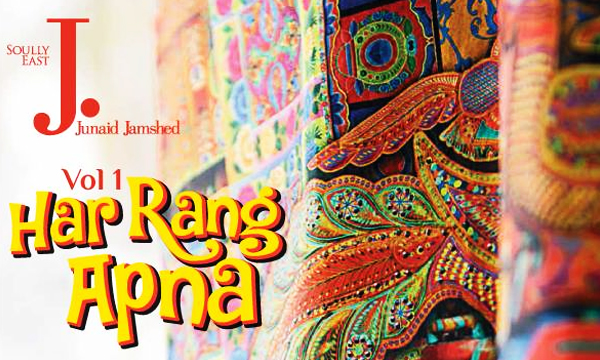 J. – the premium fashion brand has taken the wraps off their spring lawn collection with a bang. With the unveiling of Har Rang Apna Volume 1, J. has become the first brand to launch a lawn collection in the existing year. What distinguishes the collection with other branded lawns flooding is the fact that it features the popular truck art theme.
Did you ask why truck art? Well, the brand believes "every province has its own flavor, but a common thread of color and surrealism defines the art. It's recognizable all over the country; it's truly the canvas painted with all the colors of Pakistan, and so are we. "
J.'s 2016 summer collection started off with the creative teaser billboards showcasing the vibrant truck art with the one-liner, Pehan Magar Pyar Sey giving customers a little idea what's inside the box.
The teaser campaign created a huge buzz on social media, giving Twitteratis  a new hashtag #pehanmagarpyarse to talk about. Twitter users pour over to the social network sharing the rousing truck art quotes and videos, helping the Twitter campaign to hit over 2.1 million impressions.
The brand also created a stir on Facebook by creating an event page and posting videos of the Pakistani boxing sensation Amir Khan and his wife, inviting fans to the launch.
About the Collection
With their latest campaign  Rang Apna, the Junaid Jamshed brand has tried to mingle all the shades of nation presenting a fusion collection for their spring catalog.
The collection is spread over trendy and innovative prints based on geometrical, floral, digital and contemporary designs.
The use of color is enthralling; you will get to see all sorts of exciting colors, from soft tones to bright hues that will add to the bloom of spring.
The collection not only features lawn, it covers silk, chiffon, jacquard outfits for ladies and some goodies for the young ones and stylish articles for men including the fashionable lawn kurtas, waistcoats and footwear.
View the full collection here!
Junaid Jamshed J. 'Har Rang Apna' Summer Lawn 2016 Volume 1 Launched
The Majestic Launch
The grand event to launch Volume 1: Har Rang Apna took place at the Dolmen Mall Clifton on February 4, 2016 and was graced by numerous celebrities including Sadia Imam, Junaid Khan, Nadia Hussain, Shamoon Abbasi, Shehla Raza and Anoushey Abbasi who appreciated the exhilarating collection and the efforts of the team behind it.
The launch was celebrated with a lovely décor featuring truck art themed tea-pots, cups, trucks, umbrellas with the appealing one-liners we all cherish as Pakistanis.
Check out some highlights from the event in the images here: