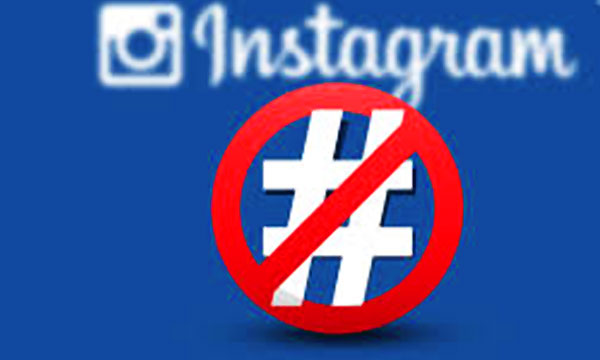 Watch your #Hashtag! The bad news for all socially-hyperactive Instagrammers is here.
Instagram is adopting a strict approach towards obscene hashtags lately, banning all those that are found vulgar.The photo-sharing social network will remove all photos that feature its list of banned hashtags.
This banning of different words left Instagrammers in hue and cry,  for example for the hashtag curvy, some females started posting full-bosomed pictures with hashtags like #curvee, #bringcurvyback and #stillcurvy.
In response, Instagram clarified that this banning has nothing to do with the 'word' itself, instead the content that is deemed indecent or pornographic, surpassing the bitter end.
A spokesperson for the social networking app stated that: "In this case, #curvy was consistently being used to share content that violates our guidelines around nudity."
Read More: 10 Most Popular Pakistani Celebrities on Instagram
However, curvy isn't the only hashtag that rubs Instagram wrong way, other commonly used words that are not-so-indecent have also been prohibited.
#weed
Sorry to all the weed users, you can't post your high-on-drugs-photo on Instagram with "#weed" now.
#popular
Every other person wants to be popular, no? But using #popular is not allowed, on Instagram at least.
#kikmenow
Alluding someone to contact you on kik is not allowed on Instagram, by prohibiting #kikmenow.
#photography
We all know that it is photography when you take a picture from a camera device, so do not need to mark it with #photography.
#sexy
If you are sexy and you know it, keep it to yourself. Do not shout out on Instagram as this is not allowed either.
#ig
Instagrammers found a way to thumbs-up and high-five by posting #ig, but guess what IG (Instagram) didn't like #ig either.
#like
You cannot force others for more and more likes by using #like on your photos.
#Instagram
Perhaps Instagram does not appreciate Instagram trending on Instagram via #Instagram.
Other suggestive hashtags like #boobs, #Lingerie, #Underwear, and #nigger are also included in the list of blocked hashtags with several others found inappropriate or vain.
Baffling as it sound, using #sex is not allowed while #TheSexPistols is freely flowing around, and similarly posting #fuck will bug Instagram whereas numerous analogous four-lettered slangs are commonly found with hashtags on Instagram.
A company representative from Instagram has said: "We want Instagram to be a safe and fun place for people to capture and share moments." Further adding: "That means finding a good balance between allowing people to express themselves and providing protections to prevent certain content that would be against our terms."
Read More: Instagram Picture Settings Revamped to Become Bigger & Better
What do you think of the ban on some of these hashtag words? Are you an avid Instagrammer too? Share your thoughts and responses on this news with us, in the comments below.