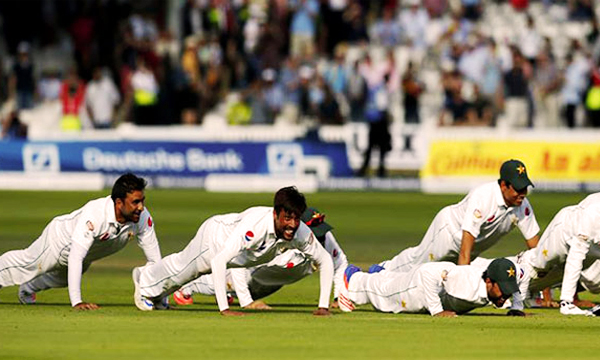 Playing it for the name on the front of the jersey, cricket is a funny game. Unlike most sports, there are a lot of connotations to it, push-ups after a victory, a certain recent phenomenon, being one of them. It's a team game built around individuals, and camaraderie; a fact lots of our politicians in and outside parliament don't get.
Cricketers don't make a million dollars like politicians do but they've got a heart. The government recently banned the celebratory Push-ups for Pakistani cricketers and the nation is shocked!
During the National Assembly committee meeting today, Wednesday, a PML-N Lawmaker stated that Pakistani cricket players must offer prayers rather than doing push-ups after the victory, reports Dawn News.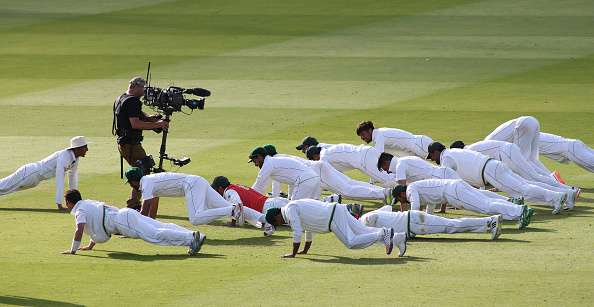 During the Inter- provincial Coordination, MNA Chaudhry Nazeer Ahmad said that even though physical movement is healthy, "it would have been better if the players offered nawafil (special prayers) instead of doing press-ups on the victory".
Eyebrows were raised over the team's way of 'celebrating victory' during the meeting.
"Who were Misbah-ul-Haq and other players giving a message to by doing push-ups?" questioned a PML-N MNA Rana Muhammad Afzal.
Najam Sethi, Pakistan Cricket Board (PCB) Executive Committee Chairman told in the meeting that Pakistani cricketers 'had been stopped' from doing push-ups after their victory.
1/2 Sajda/pushups etc done @ discretion of players. PCB highly appreciates fitness training facilities of PakArmy, utilised thrice in 6 yrs

— Najam Sethi (@najamsethi) October 26, 2016
#2/2 Media should refrain from politicising Pak cricket team!

— Najam Sethi (@najamsethi) October 26, 2016
This new ruling seems preposterous , who are these people ruling us these days?  The push-up celebratory which started at 'Lords' after our dramatic victory was just lovely to see. Pakistani Cricket and Pakistan in itself reflected a sense of coolness , calmness and right attitude which was right there for the whole world to see.
The news left the entire nation shocked and agitated. #Pushups started trending on Twitter and here is how people reacted:
Sorry to say but in a kingdom of thieves, the ways of an honest man will always be a crime. Shebaaz Shareef is a big Liar… Right #Pushups

— Khawaja (@FataheenKhawaja) October 26, 2016
Just heard what Rana Afzal idiot had to say regarding Push Ups. Khuda ka khauf karo … 12th October 1999 ki pitayee bhool gaye? #PushUps

— Omair Alavi (@omair78) October 26, 2016
Who can Think that Just a day ago we lost 61 Lives of Our Police and such a Important issue #Pushups is under discussion

— Atif Mateen Ansari (@AtifMatinansari) October 26, 2016
Players should do dhamal,hawai firing so it will made happy to PML-N lawmakers. #Pushups

— Zara Ahmed H (@zaraahmedH) October 26, 2016
#Pushups he should be arrested 😂😂😂 pic.twitter.com/rW3CG5EtS9

— hamzakaleem (@hamzakaleem5) October 26, 2016
All nation need to do #Pushups against corruption

— M Usman Farooq (@usmanfarooq54) October 26, 2016
Retweeted Shams Ul Arifeen (@shams1919):#Pushups @HinaKharal @imPakistanii @javaidShaikh pic.twitter.com/BdPjt1SwBf https://t.co/p8u1IdjlIZ

— Attique Abbasi (@attique_abbasi) October 26, 2016
قومی اسمبلی کی قائمہ کمیٹی کے کہنے پر کھلاڑیوں کے "پُش اپس" پر پابندی ۔۔۔ دیکھئے گا اب ملک کے سارے مسائل حل ہو جائیں گے#HaddHai #PushUps

— Iqrar ul Hassan Syed (@iqrarulhassan) October 26, 2016
The cricketers represented me ,you and all of us in a wonderful light. Faith is a very weird thing, and we have had more of it since Colonel Younis led the boys in the tribute to the nation and the forces. This date which will now be remembered in *social media infamy* is a day where once again our bureaucrats and politicians have done the unthinkable.
The weary cat has now become a tiger, after passing numerous forests of despair.
https://youtu.be/nlrO-HYrdIA
Pakistan has the ability to self-explode. But guess what, the same ringing in my ear 'faith is a weird thing and the pushups will be absolved'.
I remember that I was 15 when on that glorious afternoon in Dubai nearly, 1700 to the clock , I saw a man nicknamed Rambo catch Illingworth of Khan at mid-off. The earth stood still, Pakistan was one again! All our petty differences, our squabbling were a thing of distant past. Wish we could have done some pushups then.
Everyone knew exactly where they were at that hour, it was a cosmic alignment for us.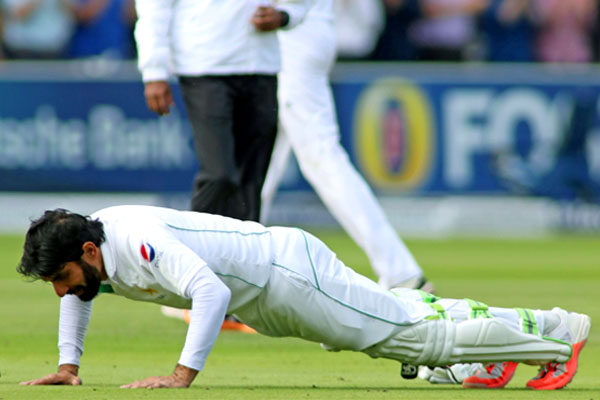 Karma is a weird thing, and the universe has a way of sneaking up on you. So after the histrionics and the nose bleeding and hysterical shenanigans during the day, I have a little suggestion for our powers to be- a ten point commandment to follow in life & in cricket and it goes like this:-
Be expressive, body language is everything. Ask Coco Channel!
Attitude affects leadership
Act selfless
Back your comrades
Praise them
Communicate, and sit with the ones who are in the gutter field
Enjoy the game, don't get too serious.
Be cool. Look where it got the Windies in 2012.
Err, be bold not brazen.
Be a Shakira not a Hilton
Sometimes winning has nothing to do with cricket but for us running a country is all about cricket.
Let's not ruin it , let's run with it.
Misbah Becomes Oldest Captain to Score Test Century- Delivers 10 Push-Ups as Promised
What do you think of this article? Let us know in the comments section below & stay tuned to Brandsynario for more updates.
---
Contributed By: Nasr Saeed
Born and raised in Karachi, he is the eldest of the three in the family. Son of a Hotelier and an Educationist (mother), Nasr is a cricket fan since Javed Miandad's last ball six in Sharjah in 1986. He was associated with the banking industry since the last 13 odd years before joining the Advertisement world.