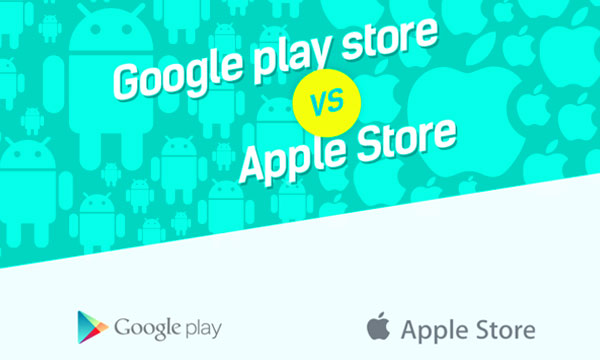 Apple is the one tech-giant that simultaneously competes with two of the biggest tech-giants globally. In terms of smartphones, Apple is a direct competitor with Samsung. However in terms of its famous iOs, it faces tough market competition with Google's Android-based operating system. Apple's iOs-based apps can be purchased from Apple App Store (iTunes) whereas the Android-based apps are available on Google Play Store.
Related: Apple to Expand Trade-in Program for Android Users
Android offers much more variety and flexibility in terms of apps since Google Play Store has 1300 k number of apps available for users. At the same time, since Apple caters t the premium-loving, high-end users it has a total of 1200 k app available for download for users.
Read More: Google Play Beats Apple App Store in Number of Applications
It is interesting to note that despite being launched in 2012, Google Play Store has come up to par in terms of market competition with Apple's iTunes which was introduced back in 2008.
According to the Wall Street Journal, during the first quarter of 2015 Google Play Store boasted 70% more app downloads as compared to Apple's App Store, however, Apple being the exclusive brand that it is, still had 70% higher app revenue.
The USA has the highest consumers on both the operating systems.
Take a look at this detailed, well-researched Infographic that presents an analysis for Apple's App Store and Google Play Store:

Contributed by:
Mozrif
Mozrif is an analytical and versatile digital marketing evangelist, Consultant, Content Writer at WeDigTech- A Mobile apps development company in India. Focused on helping businesses — from domestic to MNCs. He is also a national speaker at online marketing conferences.