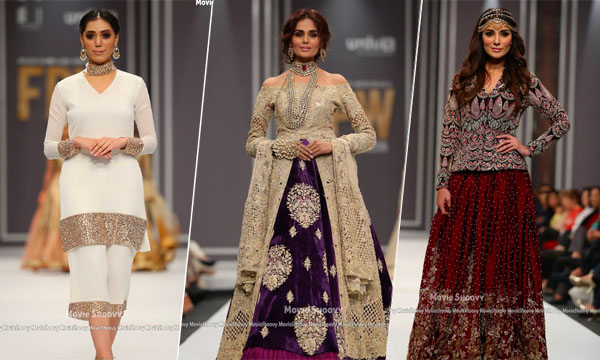 On Day 1 one of FPW2016, designers like Amir Adnan and HSY, wowed the audiences with their respected collections. There was an explosion of bridalwear, followed by a special segment by Urdu1 over the upcoming drama Kosem Sultan. There were hits and misses from every collection and we took a detailed look at it. Now we are here to dissect the collections showcased on Day 2.
Shehla Chatoor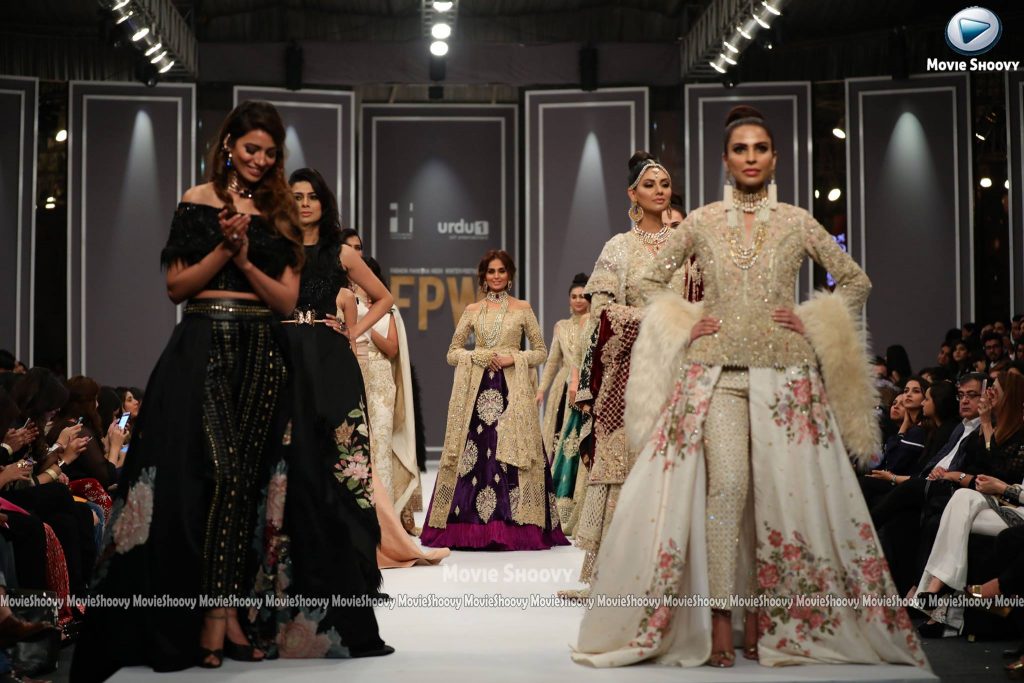 FPW2016 Day 2 started off with Shela Chatoor showcasing some more bridal wear. Her collection started off with outfits each with a long cape. The trend has been quite popular recently. And Chatoor managed to incorporate them in her collection fabulously. The capes gave way to embroidered fur jackets that equally complimented the outfits they were paired with.
Sure her outfits are out of reach of the common man, or woman rather but that doesn't stop us from drooling over them. One wonders how many kidneys one has to grow and then sell to own a Shela Chatoor outfit. Just look at the one Mehreen Syed wore.  If we get to wear that, we'll agree to get married four times in a row!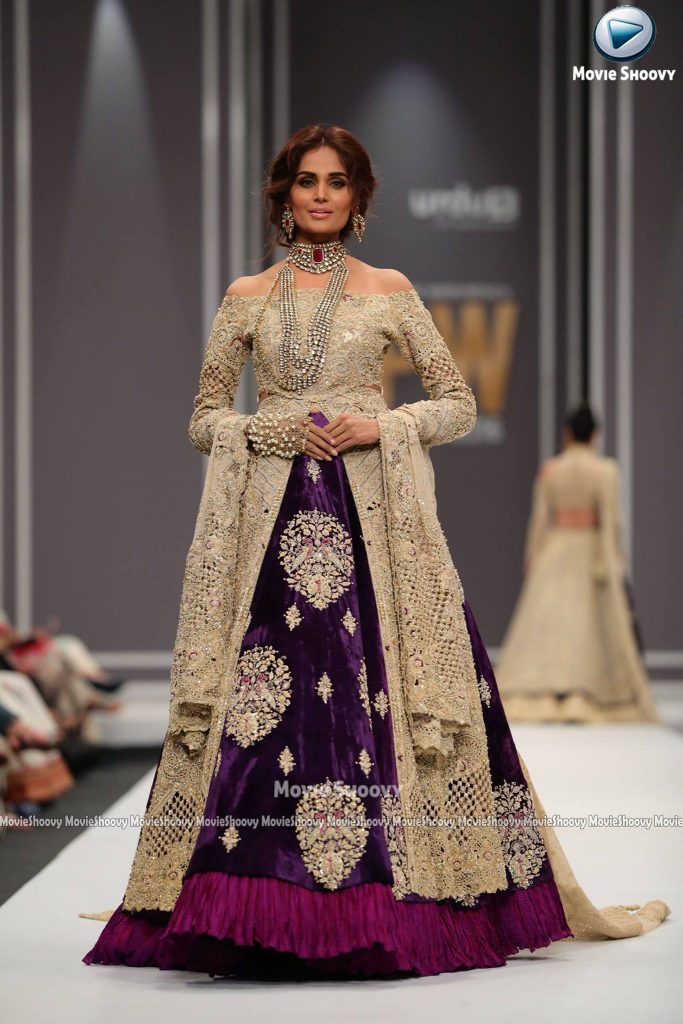 The hairstyles of the models in this picture remind us a little of the terracotta soldiers of Qin Shi Huang. Perhaps the styling could be a little different. Oh and we just can't get enough of those floral tulip pants!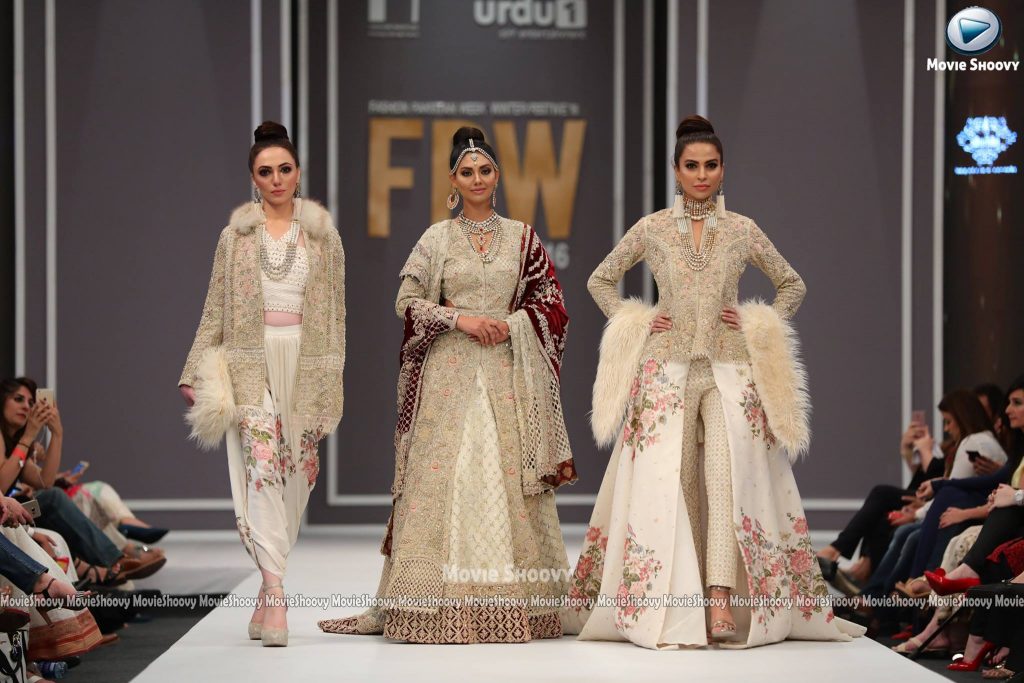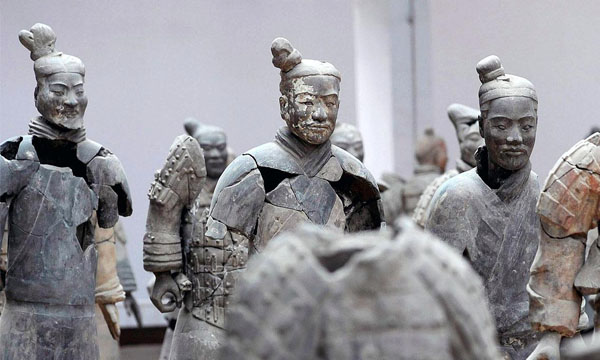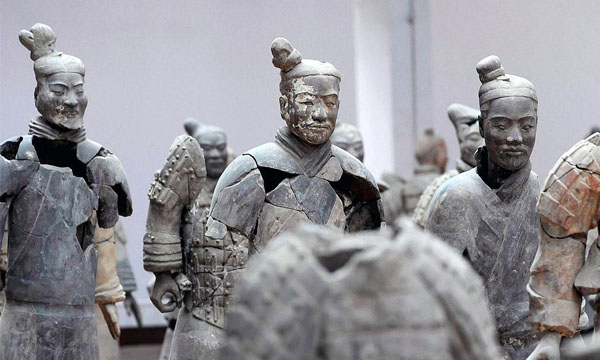 FnkAsia by Huma Adnan
Titled Midnight Garden, this collection is our absolute favorite so far! We loved the funky mix of colors, it is FnkAsia after all. Plums, pinks, royal blues, all perfect to brighten up chilly winter days.The combination of uber chic with traditional silhouettes left us amazed.
Naveen Waqar walked for the collection in a lovely sequenced black and maroon number. That headgear was a bonus.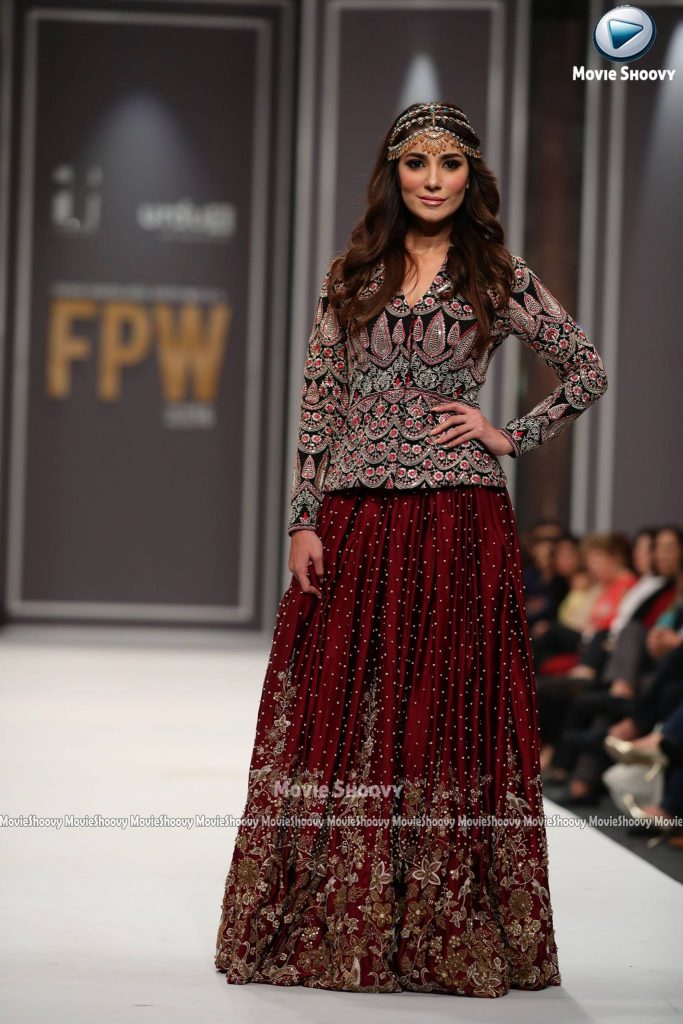 Hania Amir walked the ramp in a rusty brown outfit with delicate embroidery all over. These gorgeous pants remind us a little of the chatapati garara that mom brought back from her trips to India.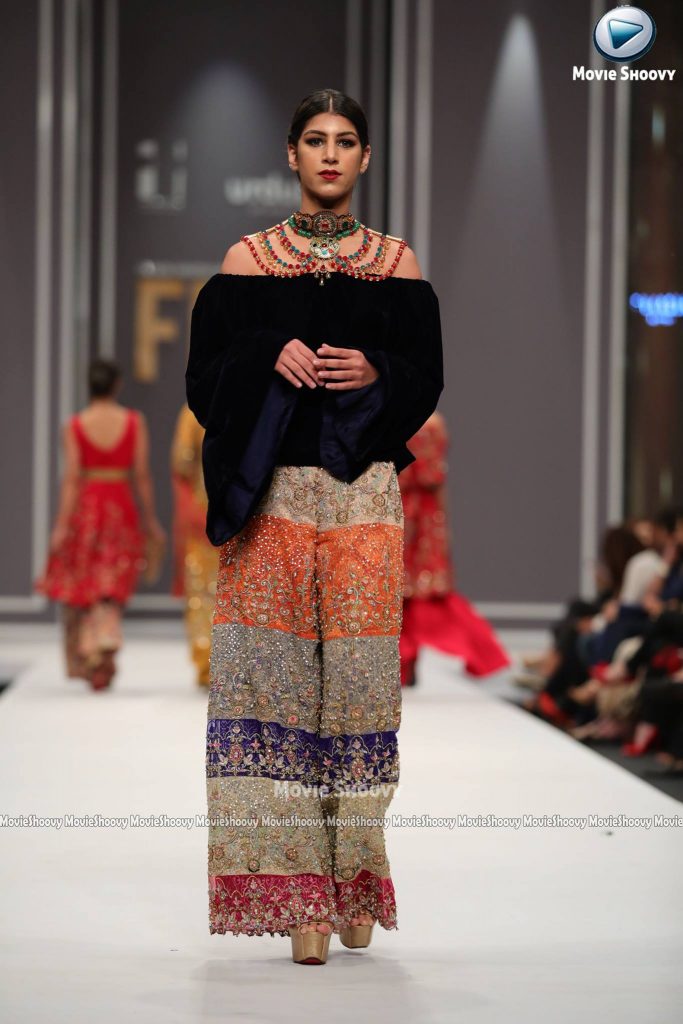 If you were unsure about garara pants, perhaps these outfits will help change your mind. Sure you won't as good as these two but you can still try.
We had a hard picking out a favorite, so here's the entire collection.
HEM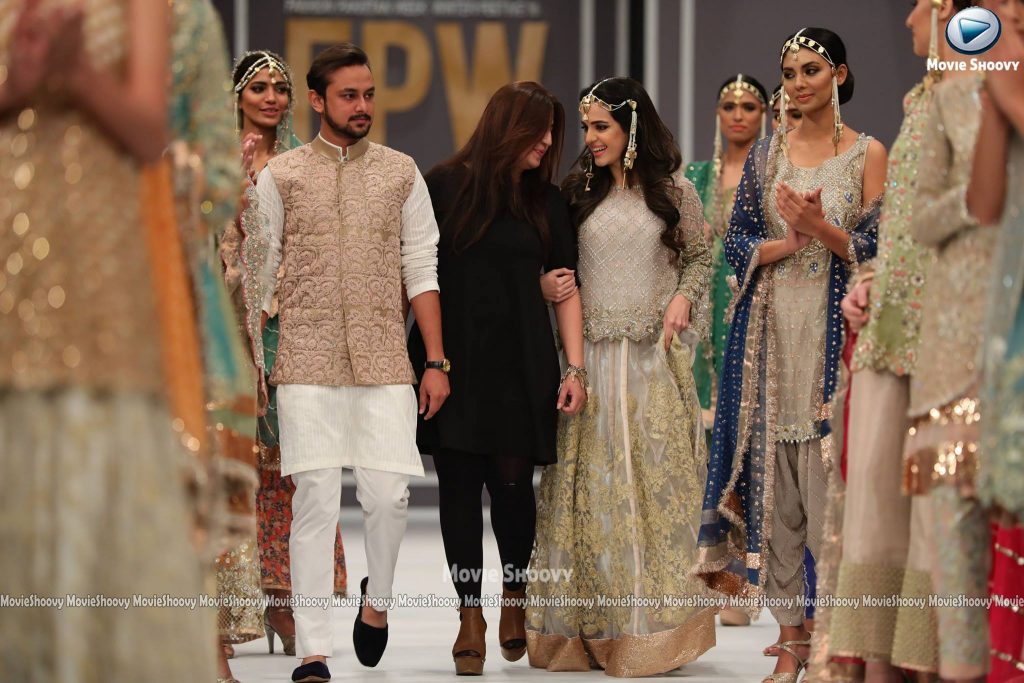 You know bridal season is officially on when almost every other collection at FPW2016 is about bridal wear. HEM by Sumbul Asif collection titled Golden cage made use of local crafts mixed with a neutral color palette. The subtle cool tones for bridals are a welcome change from the over the top bright reds and pinks. Sumbul Iqbal was the showstopper.
All these designs would be very popular with anyone planning a wedding in the near future. They are all wearable, not just for the main event, but other festivities as well. The Cleopatra-inspired headgear is optional.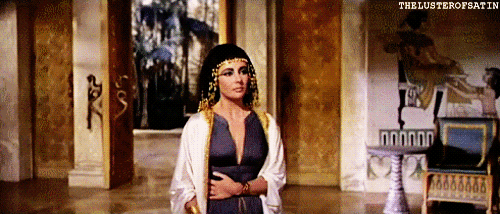 Arsalan Iqbal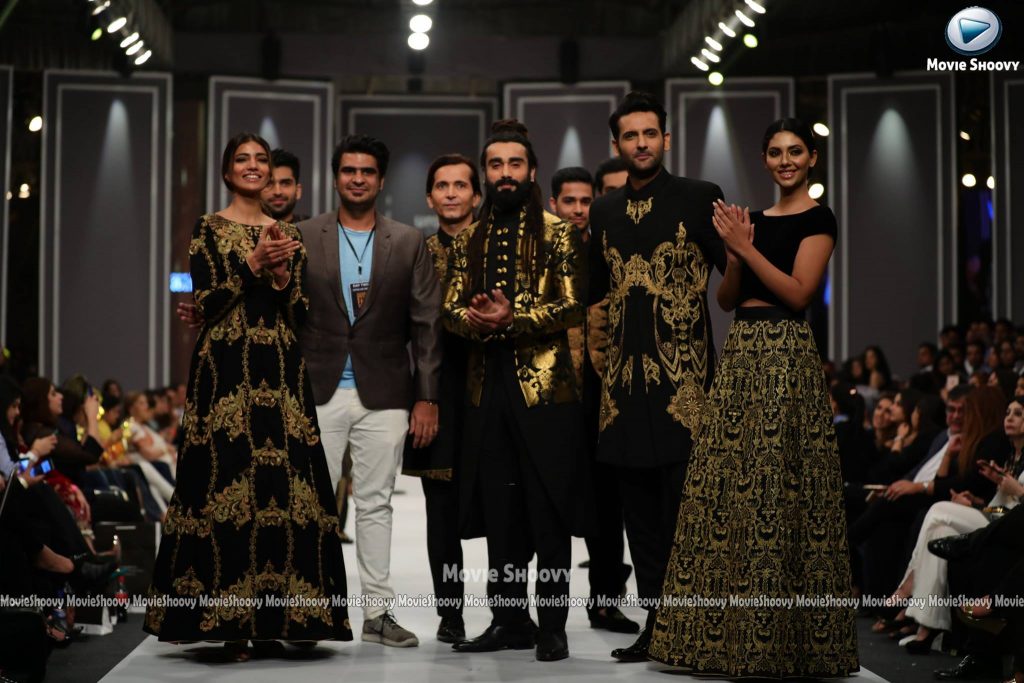 The collection titled ' Baroque Star' was again all black with gold detailing. Quick question: Is black the new black?
You know when you peel off the protective plastic layer of a bottle, but it doesn't come out in one go leaving a pattern? This outfit kinda looked like that. This combination of two very different materials is curious indeed.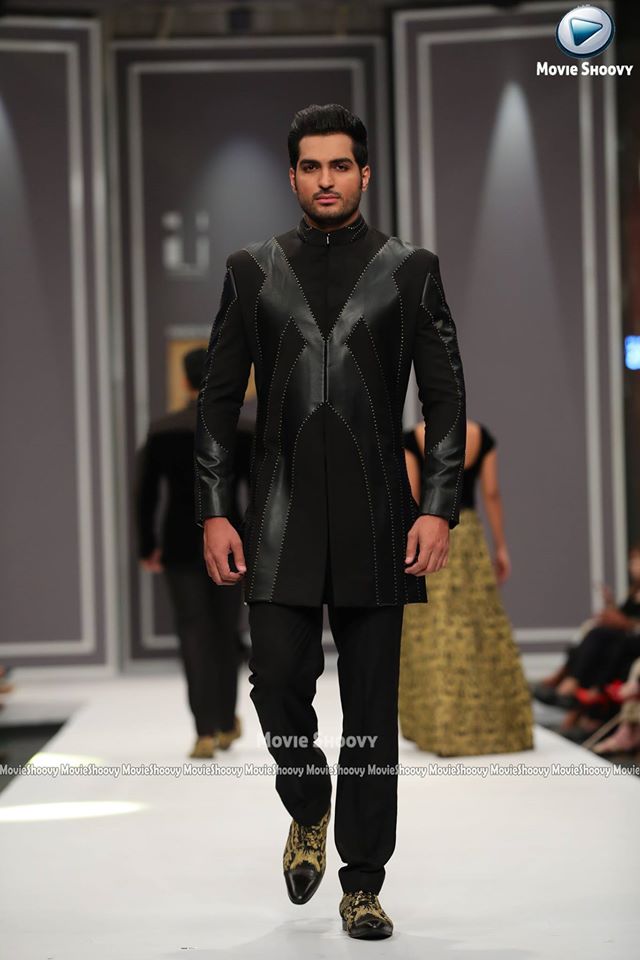 Are these tulip shalwars for men?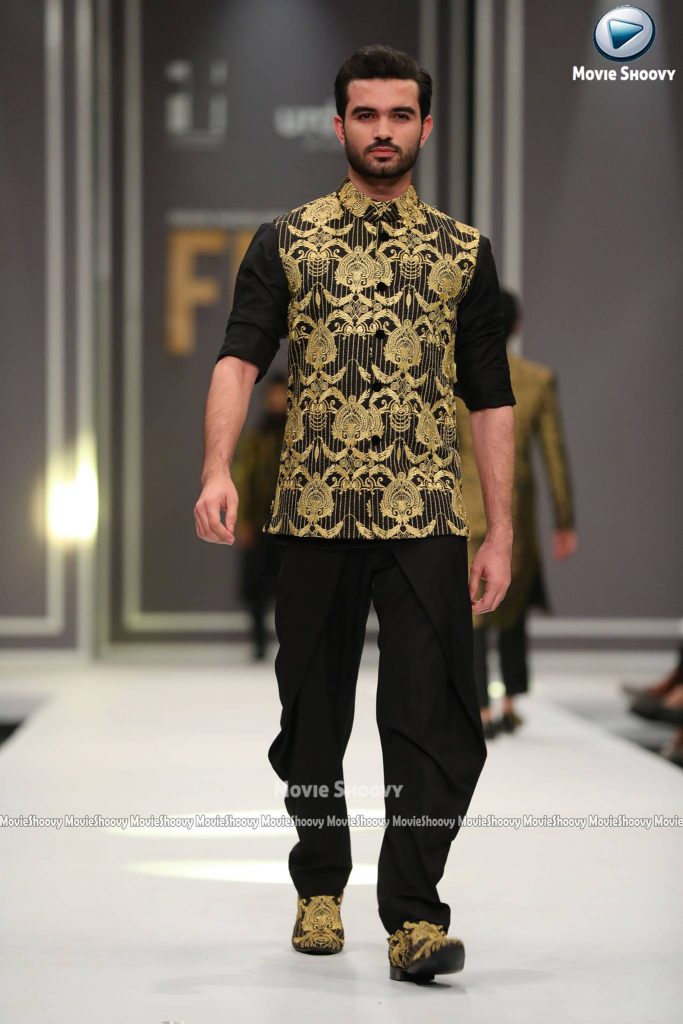 The rest of the collection is a ditzy mix of gold patterns and embroidery. Mohib Mirza was the showstopper for the collection which we have forgotten about already. The golden shoes were an interesting touch.
Natasha Kamal
Saris are trending and we are loving it. Gone are the days when single ladies were told not to wear saris. We saw a few lovely ones on Day 1. And on Day 2 Natasha Kamal's collection had some gorgeous saris in store for us.
The collection was a mix of subtle and bright colors. Beiges, whites and golds along with red. Gohar Mumtaz and Ayesha Khan were showstoppers, and the the latter certainly took our breath away!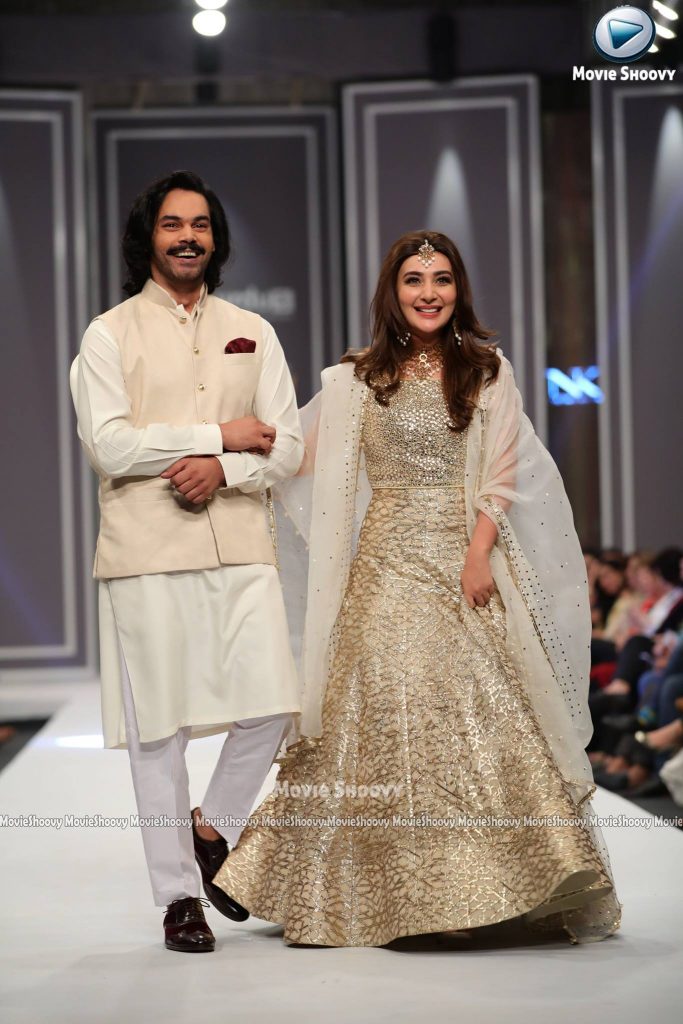 These pieces from the collection really stood out.
Deepak Perwani
With the world growing more intolerant by the second, Deepak Perwani dedicated his collection to love. It was a celebration of love, taking inspiration from the passion the emotion instills. The very colorful outfits reminded us why the wedding seasons makes us so happy in the first place! Also it told us, men deserve some love too. The collection had bright menswear as well. Ayeza Khan was the showstopper.
Picture credits: Movie Shoovy
Stay tuned to Brandsynario for more updates.