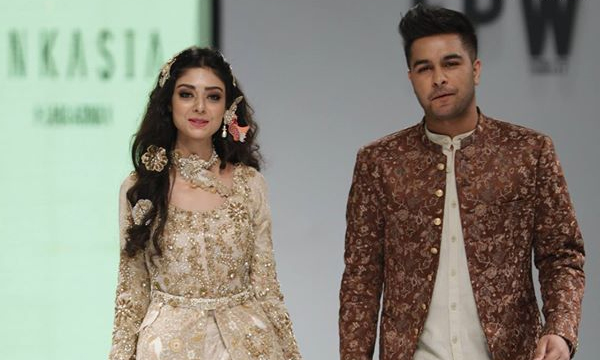 For the past 10 years, Fashion  Pakistan Week (FPW) has been upholding the responsibility of promoting and nurturing the country's prominent designers and providing them with a platform that will enable them to grow. Traditionally, the event was a three-day show but this time around, FPW 2017 has been planned to be a 2 day fashion extravaganza.
Day 1 of FPW 2017  featured some of the most illustrious designers showcasing their spring collection.
The cast and crew of 'Mehrunisa We Lub You' stole the show in Urdu1 segment wearing Zaheer Abbas
The showstoppers of the night  for Zaheer Abbas were the stars of 'Mehrunnisa We Lub You' featuring Yasir Nawaz Baloch, Nida Yasir, Javed Sheikh, Danish Taimoor and Sana Javed in the segment by Zaheer Abbas.
Keeping it basic, the leading ladies were in plain sheer sarees while the men were dressed in a formal desi attire. The color scheme matched the winter theme, ranging from black, midnight blue and a splash of white.
Danish Nawaz and Nida Yasir were all smiles as they walked the ramp
The leading lady, Sana Javed, walking the ramp in the a berry blue saree.
FNKASIA by Huma Adnan was next in line to feature her collection titled 'Avian'
The colour palette for this collection consisted of off-whites, fawns and blues. Huma was quoted to say that she was inspired by winged and spirited animals, "Just like the bird's ability to spread wings and fly is my motivation behind taking risks with cuts and patterns." From mix and match patterns, silk thread embroidered motifs of birds with bold cuts and patterns were seen in the collection.
Asim Azhar & Noor Khan in FNKASIA
Wearing a a combination of formal bronze suit with gold embroidery, Asim Azhar walked the ramp with the gorgeous, Noor Khan in an off-white ensemble peppered with gold floral and winged embellishments.
The designer lineup scheduled to take part in FPW 2017 includes Ayesha Farook Hashwani, Inaaya, Nida Azwer, Zaheer Abbas, Humayun Alamgir, FnkAsia, Amir Adnan, Tena Durrani, Amato, Deepak Perwani, Zuria Dor, Jeem By Hamza Bokhari, Munib Nawaz, Sonya Battla, The Pink Tree Company, Gulabo, Bunto Kazmi, Shamaeel Ansari, HSY, Umar Sayeed, Sana Safinaz, Nomi Ansari and Nilofer Shahid.
Contributed by Adeela Akmal