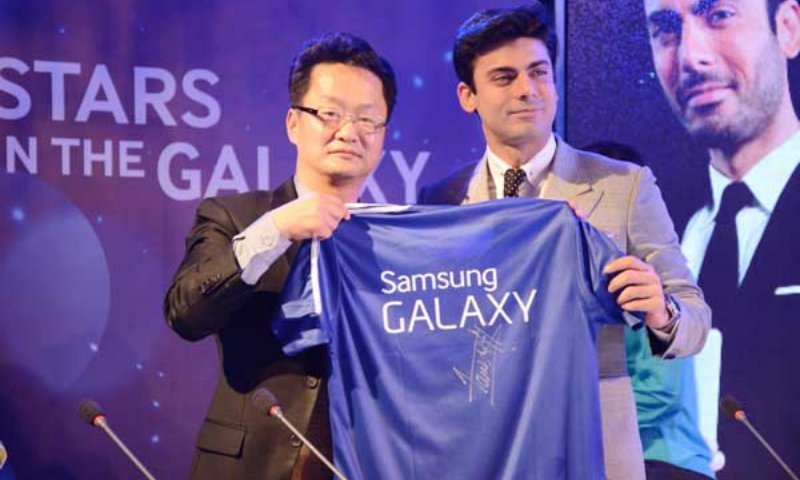 Pakistani heartthrob Fawad Khan is going to to New York thanks to Samsung! The South Korean tech giant is all ready to introduce its Galaxy Note 5 on August 12th 2015. This remarkable piece of technology will be launched in New York and guess who will be the one unveiling the features of the phone? Yes, our 'Khoobsurat' Fawad Khan.
Earlier Fawad endorsed Samsung's Galaxy Grand Prime  – the 'Grandfies' phone – that caught the attention of many, making it a popular phone. This time, Samsung continues to keep Fawad Afzal Khan as the brand's face and is expecting that its Note 5 will be a big hit.
Also Read: Fawad Khan Wins Most Beautiful Man at Vogue Beauty Awards
According to Samsung, the Galaxy Note 5 will be a smartphone that everyone must have as it will be bigger and better than its previous versions.
The rock singer turned actor was chosen for the face of the brand as he complements the brand image of Samsung as that of a successful, stylish, luxury and premium quality.
Read More: Fawad Khan to Sing for Bollywood Movie Kapoor & Sons!
According to Mr. FaridUllah, Head of Samsung Mobile Division for Pakistan & Afghanistan: "Samsung has always been the leading cellular company and is continuing to maintain this position by striving for innovation. Since the smartphone industry is all based on innovation, Samsung has always been one of the innovative firms to come up with unique products for its customers. Talking about Galaxy Note5 he said: "The original Galaxy Note large screen and the iconic S Pen set a new standard in smartphone culture."
Do you think Galaxy Note 5 will be a phone with something new and unique in it? Let us know in the comments below.