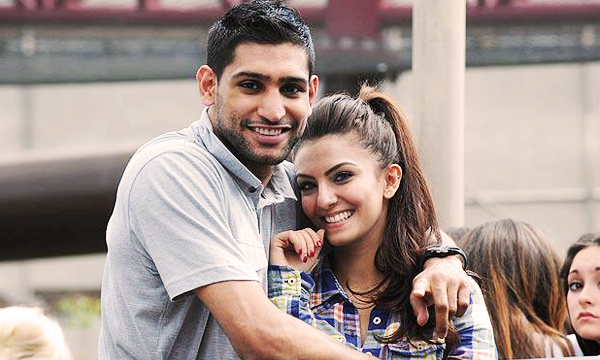 Social media is abuzz with the latest Snapchat controversy pertaining to fashionista, Faryal Makhdoom. The wife of world champion boxer Amir Khan seems to be having some serious trouble in paradise! The social media celebrity recently took to her Snapchat on Tuesday, publicly accusing her mother-in-law and sister-in-law of household bullying and abuse.
As Faryal's story began to spread like wildfire on social media, a lot of her fans rose in support and applauded for taking a stand for herself, becoming the voice of many Pakistani women suffering domestic abuse behind closed doors.
Some, however, questioned her intentions and claimed it as a public stunt wondering whether Amir Khan was aware of it all. Makhdoom decided to open up about her latest Snapchat controversy to Dawn Images and declared how Amir and her, are in this together!
Faryal shared this adorable click with hubby on her Instagram earlier today, wishing Amir a happy 30th birthday!
"I did it [spoke out on Snapchat] because there are so many Pakistani daughters-in-law who go through this and never speak up," said the fashionista. "I was one of them, who stayed quiet for my husband's respect, for my family's sake. I spoke up to make these women strong… I spoke up to defend my husband who's done so much for his family but still gets grief, why? I wanted people to see this is unacceptable."
She explained how Amir supports her in everything she does. They are one, she said.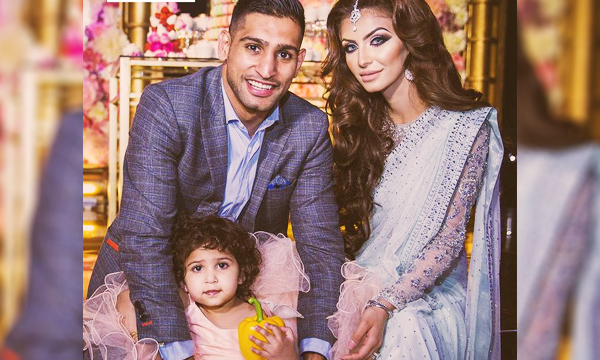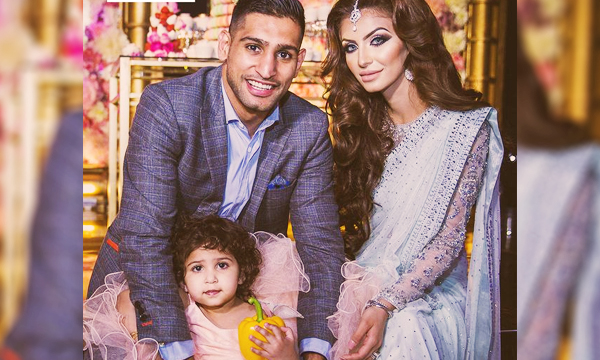 "At first it was the cultural thing of mom, dad, listen to everything they say. But in time Amir saw I was getting mistreated and it wasn't fair to see your wife and child be put through this. Amir supports me in everything I do, we are one."
Faryal explained how her domestic situation was atrocious for three years. She has done her best to gel into Amir's family but she was unable to make them her own.
A petition by the name #Team Faryal Makhdoom is becoming viral on social media along with other support messages. Amir's family has not issued any statement as of yet.
"Yes his mom and dad have an impact on his early life. But to treat your son differently as soon as he gets married is not fair," Faryal stated. 
Faryal also shared the famous Lady Daina's inspirational interview video on her Instagram recently, relatable much?
---
In a series of recent Snapchat stories, the ace fashionista, and model Faryal Makhdoom public accused her in-laws of domestic abuse, bullying ad violence!
Faryal's first Snapchat read the following:
 "Don't get your sons married if you're going to abuse and bully the wife."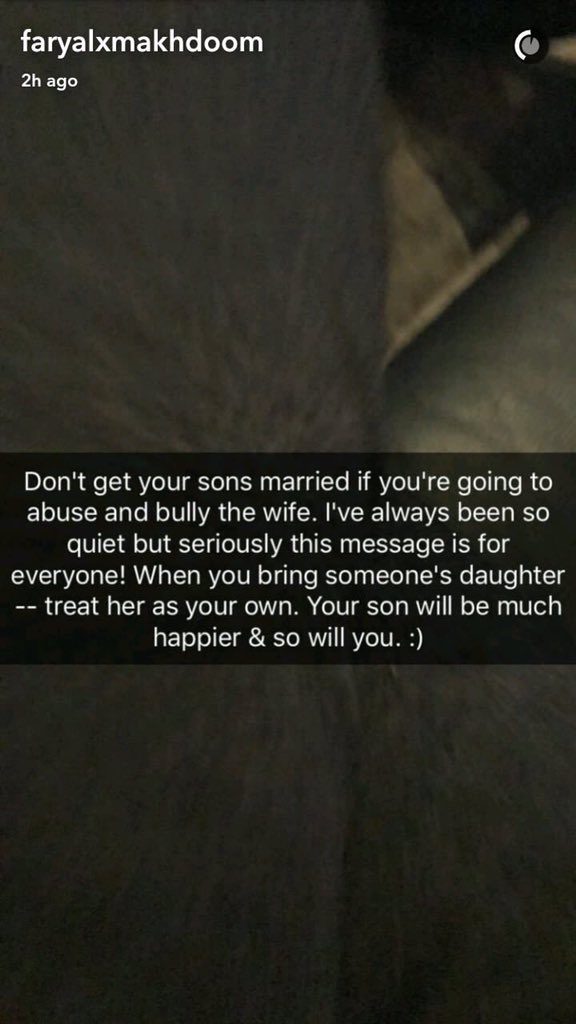 "I've always been so quiet but seriously, this message is for everyone! When you bring someone's daughter — treat her as your own. Your son will be much happier and so will you", Faryal went on.
"When you force your son to divorce his wife, when she's nine months pregnant! And your son doesn't…and he sticks beside his wife. He's called a pussy?"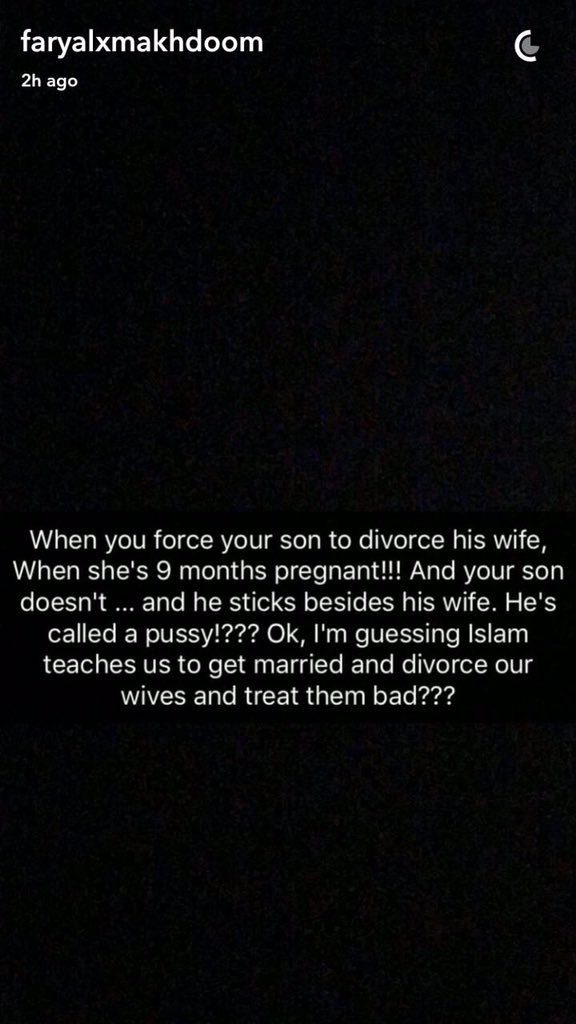 She even accused her sister-in-law of physical violence!
"What about when you sisters in law come to hit you when your husband's not home and still you don't raise your hand out of respect for your husband."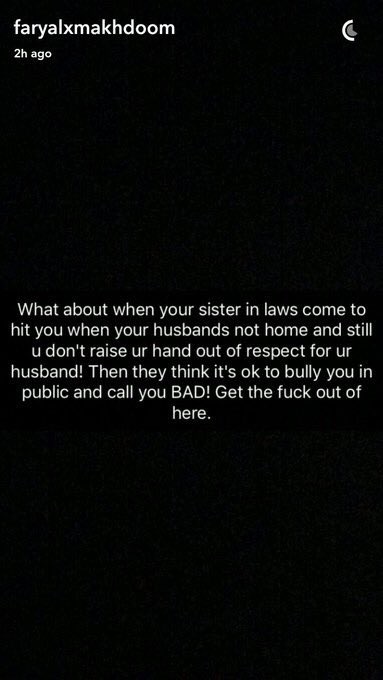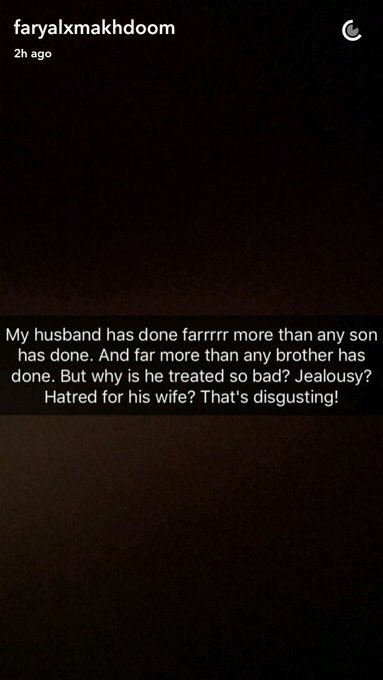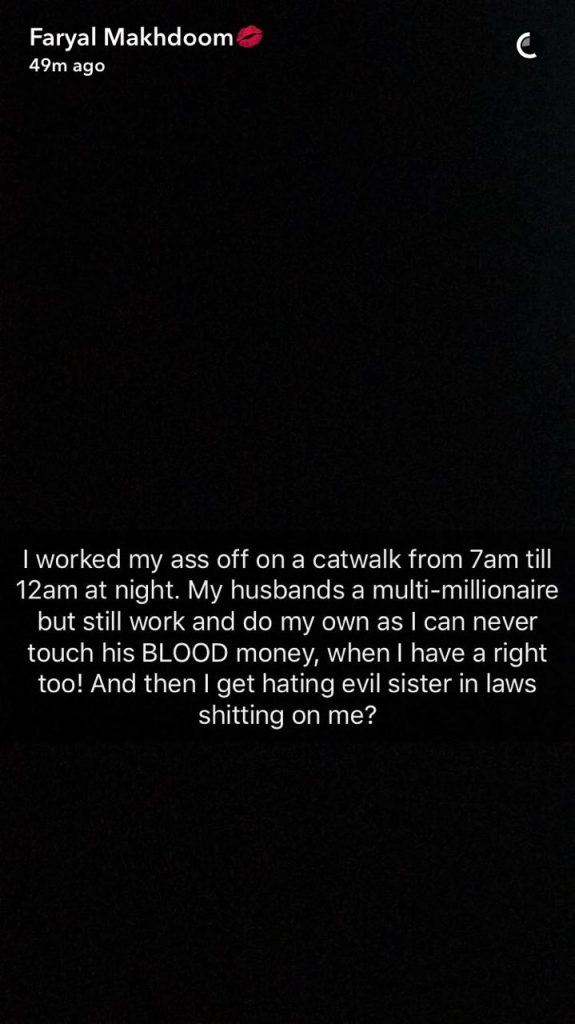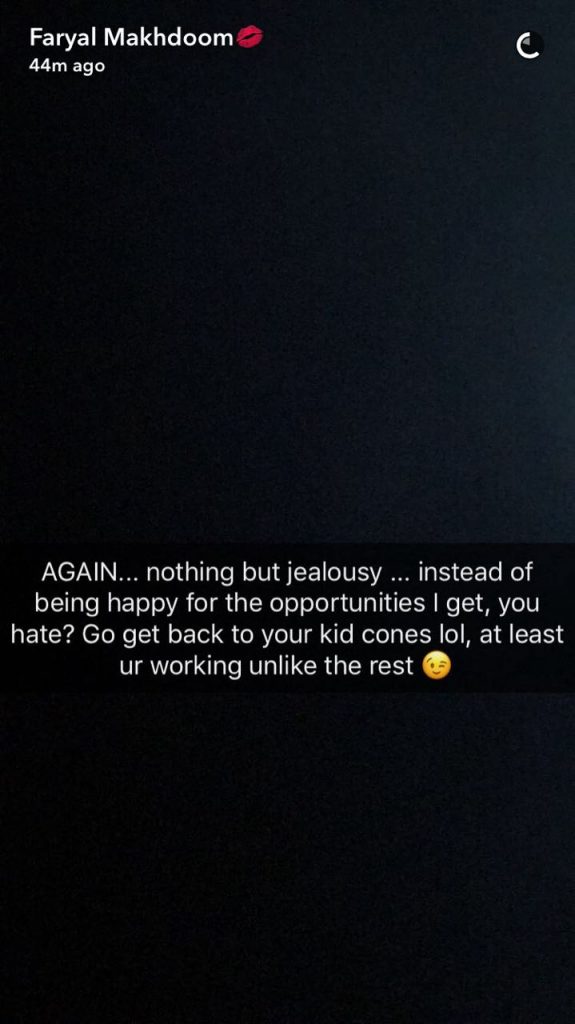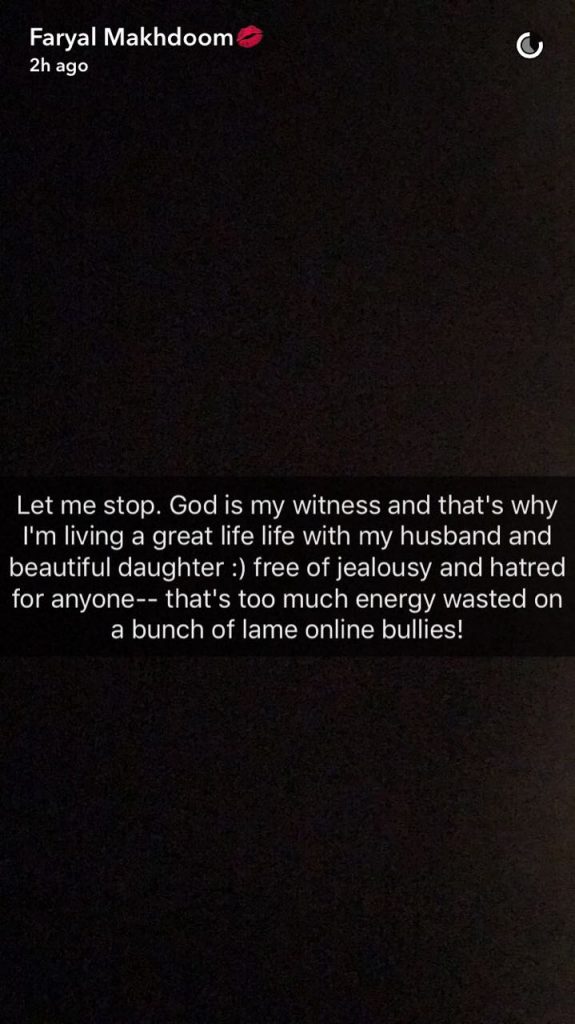 Faryal went ahead posting a screenshot of hateful comments, including her sister-in-law's on her official Instagram post.

The news of Faryal's domestic harassment accusations, caught the public's eye immediately and social media rose to her support.
Me watching Faryal Makhdoom's snapchat story rn pic.twitter.com/IYACip5k06

— 💆🏽 (@imandem_) December 6, 2016
Me rn watching Faryal Makhdoom roasting her in-laws on snapchat: pic.twitter.com/CHrf9paj6D

— Manahil (@Manahil18) December 6, 2016
@FaryalxMakhdoom is an idol. Love her for speaking up the way she has. Women need to learn from her. #FaryalMakhdoom #bullying #womensrights

— HARRIETT CROCKER (@harriettcxo) December 6, 2016
You are very blessed to have a good husband who supports you & protects you even when the rest of the world is against you @FaryalxMakhdoom

— Aasia Ali💕 (@AasiaxAli) December 6, 2016
Mate @FaryalxMakhdoom sc story has me spinning. Yessss gal stand up for yourself🙏🏽 pic.twitter.com/MAd3RNrRSB

— Tasnim (@TasnimMiah_) December 6, 2016
Amazing how @FaryalxMakhdoom has shared the story of 1000s of Asian girls out there who face so much shit from their inlaws just because.

— CagedLlama (@shamasallama) December 6, 2016
Faryal Makhdoom's approach may not be the classiest but she's speaking for millions of women who do have to deal with tha bullshit

— GlazedGulabJamun🇵🇰 (@UrKhoobsurat) December 6, 2016
Faryal thanked her social media fans for the amount of love they showered on her!
Damn! The amount of love and support I get from you guys in unbelievable. Thanks a lot❤️ I love you guys x pic.twitter.com/TXrnUxiSoX

— Faryal Makhdoom Khan (@FaryalxMakhdoom) December 6, 2016
Mariya Khan, Faryal's sister spoke in her defense saying:  "Do I look like I can beat someone up."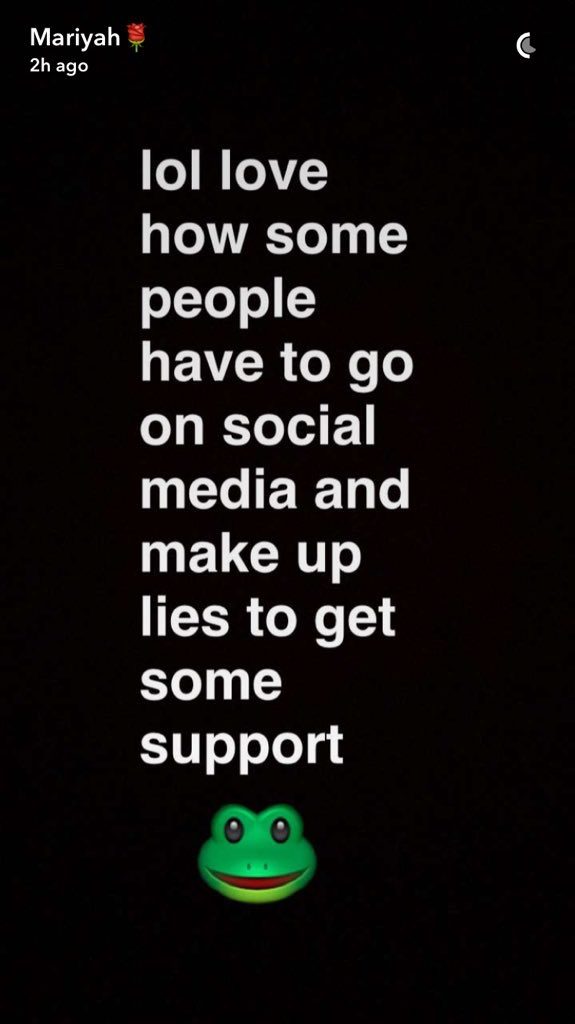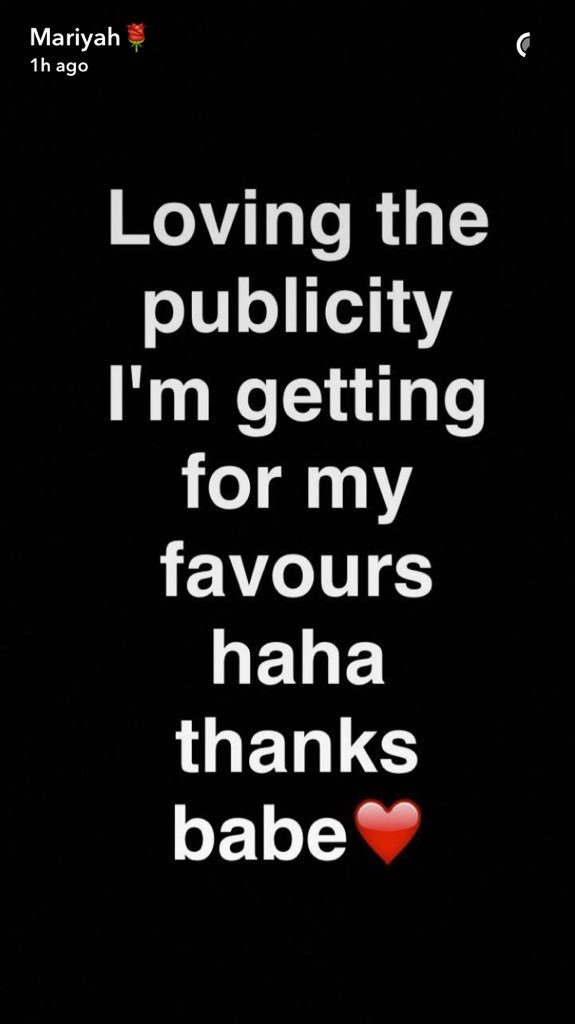 And in another response, Mariya went on writing:  "didn't need to justify herself on social media as 'Allah is watching'."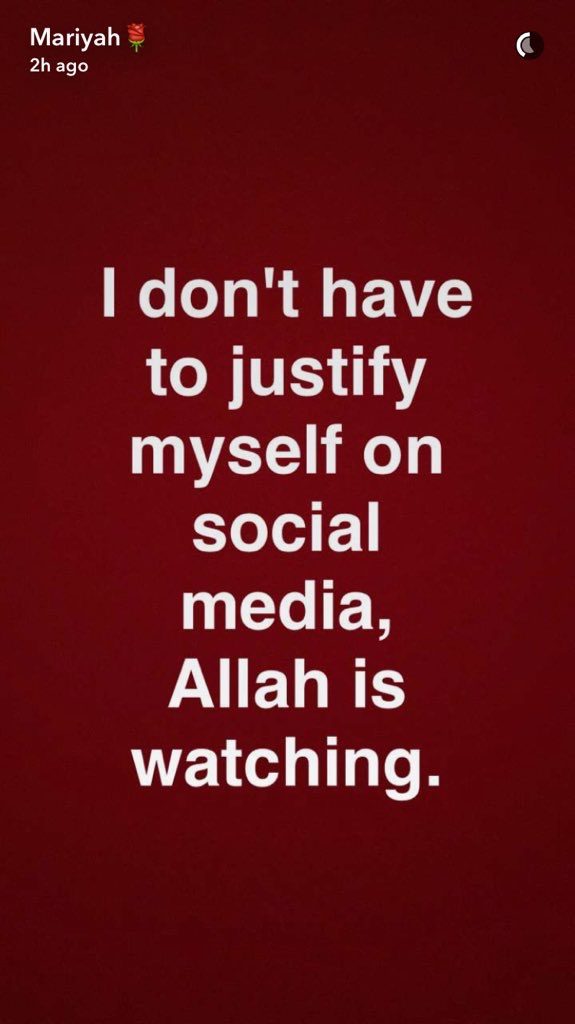 This is Snapchat War, we say! 
Faryal- a human rights activist and fashionista, will be making her ramp debut soon at Asiana Bridal Show, Birmingham.
Amir and Faryal tied the knot three years ago at New York and the lovely duo seemed unabashedly happy- until now!
The saying "all that glitters isn't gold" cannot be truer!
Faryal Makhdoom to Rock her Ramp Debut as a Stunning Bride at Asiana Bridal Show, Birmingham
Stay tuned to Brandsynario for more news and updates.