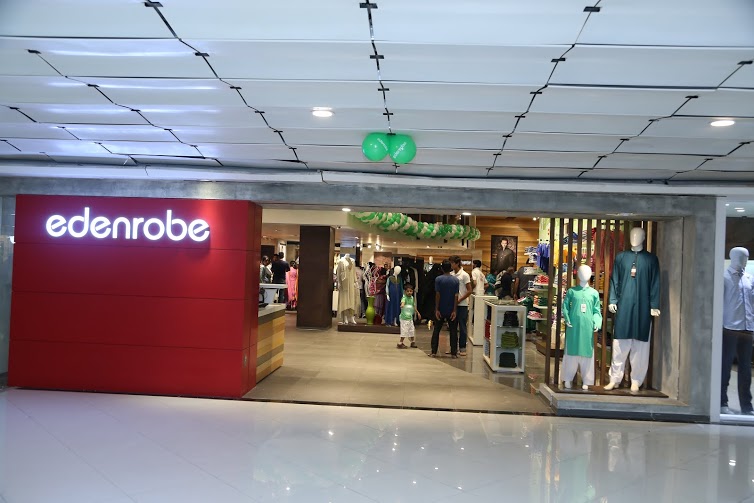 Pakistan's men fashion industry still has a long way to go, but there are a few brands that are far above the excellence, leading the way is Edenrobe – one of the most celebrated brands in ready to wear garments industry, manufactured and retailed in Pakistan.
The brand offers a wide range of apparels à la mode catering to all seasons and occasions. The products are designed with changing styles with a view to satisfy evolving preferences and expectations of the consumers. Edenrobe caters to all ages with styles for both genders.
Since its inception, the brand has aimed to provide style that meets individual needs and market trends, while making an all-out effort to reflect the best combination of "fit" and "finish" with premium quality "fabric" in its products. And the effort has put Edenrobe at the top of the tree in ready to wear garments.
The mission by which Edenrobe has made strides, states:
"To provide ultimate clothing experience and let people achieve desired urban look through our own distinctive mix of comfort, quality, colors and exquisite styles in western and traditional wear."
And this mission has led them on a successful journey over time.
The company embarked on its venture in 1988 under the name of "Eden Apparels". Junaid Dandia was the man who turned up the trumps for the company. He not only founded it but carried it on a successful journey as CEO.
Initially, the business operated as a retail partnership only but the widespread approval it received for its brands made company revamp their marketing strategy. And as a result, Edenrobe emerged; the management fused all the existing brands into one.
Since then Edenrobe has expanded its business with 75 outlets in 28 cities across Pakistan.
Currently, the brand offers a wide variety of ready-to-wear clothing for men, women and kids. In men's collection, the brand offers formal and business casual shirts, shalwar suits, kurta and shalwar in ethnic wear and three-piece and sherwani suits in formal wear.
Boys' collection includes casual shirts and t-shirts, pants, shorts, shalwar suits, sherwani suits and ceremonial suiting while girls' collection includes Kurtis, Tights, Frocks and Pishwas.
With a distinctive style, attractive combination, superior-quality and high-value, Edenrobe provides fashionable products and that too in very befitting prices. Over the time, the Edenrobe has evolved into a one-stop shop fashion emporium for men's fashion in Pakistan.
The company's brand strategy has been directed towards providing stylish products in a unique and innovative manner. The brand aims to create "sheer addiction" among its consumers with its high-quality standards.
Edenrobe's well turned out image and style are clearly visible in its advertising and product communication. With its fascinating style, Edenrobe maintains fashion that is in the reach of all consumers. The brand contemplates on customers' original styles in its products. The elegance, inspiration, sophistication and style are clearly visible in its modern western and traditional clothing.
While talking to Brandsynario, a representative from Edenrobe remarked,
"We like to establish an identity that is easily relatable to the people's everyday lifestyle, like to be known as People's Choice. We are on the front end to cater our customers' needs instead of being reactive so that they can easily reevaluate their needs while enjoying luxury and comfort."
With 39 Stand Alone stores, 16 outlets in malls and 20 shops in shops, the brand has expanded its reach throughout the country.  Focusing on convenience and comfort, these stores have been laid out to improve customers' experience of shopping
Accentuating on its principle of innovation and to improve the shopping experience for consumers, Edenrobe has started Online Shopping with the freedom to pay cash on delivery nationwide.
According to our sources, the company has maintained a sustainable growth of over 28%in past five years. In only 2013 Edenrobe sold 1 Million garments. The brand also launched 6 new outlets in 2014 in different locations of the country.
Taking the business a notch above, the clothing brand has launched one more outlet in Atrium Mall, Karachi this independence day on 14th August. As expected, the inauguration was followed with a huge response from the public that arrived to visit the well-furnished outlet and left with amazing discounts offers.
Complete pictures of the inauguration of the new outlet are below.