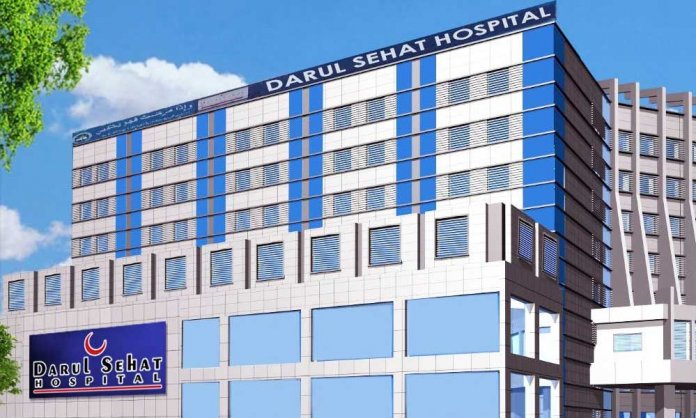 Update: Minor girl Nishwa, who was taken to Darul Sehat Hospital in Karachi and was given the wrong injection is no more.
After being injected with the wrong medication, 9-month old Nishwa became paralyzed due to an overdose of potassium chloride which drastically deteriorated her brain cells.
A two-member body was also formed to probe the case of doctors' neglect. The hospital took full responsibility for the error and her treatment.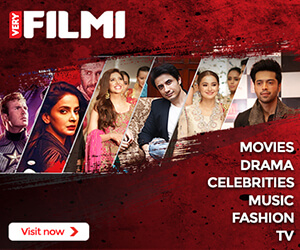 ---
---
An investigation is underway after a 9-month old girl in Karachi became paralyzed after being injected with the wrong injection.
Reportedly, Nishwa was taken to Darul Sehat Hospital hospital after she was experiencing gastric problems.
The parents of the child claim that due to medical negligence, she was given the wrong medication. Consequently, the baby lost control of her mind and body and a fastened heartbeat eventually leading the child to the ventilator.
The father reported to the media:
"An on-duty doctor told me that condition of my daughter would be better till morning if I leave her for one night. A nursing staff member, Moiz, came in and administered a drip."

"The injection which needs 24 hours to be dissolved into the body was administered once that worsened my daughter's condition and her lips went yellow."

"My daughter was kept on the ventilator for next one week at the hospital and she was paralyzed when doctors removed her from the vent machine"
Case Filed Against the Hospital
The father has now registered a case against the hospital's administration as he holds them responsible for his daughter's current condition.
Advisor to Chief Minister on Information, Murtaza Wahab has taken notice of the incident. He shared that the government will give their full cooperation to the family and when proven to be guilty proper action will be taken accordingly.
Pakistan Tehreek-e-Insaf (PTI) Member of Provincial Assembly (MPA), Khurram Sher Zaman, expressed outrage over the incident. He slammed the Sindh government for failing to keep a check on the deteriorating state of hospitals in the province
The hospital administration has accepted full responsibility of investigating the case and have agreed to bear all costs for her treatment.
An official statement was also issued by the Institute on the matter.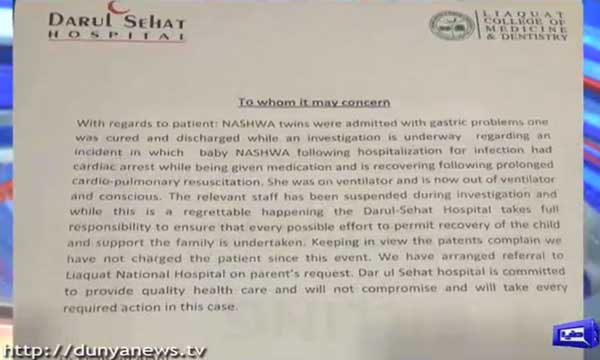 Celebrities Pray for Baby Nishwa
Various celebrities have taken it to Twitter and other social media platforms to pray for the health of the beautiful baby Nishwa who became a victim of medical negligence.
View this post on Instagram

Pakistanis Are Protesting Against Darul Sehat Hospital
Child condition critical due to staff negligence at Darul Sehat Hospital Karachi
This Hospital is nothing but Trouble .
Please Look into this matter @ImranIsmailPTI @MuradAliShahPPP @ArifAlvi pic.twitter.com/u6LefAKNaN

— Syed Ali (@Ali_answers) April 14, 2019
Liscence of #DarulSehat hospital should be cancelled immediately and all the expenses incured on Kid's treatment will be bear by Hospital.
Its time to do some action against those illetrate doctors.@BBhuttoZardari @fawadchaudhry @ImranIsmailPTI

— Zoraez Siddiqui (@JojiSiddiqui) April 14, 2019
Due to groce negligence of doctors at darul sehat hospital this 9 month old girl is in critical situation fighting for her life. The doctors gave her a massive overdoze of medicine without consideration of her age or weight. pic.twitter.com/VQ20EFNvpo

— Bilal Ahmed Ghaffar (@BilalAGhaffar) April 14, 2019
#DarulSehat@ImranKhanPTI @ImranIsmailPTI @geonews_urdu @ARYNEWSOFFICIAL
Why no action has been taken against this hospital? The staff and doctors are extremely non cooperative and at the height of incompetencey I'll urge the government to seal this hospital and terminate all Dr

— Mohammad (@Mohammad140020) April 15, 2019
9 months old baby has been paralysed due to mistake of untrained staff and heavy dose of injection by darul sehat hospital karachi. 😔 My heart is crying for the parents of this daughter 😭 please avoid such hospitals. RT this such doctors should be banned. pic.twitter.com/C2SZJdfvqz

— Shahzad Baloch ♨ (@Punk_Angel007) April 14, 2019
This hospital is one of those who are working not to relief people, but to full there pockets with money. My mom died at ICU, we went their in necessitate but afterwards I didn't used it for my family nor I recommend it. May Allah relief her. ameen#DarulSehat @fawadchaudhry pic.twitter.com/THgKzNvSc8

— Muhammad Fahim (@Mfahimsays) April 15, 2019
Shame on the staff of Darul Sehat Hospital. Health Minister Sindh and PMDC must take notice of this case. This ain't the first time. This hospital is known for mismanagement. 😡 https://t.co/gml5HHkomg

— Medical Students Snaps (@MedSnaps) April 15, 2019
#Karachi: This innocent 9 month old Nashwa is paralyzed. Hospital accepted their mistake & fired the nursing staff. Plz note, this is not the 1st case of negligence by #DarulSehat Hospital, Gulistan-e-#Jauhar. #KHIAlerts #HospitalorButcherShop? pic.twitter.com/6scZ35wluT

— SherY – (@SherySyed_) April 14, 2019
Stay tuned to Brandsynario for more news and updates.