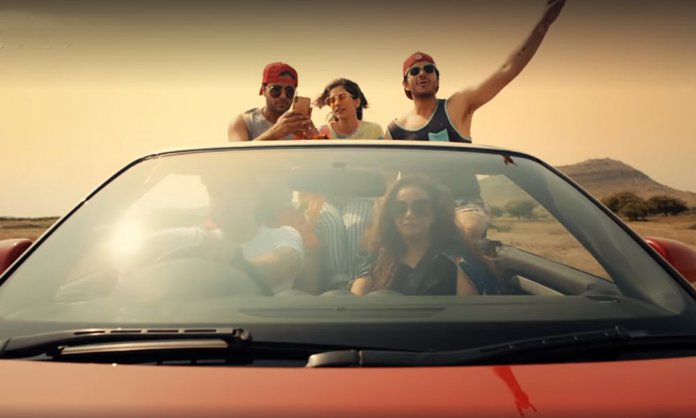 We finally got to watch Candi 'Meray Dost, Meray Yaar' on Geo Entertainment, and yes, it was better than what we anticipated!
The episode starts off with a funky track that has us grooving to the musical beat as we see the gorgeous Syra Sheroz.
We also see the chocolate boy Asim Azhar and the dashing hunk Haroon together with the new talent Hamzah.
The chemistry between all 4 friends is on point and one we can easily relate to.
https://youtu.be/Jpixzx4DKD8
Episode 1 starts off with a 'shaadi wala mahool' as ye see a beautiful house decorated in yellow garlands. There's a funny moment as one of the friends is mistaken as a worker. A full-fledged dance practice is going on in the background where everyone is enjoying the energetic atmosphere.
Mohib and Zoya are having a heart-to-heart conversation from which we get the feeling that they are upset by something that has to do with Sherry and Zain. Zoya tells Mohib that she did not invite the two to the wedding.
Taking a flashback to just one month ago, we see a group of boys giving an audition in a cafe. We are introduced to Sherry, a music fanatic who is very serious about his work and the love of art.
Mohib's talent for singing in different voices shines through , but his employer is giving him a tough time when it comes to the payment.
Years after their separation, Zoya sends out a message to all the boys telling them she is getting married and she wants them to be there with her on the big day.Sherry is taken aback the most by this news.
We are introduced to Zoya's mother, a very funny and interesting character who we love to see on screen. Both mother and daughter talk about how life was with the band before everything fell apart.
Last but not least, we see Zain, a guitarist, and singer, who seems like the youngest addition to the band. We see the beautiful bond shared by the band. They seem inseparable which makes us wonder all the more what happened between the friends.
Watch Candi Meray Dost Meray Yaar to Find Out How the Band Split!
https://youtu.be/vgFSKF9nK20