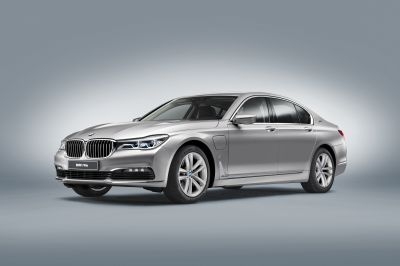 Keeping its promise to bring hybrid power and greater fuel efficiency to more cars in its range, BMW will be showcasing the 740e iPerformance, a more environmentally responsible take on its high-tech flagship executive sedan, at this year's Geneva Motor Show, taking place March 3-13.
The announcement comes as the company is also preparing to reveal a fire-breathing, supercar-baiting version of the 7-Series — the M760Li xDrive V12 — at the same event.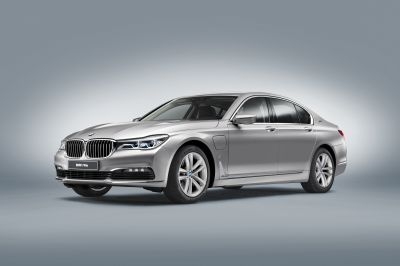 And while the 6.6-liter, 592bhp executive sedan can go from 0-100km/h in 3.9 seconds and on to an electronically limited 250km/h (155mph) top speed, it emits 294 g/km in CO2 and returns 12.6 l/100 km (22.4 mpg) in terms of fuel efficiency in the process.
In stark contrast, the 740e iPerformance is a plug-in hybrid with just 322bhp on tap. It can accelerate from 0-100km/h in 5.6 seconds. But it has a similar top speed to its V12 brethren and thanks to a hybrid system that enables the car to cover up to 25 miles (40km) just on electric power as well as stepping in to give the four-cylinder 2-litre gas engine a helping hand, the 740e boasts a fuel economy of 134.5mpg (2.1l/100km).
And it gets better. The 740e is available with the same X-Drive four wheel drive system for even greater grip, control and fun in the bends. Tick the options box and the system shaves 0.1 seconds off that 0-100km/h time. For those that prefer comfort, there's also a long wheelbase version. However, both these variants will impact very slightly on fuel economy and the standard car's CO2 emissions of 53g/km.
Regardless of variant, the battery pack powering the electric motor can be recharged from a domestic power socket in four hours.
BMW is doing everything in its power to ensure the 740e isn't short of driving fun as well as environmental responsibility. As well as full electric and comfort modes, the car has a proper 'Sport' setting and the fact that the company is going to start calling its hybrid models 'iPerformance' is meant to make potential clients think of the capabilities of the i8 (BMW's hybrid super sports car) rather than of making a performance sacrifice for the good of the planet.
The finishing touch is the interior. Although BMW is yet to announce prices for the new model, owners won't have to select many extra equipment options as the 740e will come with a host of features from satellite navigation to its ConnectedDrive infotainment platform as standard.
The BMW 740e iPerformance and the M760Li xDrive V12 will both be unveiled on March 1 at the Geneva Motor Show.
Stay tuned to Brandsynario for more updates.