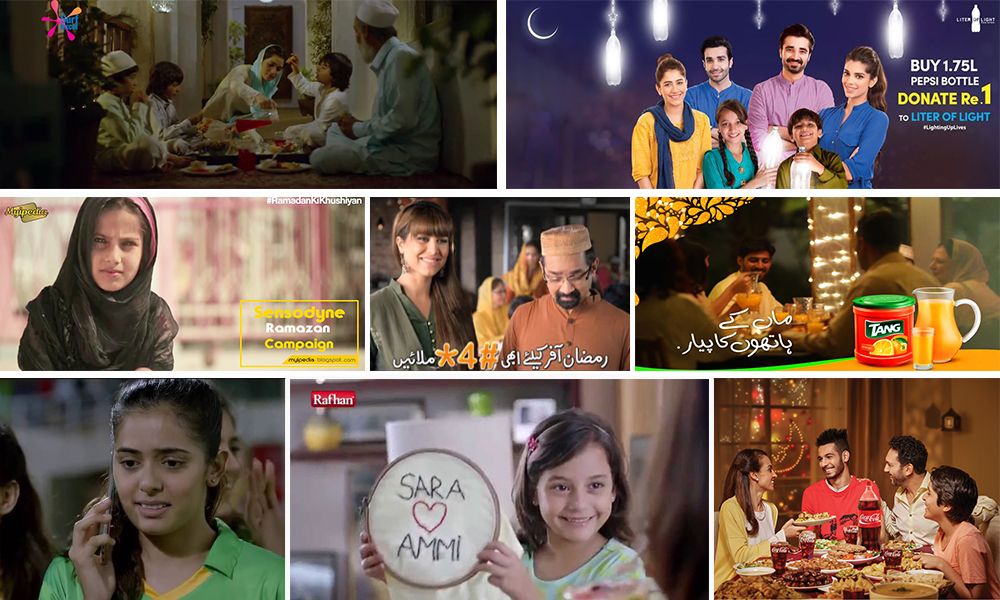 There is no doubt that that festive communication design and development has become a big industry in Pakistan for which tearjerker and heartwarming storylines are the most preferred choices. Things are changing fast. Good marketing is considered these days to be about a dialogue with customers, rather than a monologue to them.
Big ideas still matter but they are being usurped by the long idea that can carry a conversation across social networks, paid media, owned channels and earned media. Most of the ideas are now mini-movies because of a powerful player in the online advertising game.
In our very own Urdu language, people use a phrase quite often to convey a simple truth about the preeminence of days and nights over one another: "Kabhi ke din barre aur kabhi ki raatein" [At times days are longer, at others, nights]. Similarly, when it comes to a festive or holiday season in any religion or geography, all months are not treated equal. At least, one month has superiority over the rest.
The ninth month in Islamic calendar (lunar Hijri calendar) is the month for which Muslims all around the world keep themselves waiting for the whole year.    Ramazan is a huge annual event and, therefore, it gets everything disproportionate in terms of quality as well quantity including spending on advertising because of greater ROI.
Here, we have compiled a selection of such mini-movies turn Ramazan 2016 TVCs exclusively for you with our evaluation as well as judgment based on popular feedback from viewers who are consumers:
1]. Naya Zamana. Naee Batein. [ QMobile Corporate Ramazan TVC 2016]
Keeping to their Ramazan theme, QMobile's message is about an emotional daughter-father story of cricket maniac Sara and Mr. Iqbal – a traditionalist father, who wishes to see his daughter's place only at home. Sara continues to pursue her dream with the support of her mother. Mr. Iqbal is a gentleman and loving father, ultimately retreats from his stance and accepts new realities by congratulating his daughter on her team's success. The jingle 'nanhi si aik kali thi meri…'stirs hearts of millions of those who love, respect and value daughters. It also reinforces the idea i.e. new age, new conversations.
https://www.youtube.com/watch?v=cYdGIxD7ZZI
2]. Madad Aik Ibadat. [Surf Excel Ramazan TVC2016]
Keeping to their long idea 'Dirt is good' [daagh to achay hotay hein!], Unilever Pakistan connects its detergent brand 'Surf Excel' emotionally through effective advertainment. What these beautiful kids teach us can simply be expressed in the word of William Arthur Ward:    "Do more than belong: participate. Do more than care: help. Do more than believe: practice. Do more than be fair: be kind. Do more than forgive: forget. Do more than dream: work." Again, the jingle 'aaj meri paishani pe qismat ne chooma hai…'sums up the entire story excellently well.
3]. Liter of Light. [Pepsi Ramazan TVC2016]
As simple as elegant, 'Liter of Light' campaign was, in fact, launched in 2015 by PepsiCo Pakistan, which proved to be a great success and helped manage thousands of lives in rural Pakistan by lightening up their villages particularly during sehar and iftaar. This Ramazan the campaign is again invigorated with the same noble cause by endorsement of celebrities like Hamza Ali Abbasi and music maestro Abida Parveen as her voice itself worth more than the face of any other celebrity across the borders. Her soul touching theme song 'Noor-e-Azal' mesmerizes the whole atmosphere whenever this purposeful ad film airs or broadcasts.
https://www.youtube.com/watch?v=XUic9UK1MZg
4]. Pyar ki Mithas [ Rafhan Ramazan TVC 2016]
A treat to watch every time, Rafhan's Ramazan specific latest TVC makes use of the perfect ingredient of spirituality and mother-daughter relationship without employing any magic of brand endorsements, tempting food shots or appealing jingles. Beautiful storyline narrates and portrays all the emotional elements of mother-daughter-grandmother everlasting troika. Rafhan has made a creative attempt to discover the sweet side of Ramazan through its dessert range by not just sharing love, but also the burdens of your loved ones.
5]. Maa Kay Haathon Ka Pyaar – Tang Ramzan TVC 2016
Created in 1957, "Tang" world's favorite powdered beverage is now available in 5 fruity flavors in Pakistan. TANG is trademark of Kraft Food Holdings, Ins., [USA] and is marketed here in our country by Clover Pakistan Limited. As far as Tang Ramazan TVC is concerned, it is simply inspiring.  For the whole month of Ramazan, Clover Pakistan's Tang TVC continued with the successful motivational message. It is all about sharing and promoting something positive through strong mother-kids unconditional love and affection.
https://www.youtube.com/watch?v=eaF0VXZtKJY
6]. Ramazan ki Khushiyan –Sensodyne Ramazan TVC 2016
Toothpaste brand Sensodyne stands for sensitivity. Since, the blessed month brings with it the spirit of goodness and sensitivity towards other fellow beings so why not this spirit and sensitivity passes on through an effective message.  Have a look at Sensodyne Ramazan TVC, which serves as a donation drive while nurturing the spirit of charity and generosity by bringing a shocking state of affairs of hard working children from the less-fortunate and underprivileged families. It is really sensitive ad film.
7]. Aao baant lein maza har lamhay ka-Coca Cola Ramzan TVC 2016
Continued with its long and lasting idea of sharing happiness and love, Coke's message in this Ramazan dedicated to mothers who are always ready to sacrifice everything for the joy of her children. With its impressive jingle, the global brand pulls the hearts of millions of Pakistanis in any age group or background when it echoes 'tu hai maa, tujh se hai sara jahan…[ you are my mom, you are my world…].
https://www.youtube.com/watch?v=K6mMdWWDK-U
8]. Allah Miyan Mujhe Ghar Wapas Jana Hai- SKMCH Ramazan TVC 2016
Leveraging on Huzaifa's desire and aspiration through a supplication to Allah the Almighty in the form of a monologue, SKMCH's TVC serves as a donation drive while nurturing the spirit of charity and generosity so that cancer patients as young as Huzaifa can live their dreams. AD film is heart grabbing and its call to action is quite appealing.
https://www.youtube.com/watch?v=bT742MpiZhE
9: Behter Kal Ki Umeed-Ufone Ramazan TVC 2016
Borrowed from an Iranian idea of Deewar-e-Meharbani, this Ramazan Ufone promotes the initiative of two young guys of Peshawar to spread kindness within the community through establishing Wall of Kindness without much hullabaloo. There is a series of TVCs appealing people to work voluntarily within the community because charity is not just to donate in monetary form it can be in the form of goods or non-perishable food items to needy and deserving people and it is quite possible through mutual support and cooperation.
https://www.youtube.com/watch?v=MMWbbAo30AI