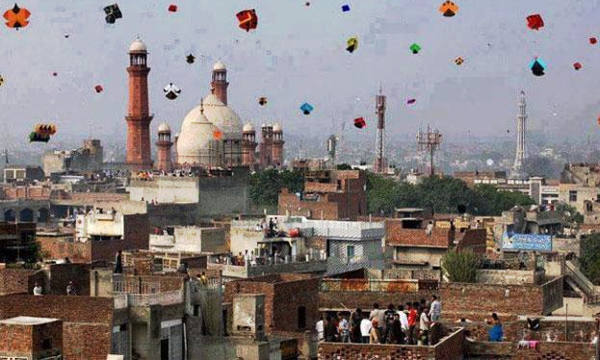 Amidst rumors on the Basant festival's ban to be lifted, the Chief Minister for Punjab, Shehbaz Sharif communicated to the general public through his official twitter handle.
Here's what Shehbaz Shariff tweeted!
Complete BAN on Basant.. No one can b allowed to play with the lives of ppl.. concerned DPO will b responsible for any violation of ban -ss

— Shehbaz Sharif (@CMShehbaz) February 7, 2017

The news on the Basant ban did not go well with those waiting eagerly for the kite-flying festival to commence. People took to twitter to express their concerns and views. Some also suggested alternate methods for an impartial ban instead of totally banning the festival.
Here's what people tweeted!
Ban it! #Bannewyear,#banbasant, banYouTube, #BanGeo , #banMalalabook. Ban mangoes because they give too much pleasure to people.

— wasim (@waskpk) May 2, 2014
All sport/outdoor activity carries some risk. Rather than ban kite-flying, ban manja that leads to fatal cuts @CMShehbaz #basant #Punjab

— beena sarwar (@beenasarwar) February 8, 2017
Every sport has some dangerous aspects, but you don't just ban them but to make sure the safety, #Basant should be allowed.#BanChemical.

— Sijjeel (@sijjeel87) February 7, 2017
So convenient for state to ban a sport or activity instead of admitting its own failure to ensure saftey & control hazards #Basant pic.twitter.com/rjhThdDxoT

— Khawaja Naveed Aslam (@WatchingRainbow) February 8, 2017
#Basant #Punjab #Lahore #Culture If the Punjab Government apply its mind & improvise then it can use #Basant for holding Int. Kite Festival

— Aamir Mughal (@mughalbha) February 8, 2017
So pitiful that we've started to view culture through eyes of religion. State is all repression, no room for healthy entertainment #Basant pic.twitter.com/UkfKEAu1yp

— Khawaja Naveed Aslam (@WatchingRainbow) February 8, 2017
When you can't ban terrorist organisations… ban the #KiteFestival #Basant instead . #NooraSense https://t.co/wQVq9tpVJT

— Rubia Abrar (@rubiaabrar) February 7, 2017
#Basant was the پہچان of #Lahore before idiots using CHEMICAL laced strings started cutting off ppl's necks & this festival was banned. pic.twitter.com/JE1uGxioxb

— Tanya Munir (@TanyeaMunir) January 27, 2017
Basant has been banned in the country since 2005 but the restriction was recently being reconsidered by the Punjab Government.
As reported by The News, "The provincial government will not take any unilateral decision regarding the revival of 'Basant' because it may create a huge number of problems for it. So it will make contacts with all the parliamentary parties in the Punjab Assembly and develop consensus for new legislation to lift the ban on the traditional 'Basant' festival."
The festival is popular in Punjab and as Spring approaches the dates for Basant 2017 have been announced by the locals of Rawalpindi and Islamabad. The government has set up a committee that will develop a legislation which will introduce strict regulations to be followed by all who want to indulge in the Basant festivities.
A hefty fine and jail term would be applicable for those who manufacture and also sell glass and chemical coated strings that are a danger to people's lives as reported by The News. 
Serene Air's New Aircraft Damaged in Accident at New Islamabad Airport [Pictures]
Even though no official report has been received as to the ban being lifted, locals have decided on the dates for Basant which are; 16th February in Rawalpindi Cantt, 23rd in Rawalpindi City area and 12th March in Islamabad.
As talks for Basant 2017 are still underway, Police in Islamabad have been instructed by CPO Rawalpindi to arrest kite sellers as the restrictions are yet in place.
Do you think the Government should lift the ban on the Basant Festivities? Let us know in the comments below.
Stay tuned to Brandsynario for latest news and updates!