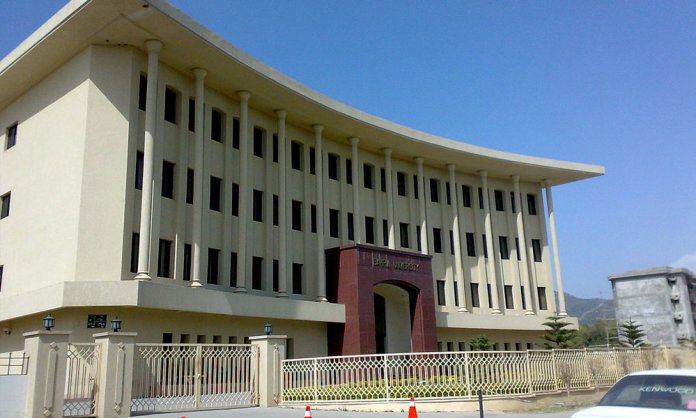 Bahria University has landed itself in yet another controversy by announcing the ban on mixed gatherings at the university cafeteria.
Meesha Shafi's Lawyer Taunts Ali Zafar Over Harassment Case!
According to the university, students of the opposite gender who are seen eating in the café together will face disciplinary action. The main purpose behind this move seems to be intent of segregating male and female students.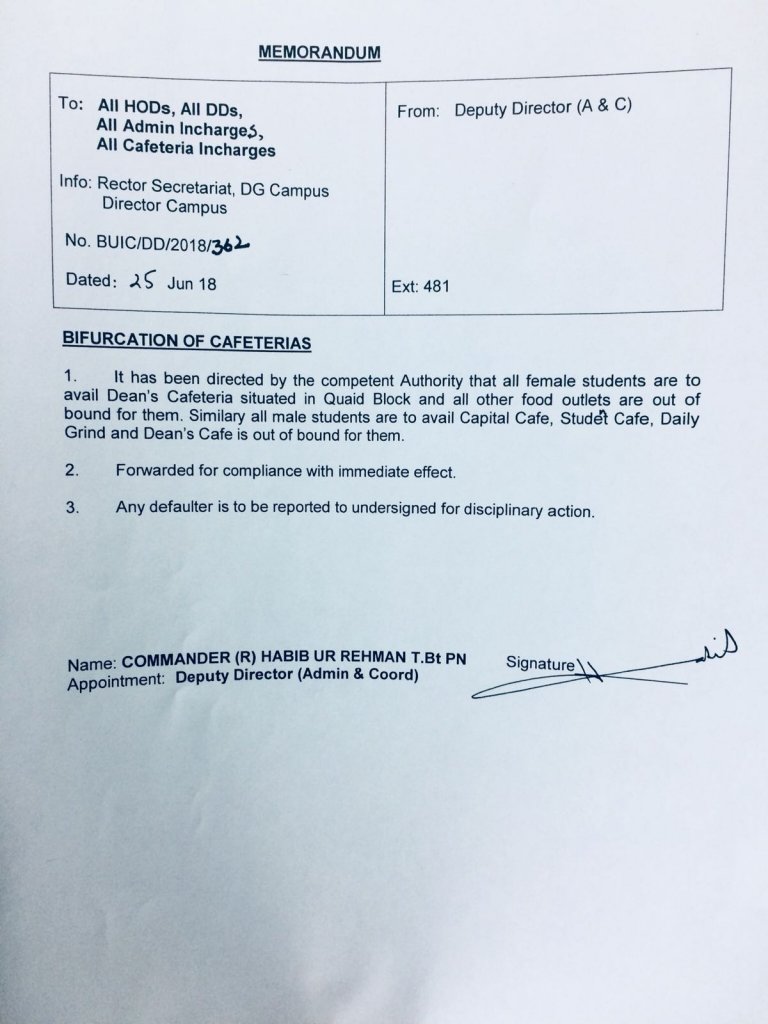 For that, the cafeterias in the university have been divided, allotting the Dean's Café for female students whereas the Capital Café, Student Café and Daily Grind have been reserved for the male students.
Both male and female students have been restricted from using another café aside from the ones assigned to them and an official notification has also been issued to inform the students.
Commander (R) Habib-ur-Rehman – Deputy Director Admin & Coordination issued a notification with the subject line 'Bifurcation of Cafeterias' stating:
It has been directed by the competent Authority that all female students are to avail Dean's Cafeteria situated in Quaid Block and all other food outlets are out of bound for them. Similarly, all male students are to avail Capital Café, Student Café and Daily Grind and Dean's Café is out of bound for them
However, it seems that not everyone is in full agreement with the notion. 
According to the Express Tribune staff member from the university labeled the notification 'bizarre' stating that university students don't need such limitations since they will be joining the professional world soon.
By segregating males from females at university means that we failed to prepare our students to be responsible members of our society.
However, this is not the first time such a controversial action has been taken by the university. A few months ago the university had decided to issue a notification to its students to maintain a 6-inch distance between the opposite gender.
Like the above 6-inch controversy, this one too sparked outrage on social media and a heated debate followed.
Couples In Bahria University after Ramadan because 6cm ban is lifted. pic.twitter.com/vlMFdoSYbf

— Omer Choudhary (@Omerchoudhary2) June 20, 2018
#BahriaUniversity new rule after the famous #6inch rule,Don't know what the management is thinking 🙏🏼 pic.twitter.com/sgToJQR9jL

— Taimur Hanjra 🌍 (@Taimur_Hanjra) June 25, 2018
After the 6-inch rule, Bahria University has STEPPED IT UP guys. There are now separate cafes for girls and boys. Total gender based discrimination. Clearly this university has its priorities straight. Is mandatory burka next? #WTFBahria #BahriaUniversity (Al-Huda/Islamic Campus) pic.twitter.com/qxs3Yb0pYI

— zoetrope (@ZohwaKarim) June 25, 2018
What is #wrong with this #BahriaUniversity management. Why can't they #educate rather than imposing some #irrational #rules at a #University level. They were already under-fire 4 ordering a #specific #distance while #boy #girl #communication #Pakistan.https://t.co/cihZbbl3uD pic.twitter.com/xrKvZOZLYE

— umar ishaque butt (@capisces) June 25, 2018
Bahria University turning into a Madrasah. Boys and girls cafe's are being separated. Awkward 😂

— UMER (@rajaumer3333) June 25, 2018
Bahria university is setting some amazing hypocrisy standards. LOL. From six inches gap to different cafes. When are They introducing separate campuses ? pic.twitter.com/2kJyDljDI4

— Sara. (@BauhatSara) June 25, 2018
First 'six-inch gap' fiasco, now Bahria University bifurcating the cafeterias….Seriously??

Chal kia rha hy boss 😂

— MUZAMMIL AMEEN (@Iam_muzzii) June 25, 2018
What are your views on this direction? Tell us in the comments.
Stay tuned to Brandsynario for more news and updates.