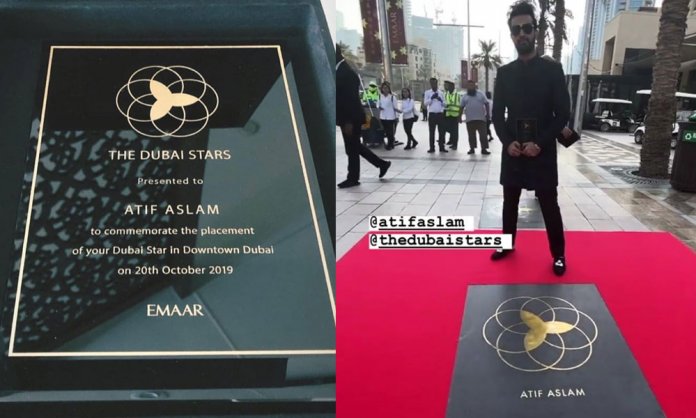 Pakistani crooner Atif Aslam was honored at the Dubai Stars Walk with a star of his own this past weekend.
The attraction was officially inaugurated with a grand opening at the Palace Downtown Hotel press conference.
The ceremony also included other stars including Sonam Kapoor, Balqees Fathi, footballer Yasser Saeed Al-Qahtani, actor Ahmed Helmy, actress Mona Zaki, and vlogger Khalid Al Amiri.
In total 8 luminaries from the world of entertainment gathered to celebrate and collect their commemorative plaques.
This news spread like wildfire on social media and became super viral.
Emaar does not just create communities, we strive to create remarkable experiences within these communities.

The Dubai Stars is a walkable star-studded experience across Downtown Dubai honoring global personalities from all walks of life on their achievements and work. -Downtown Dubai General Manager, Shymma Binbrek
The site showcases 400 stars awarded to change-makers and eminent personalities from realms of film, music, arts, literature, sports and social media influence, Binbrek said shared.
It's a very vibrant city. This is the only city I think I really enjoy myself walking on the streets. I have played for 150,000 people here, so it has a lot of goodwill.

We, South Asians, especially Pakistanis and Indians – we're everywhere, but this is one place where we are a lot. So I really love the fact my music is heard over here. -Atif Aslam
Aslam's wife Sarah Bharwana shared in his excitement at being awarded a Dubai Star and the artist said he expected his friends shall too.
I'll just stand there and say "yes!" It's like the Hollywood Walk Of Fame so it's quite a big deal. I have been chosen by a lot of people and I'm blessed to be among these people. It means a lot.
We are super proud of Atif Aslam for his great achievement and making Pakistan proud nationally and internationally as well.
Stay tuned to Bransynario for more news and updates.