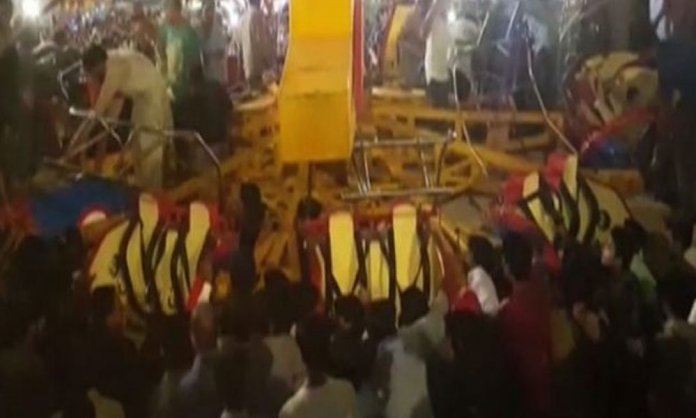 In an unfortunate accident, 12-year old Kashaf lost her life. The child went to Askari Park, which very recently was inaugurated on Eid-ul-Fitr, and became the victim of a fatal accident.
She and several others were taking rides, one of which had a sudden suddenly collapsed, leaving the survivors injured.
The cause of the swing's collapse could not be detected immediately, however, the eyewitness who spoke to a local news channel said the swings were overloaded.
Mayor Karachi Waseem Akhtar has demanded an inquiry to be held in regards to who is responsible behind happened. He also added that the park had opened without any safety measures or tests.
"I don't know who is overseeing the affairs of this park. It was earlier operated by KMC and then we handed it over to the cantonment. This is the park administration's mistake. They should not have allowed children to take rides,"
Earlier, a rumor of the Ferris Wheel collapsing also went viral. Many news publications and website claimed that it was a part of Askari Park, however, the amusement park soon rolled out a statement clarifying that the incident was in India and not in Karachi.
Askari Amusement Park Hits Back at Backlash Over Fatal Ferris Wheel Incident [Watch Video]
Social Media Reacts to Askari Park Ride Accident
#Karachi
Moments when a ride crashed Down in askari park 1 girl dead and 16 injured. #AskariPark #AskariParkAccident #Askari @sindh pic.twitter.com/IbcgPaQBZq

— Shahmir khan (@Shahmirk5) July 16, 2018
Is anyone answerable in this country? out short term memory lost nation will forget that incident shortly. We dont ask questions that why and how this happened? we dont take any incident seriously. Its just news for us. We have actually dead people….

— Moosani (@Mateenmoosani) July 16, 2018
Sad incident at Askari Amusement Park. I think that all announcement parks (with rides) must be closed till we make or adopt an international level safety standard. Nothing beyond a human life. Safety first! 😕#AskariPark #AskariParkAccident

— Mohsin khan BaLoch (@MrMohsinkhan647) July 16, 2018
are you SERIOUS?? A CHILD died last night at an AMUSEMENT PARK. Why? Because we don't have laws that regulate the safety of these rides. Stop trying to 'modernize' Pakistan when you can't run a goddamn amusement park without killing children. SHAMEFUL. #AskariPark

— Adil Alvi (@AdilAhmedAlvi) July 16, 2018
so who is going to jail for killing a girl? and injuring others #AskariPark

— z eazy (@zir07) July 16, 2018
Askari Park Mai Corruption Krna Zaroori Thi Kyun ky Dam Ky Liye Paisay Jama Krny Hy.#pakistan #askaripark #karachi #karachiforyou #election2k18 #askari

— Muddasir (@Muddasi58153543) July 16, 2018
Agar Yeh koi #political incident hota to sare media channel is khabar ko aese le k bethe hote jese unki Maa ya baap ho. Yeh bachay bhi quom k bachay hain. Jinhain 2 minutes ki breaking news ki jaga milti he.

— Moosani (@Mateenmoosani) July 16, 2018
Tragic that a Ride "collapsed" or "Fell" at Newly-inaugurated #AskariPark ,Karachi .
A teenage girl died, one person is critical & at least 8 injured.

Responsibility for Negligence must be taken.
Technical issues arise in rides, but soon after Inauguration…? Questionable ! pic.twitter.com/8ZSd5FCrjP

— Faeza Dawood (@FaezaDawood) July 15, 2018
#Askaripark pic.twitter.com/30xtgO7ZHE

— Sufyan (@Sufyan36259982) July 15, 2018
Is there any place in Pakistan where Pakistanis can feel safe and happy? This #AskariPark incident is horrible. Prayers for #Kashaf_Samad who lost her life in this tragic incident.#RIP_Kashaf_Samad

— HamZah Tweets (@HamZah__Tweets) July 15, 2018
Unlike previously, Askari Amusement Park's management has not rolled out an official statement as of yet.
Who is responsible for this negligence in your eyes?
Stay tuned to Brandsynario for more news and updates.