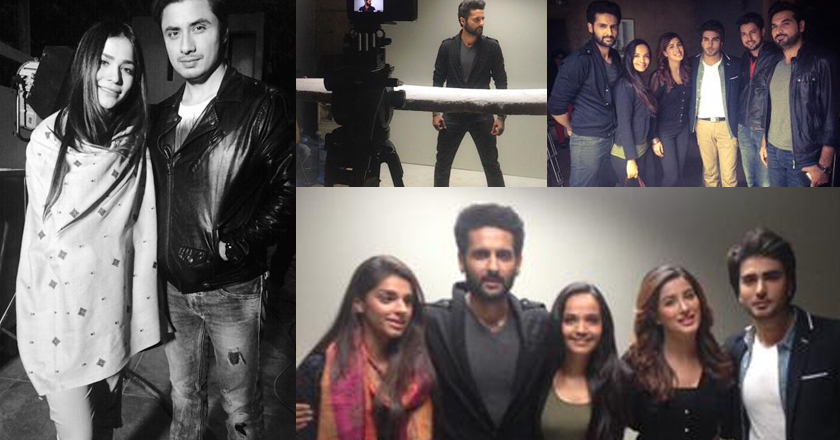 The multi-faceted, Ali Zafar has decided to pay a tribute to the recent Peshawar Attack victims along with other dedicated Pakistani singers, sports stars and actors.
Watch the song here:
The song sung by Ali, is titled as "Urein Gay" and its video features Mahira Khan, Aamina Sheikh, Humaima Malick, Mehwish Hayat, Humayun Saeed, Ali Kazmi and Saira Kazmi, and the Pakistani cricket star, Shoaib Malick.
Can't explain how humbled I feel to see the entire tv,film and music industry come together for a song I did about the #PeshawarAttack

— Ali Zafar (@AliZafarsays) January 24, 2015
The stars have come together to pay homage to the brave martyrs and survivors of Amry Public School who faced the inexplicable tragedy. The effort has been commended by Tanuj Garg, the CEO of Balaji Motion Pictures and renowned guitarist Asad Ahmed.
Great cause, great anthem and great people! So glad you took the initiative my brother @AliZafarsays #gopakistan pic.twitter.com/rkdMxMBCMX

— Ali Kazmi (@TheAliKazmi) January 24, 2015
United for a cause, #PeshawarAttack -shot with @alizafarsays for a tear-inducing tribute he's created for our kids. pic.twitter.com/BnXHvqZ5W4
— Humaima Malick (@HumaimaMalick) January 24, 2015
Lots of teary eyed stars on the shoot of the emotional 'Urein Ge'. 3 generations…History is being made here… pic.twitter.com/1BCEs74Wz4

— aamnaisani (@aamnaisani) January 24, 2015
Hope w #UreinGe @AliZafarsays @AmmaraHikmat @mohibmirza @sanammodysaeed #imranabbas #mehwishhayat #humayunsaeed pic.twitter.com/x89vvOBpCC

— Aamina Sheikh (@aaminasheikh) January 25, 2015
feel so good after participating in @AliZafarsays Song which He has Specially made for #Peshawar attack! pic.twitter.com/7qeKfAzkGe

— Shoaib malik (@realshoaibmalik) January 24, 2015
This is not the first artistic tribute being paid to the tragic incident. Other singers like Shehzad Roy and Jal the Band have composed songs and Indian Actor, Farhan Akhter has penned a poem for this cause as well.