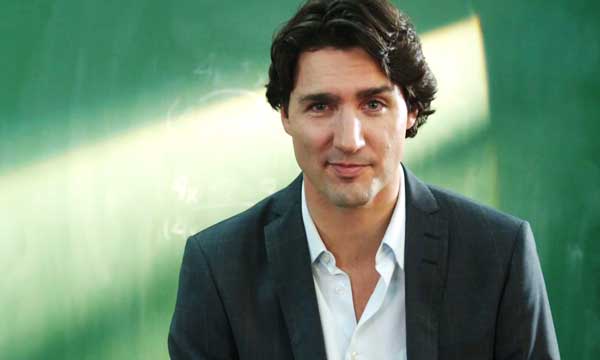 The Liberal Party leader Justin Trudeau won Canada's parliamentary election to become the country's next prime minister last week, causing an uproar on social media. Belonging to a family of politicians, Trudeau is the eldest son of the 15th Prime Minister of Canada, Pierre Trudeau. He is also the second youngest Prime Minister in Canadian history, after Joe Clark.
With his charmingly good looks and a humble demeanor, Canada's new dreamy Prime Minister, Justin Trudeau has won hearts of millions – be it a Canadian heart or a Pakistani.
The doe-eyed politician with his McDreamy smile and a liberal feminist perspective has left women all over the globe in love with him. He has unleashed his inner desi on several occasions causing Pakistanis to adore him!
Let's have a look as to why the charmer Trudeau is basically a blatant Desi!
1. He knows how to rock a Desi look
Just look at him in that sherwani and those kolhapuri chappals! Be it a red carpet event, public speaking or a visit to the Gurdwara, Justin knows how to transform himself into a desi and still look stunning.
There is something awe-striking about men in desi clothes and he sure knows how to rock that look! Those green eyes and that cute smile are to die for! Isn't it ladies?
2. He sure loves Biryani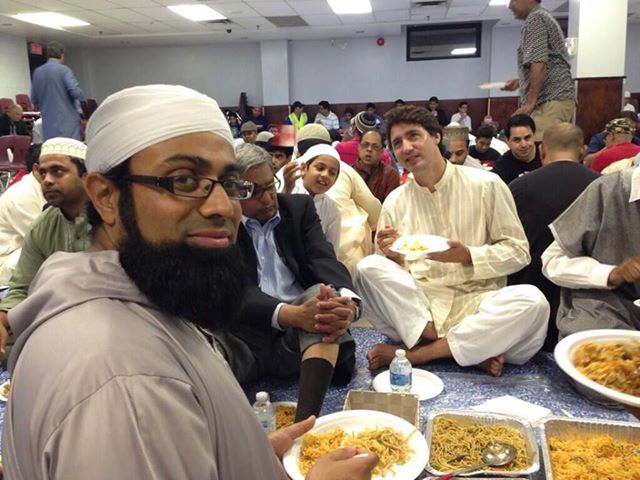 The 43-year old also loves Biryani, like a true Pakistani!
As if rocking a sherwani with those perfect green eyes wasn't enough, Justin donned a kurta shalwar and visited a Canadian mosque to celebrate victory while eating biryani! Look at him sitting cross-legged and truly enjoying himself.
3. He celebrates victory with Muslims at the Mosque
Being a young, liberal and a natural leader, he is more acceptable for the immigrant community. He celebrated victory with the Muslims at the mosque.
4. He does 'Bhangra' too!
[dailymotion id="x3aiugj"]
Oh God, The Canadian PM does bhangra too! How much more desi can he be?
A video of Trudeau getting his groove on, caused an uproar on social media recently, making Pakistani ladies adore him even more.
Read more: Top 10 'Most Followed' Pakistani Politicians on Twitter
5. He is a Fighter
Brace yourselves ladies, the charming PM is a fighter as well! He has displayed his athletic qualities during 2012 when Trudeau participated in a charity boxing event with the ret. Military Conservative Senator Patrick Brazeau and won the fight in the third round.
No one can mess with this one. He keeps giving us more reasons to admire him.
6. Those 'Hollywood Star' Looks
Besides being intellectual, charming and humble, his movie star looks have left people bewildered all over social media. His youthful and charismatic personality make us reminisce the early political days of our very own, Imran Khan. 
7. People's Person
Taking selfies and sitting cross-legged eating biryani, the PM is truly a people's person!
The modest politician greeted and casually took selfies with the commuters at Montreal Metro station the day after his victory.
8. A feminist all the way!
Besides wearing sherwanis, eating biryani, doing bhangra and possessing amazingly charming looks, the liberal politician is a feminist too. I mean does he even have a flaw?
In an interview with the Toronto Star, the PM said, "I'm proud to be a feminist".
[fb_embed_post href="https://www.facebook.com/ceylonmoors/videos/875111839225065//" width="550″/]
He has won the hearts of many Muslim women when in his winning speech he recalled a woman in hijab who handed her infant daughter to him and told him she was voting for him so that her child can make her own choices in future.
In response Trudeau said: "We know in our bones that Canada was built by people from all corners of the world, who worship every faith, who belong to every culture, who speak every language".
9. He is a Family Man
To add icing on the cake, Trudeau is also a family man! He has a loving wife and three beautiful children.
Trudeau first met his wife Sophie Grégoire when they were children growing up in Montreal; Grégoire was a classmate and childhood friend of Trudeau's youngest brother; they both reconnected as adults in 2003 when Grégoire became Trudeau's co-host for a charity ball; they got married in 2005, in a Catholic ceremony.
We wish Canada all the best and hope it flourishes under his governance.