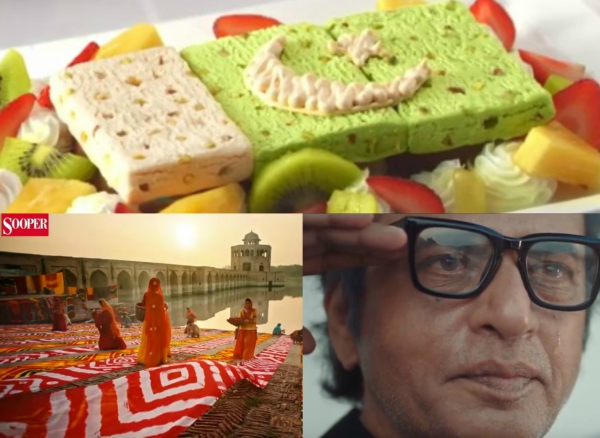 For all Pakistani's across the globe, Independence Day is a time when all emotions come rushing through and everyone celebrates the occasion in their own special way. The entire country is painted in green and white. Not to forget the nation's 'Jazba' can be seen when the children, youngsters and elderly proudly participate in all activities.
Like every year, brands have kept those emotions flowing through heart-touching TVCs that will make the patriot rise in you. The Independence Day 2016 TVCs will actually help redefine 'Azaadi'.
1. Peek Freans Sooper – Rhythms of Azaadi TVC 2016
Created by Prestige Grey and Prodcued by Ambience Production House, 'Rhythms of Azadi' is a tribute by Peek Freans Sooper to all the unsung heroes of Pakistan. Each person has his or her own special rhythm that defines the concept of 'Azadi' in a unique way.
The ad showcases vibrant and colorful cultures of Pakistan while the soul touching music gets you hooked. We all  are a part of our country's Independence in our own special way.
2. Fruitien Baba ki Trumpet TVC
This TVC is bound to melt your heart away! The emotional advertisment shows a father's undying love for his country. The TVC begins with a man finding out that his father had a paralysis attack. The son then rushes to the hospital and while watching his father lying feeble on the hospital bed, all his childhood memories come rushing back to him.
https://www.youtube.com/watch?v=KPn3DrPdBfQ
He reminisces how much his father loved his trumpet, his old photographs and how much he adored telling people that he was part of a band that played Pakistan's national anthem for the very first time.  The son decides to finally take his father to Minar-e-Pakistan. Upon hearing the national anthem, the weak and feeble man is able to stand back up on his feet, his eyes filling up with tears of joy and patriotism.
It is truly a commendable TVC!
8 Types of Pakistanis You'll See This Independence Day 14th August
3. Wall's – Azaadi Treat TVC 2016
Created by MullenLowe Rauf Wall's Azaadi's Treat TVC shows a fun way to celebrate Independence day! The ad showcases a mother teaching her son about how Pakistan was formed in one of the cutest and the most delicious way possible.
The latest Wall's Ad Campaign comes up with a fresh way to teach kids about the history of Pakistan. The mother is shown spending some fun and quality time with her son where she challenges his imagination and creates an ultimate sweet treat using Wall's ice cream, that looks like the Pakistani flag.


Let's all enjoy the sweet taste of Pakistan's Independence Day. It truly is a creative concept and we loved it!
4.  Bestway Cement Limited TVC 2016
The powerful TVC gives out the message of "Hamari Saakh Hamari Taakat".
The ad starts off with Quaid-e-Azam Mohammad Ali Jinnah delivering a speech. He can be heard saying that Pakistan's Independence is a gift created from uncountable sacrifices. It goes on to remember those who had lost their homes, their loved ones and everything they had, except for a strong will, that help them through it all.
Created by Manhattan International, and a voice over by Abid Ali, the TVC sure leaves a powerful impact on the audiences.
5. Independence Day TVC 2016 Milli Shoes- Azadi Offer
Enjoy major discounts on Azadi at Mili shoes! Be it male sandals, peshawari chappals, or formal female footwear, Milli Shoes has got it all and it's on sale. So make the most out of it.
Which one of these TVCs did you love the most? Let us know in the comments below.
Independence Day Food Deals and Discounts for 14 August 2016
Stay tuned to Brandsynario for more updates.