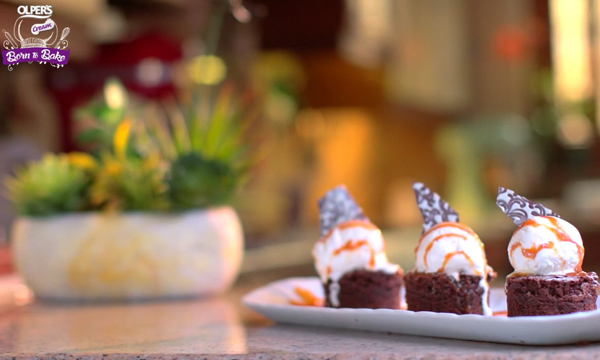 Olper's Cream 'Born to Bake' is a one-of-a-kind online baking show to launch in Pakistan. The venture aims to add value to the digital arena and revolutionize the content currently being produced.
The Born to Bake judges are a panel of top-notch baking connoisseurs including Naila Naqvi (Owner, Pie in the Sky), Raja Abdulla (Executive Chef, Ramada Plaza) and Saman Aub (Owner, Cakes n Creams).
With its innovative concept, genuine contestants and commendable production techniques, the show has successfully garnered eyeballs and appreciation from the advertising fraternity of Pakistan with many industry experts calling it a 'clutter breaking' concept.
Here we have compiled the 5 best dessert recipes the show has offered so far. So come on! Get the baker in you rolling. 
Brownies by Mahbano Ibrahim
Mahbano Ibrahim, the youngest contestant on the show, is a tough cookie. The 13-year-old has a passion for baking and loves to try out new challenges.
Learn how to bake mouth-watering brownies here:
Muffins by Waqar Ahmed Faizan 
Waqar Ahmed Faizan, along with stellar baking skills, is the funny man on the show. He sure knows how to charm people with taste and humor.
Learn how to bake tasteful Muffins here:
Lemon Tarts by Taniya Saleem Ghouri
Taniya Saleem Ghouri is set to defy all odds and aims to change the aroma of the baking world. Her drive is such that she can bake a top-notch batch of tarts without even using an oven.
Learn how to bake top-notch Lemon Tarts here:
Apple Pie by Maria Aijaz
Maria Aijaz, is a perfectionist baker, always striving for the best. Not letting any setback get in her way, baking is serious business for her.
Learn how to bake divine Apple Pie here:
Scones by Aqsa Sikandar
Aqsa Sikandar, Born to Bake's Einstein, is an engineer by profession. She emits a fresh blend of science and culinary art- emphasizing on the measurements, procedures and right amount of ingredients.
Learn how to bake finesse Scones here:
After completing several grueling rounds, the show has finally entered its last stages. So far, 4 top contestants have been selected to participate in the semi-finals. The 4 lucky ones to enter the semi-final round include, Aqsa Sikander, Fatima Hussain, Alishba Khan and Mahabano Ibrahim.
Watch the grueling quarterfinals episode here
Stay tuned to find out who is the ultimate 'Born to Bake' champion of Olper's cream!
Contributed by: Hina Zahir Imam