There is something about a good brunch that can help elevate your mood. Even though brunches are more about socializing and less about food, not getting a decent option to indulge in a classic brunch can put you off, especially when you have made an effort to plan and gather the crew. Many eateries in Karachi are now offering good options for brunch menus, more so that there is hardly any day where you would find the restaurant empty. So, today we are presenting all the brunch buffet options for you so that you have a variety of places to choose from the next time.
Let's take a look at a few of them.
1. Lal-Qila 
Lal Qila and buffets go hand in hand, mainly because the restaurant specializes in buffet menus for breakfast, lunch, and dinner. However, if you plan a brunch buffet, Lal Qila will also come to your rescue since their buffet brunch is one of the most sought after in the city. From their extensive signature menu to the zest the place has to offer, the brunch buffet at Lal Qila is bound to make you feel rejuvenated.
Price: Adult: Rs.1490/- Child: Rs.750/-
Time: 12:00 PM to 01:30 PM & 02:00 PM to 03:30 PM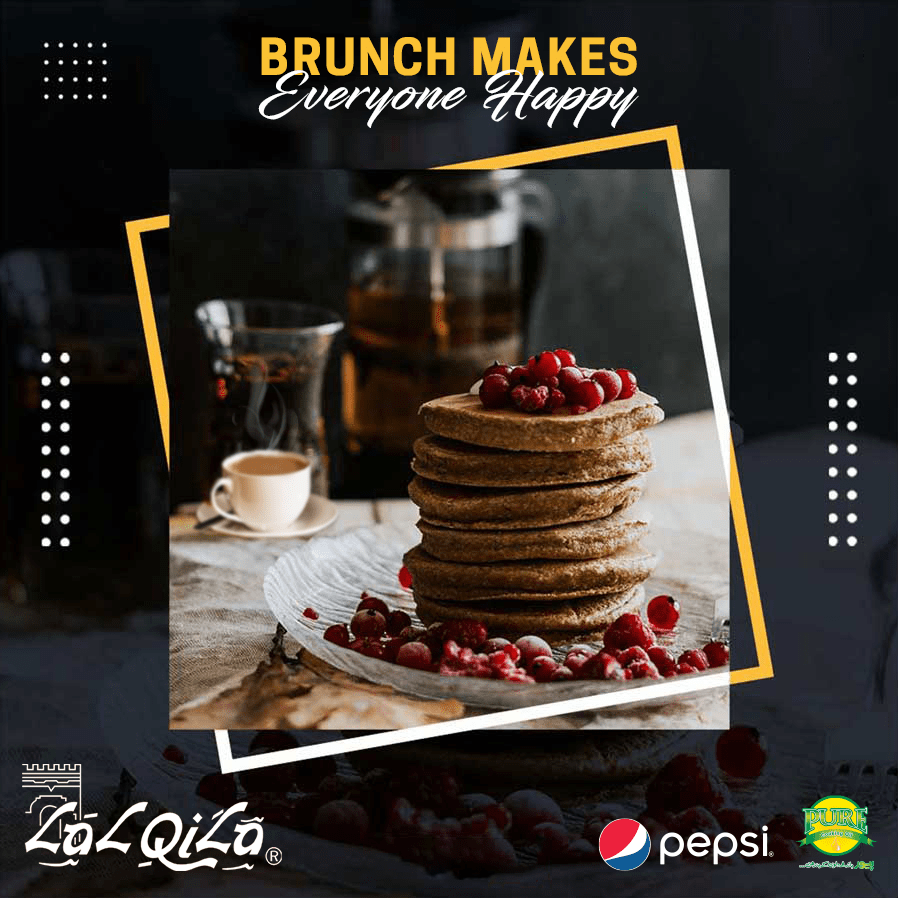 2. Koffie Chalet
Koffie chalet also offers a brunch menu with budget-friendly options. If you are planning a low key casual buffet brunch, then Koffie chalet is the best option for you. With a variety of appetizers and main courses to choose from, Koffie chalet may not be your best option if you are planning to go to the buffet to indulge in a variety of desserts since their dessert bar has limited options to choose from.
Price: Adult: Rs.1095/- Child: Rs599/-
Time: 12pm to 2pm & 2pm to 4pm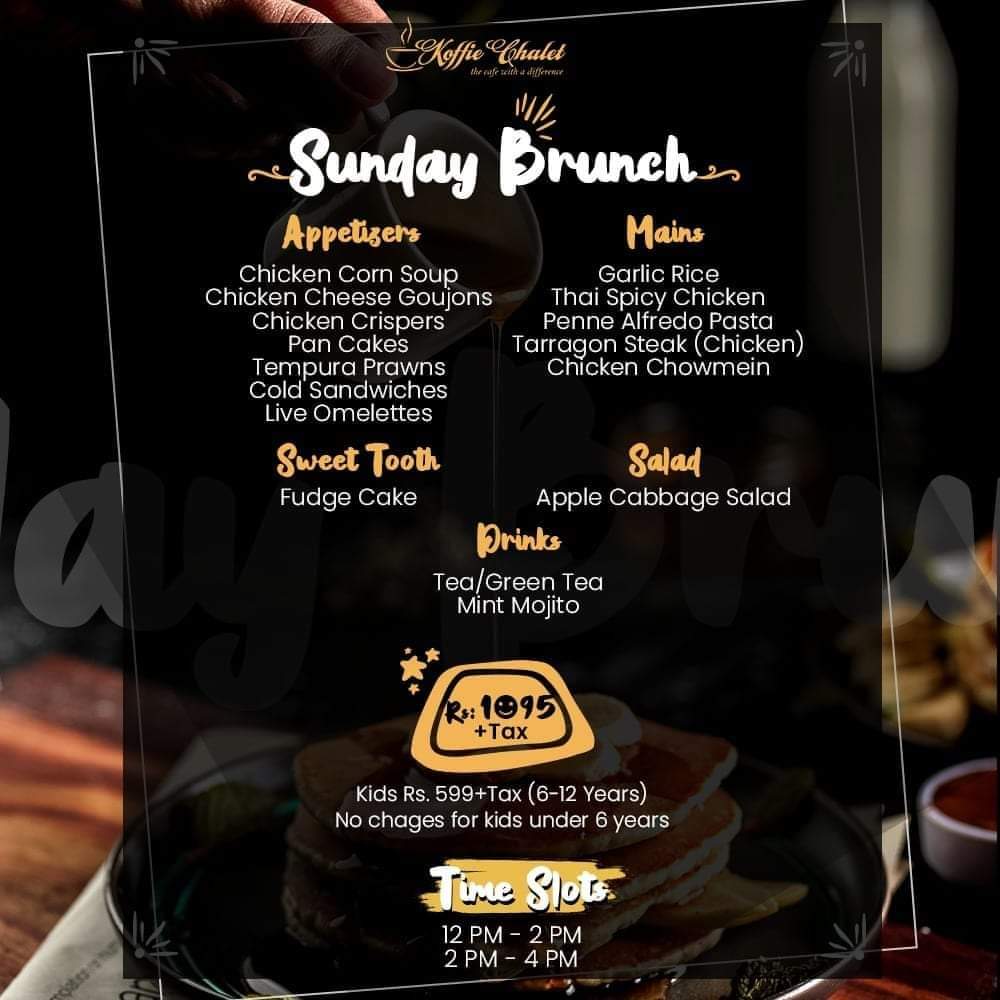 Read More: 5 Restaurants In Karachi That Are Offering Amazing Buffets
3. Tau's 
Tau might not be new in the food game, but they sure have gained massive attention kudos to their exceptional services and good quality food options. Tau has now introduced an all you can eat buffet brunch, which is absolutely a dream come true for all desi lovers. From our paratha to omelettes and a variety of gravies, Taus' is a perfect family brunch place to opt for.
Price: Rs.925+tax
Time: 10am to 3pm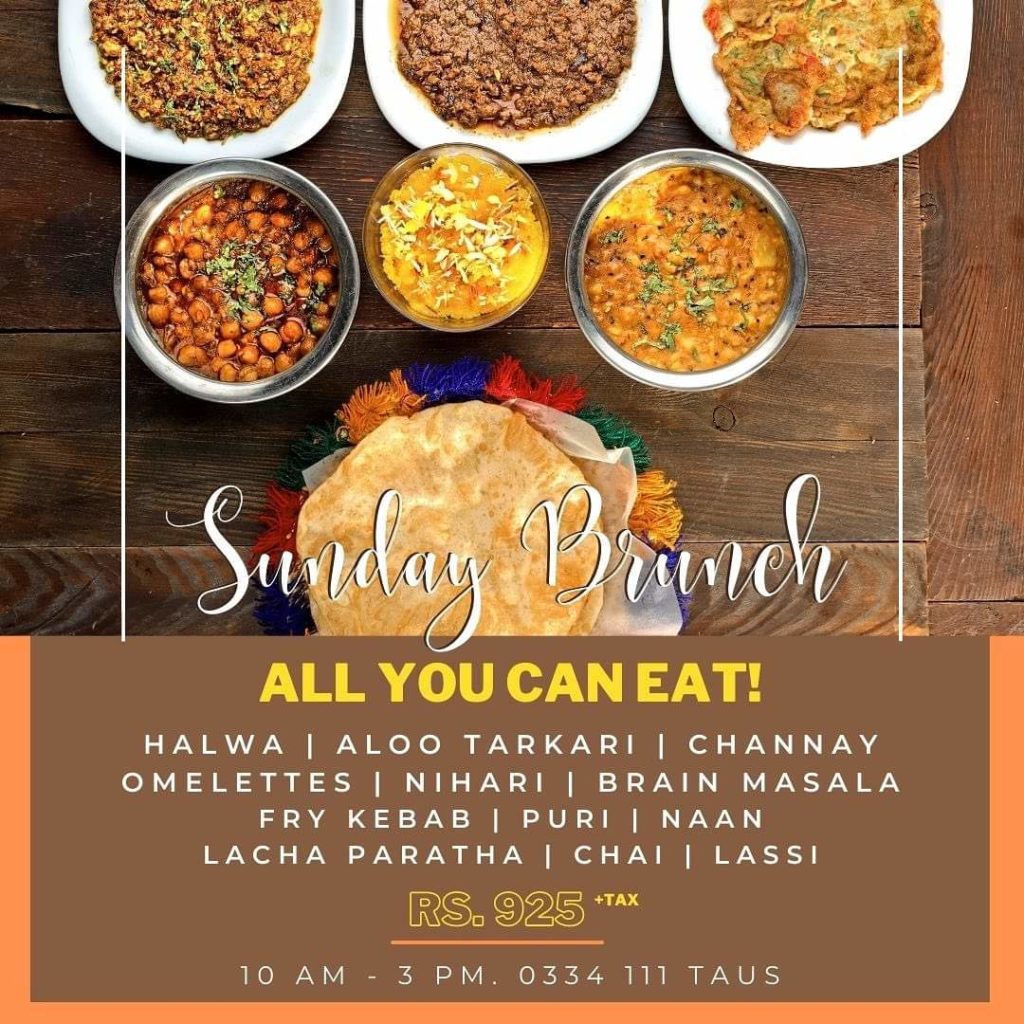 4. Bar-B-Q Tonight
Bar B Q tonight is back with their breakfast and lunch brunches which might make you wonder why we are discussing it today. Bar B Q Tonight's breakfast and lunch option timings are flexible enough to accommodate brunch time. All you need to do is choose whether you want to enjoy breakfast or lunch.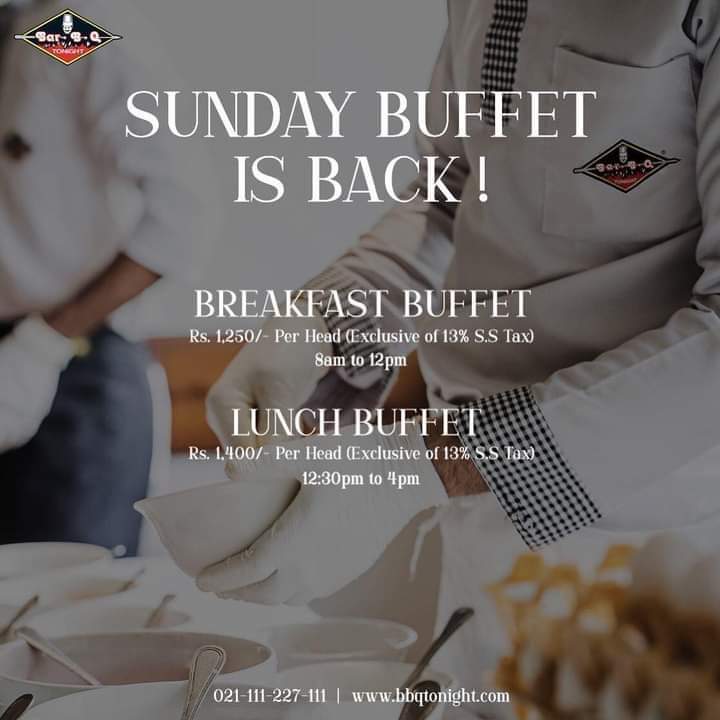 Price: Lunch: Rs.1400/ Breakfast: Rs.1250/
Time: Lunch: 12:30 to 4:00pm Breakfast: 8am to 12pm
Read More: 7 Hi-Tea Buffets You Can Enjoy With Your Family In Karachi
Stay tuned to Brandsynario for the latest news and updates.