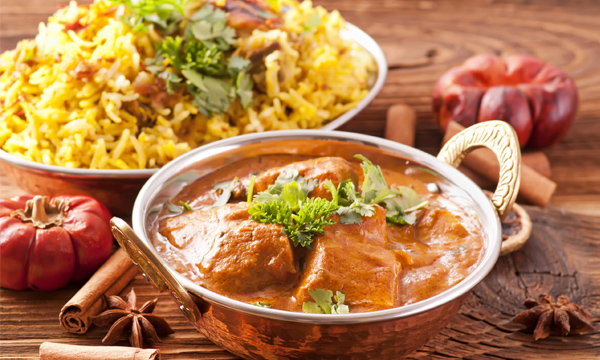 Long before Pakistan was known by its name, this land was referred to as the land of spices. The dishes that are native to our country are truly a testament to this fact!
Apart from hospitality and warm welcomes, Pakistani food also tends to leave an indelible mark on all those who come to visit. If you have yet to feast on some of the finest dishes that Pakistan has to offer; then search no further and try out the following dishes.
Daig Biryani
Pakistanis sure love Biryani. Contrary to what many people think, making biryani is not only easy but if prepared right can be served in a short amount of time. It's all about practice and technique. Serve it with raita, serve it with chilled coke, with a well-cooked biryani you just can't go wrong.
Here's a quick recipe. (Just to put you at ease; do remember that it is the perfect combination of boiled rice and quorma!)
Chicken Korma!
If till now you as a Pakistani you have yet to differentiate between 'chicken ka saalan' and a korma, then you my friend are in for a treat. The korma is a variant of the traditional chicken gravy, a very spicy variant that gives a new meaning altogether to chicken and gravy.
Korma is the perfect dish to prepare when you are having guests over, because let's face it, who does not like korma? Eaten with hot naans, raita and salad, it is a perfect delight.
So without further ado, here's the recipe:
https://www.youtube.com/watch?v=PFAn671A6ro
Chicken Karahi
This is yet another variant of chicken gravy that characteristically has little or no gravy at all. Made in tomato puree it has a distinct taste that is only made perfect with the addition of specific spices and herbs.
The best thing about a chicken karahi is that it has a very short preparation time, this means that if you were completely blindsided by guests at lunches or dinner you can easily make chicken karahi and still be remembered as the host that served amazing Pakistani food.
Alu ke paratha
How many of us can deny the treasure that is Alu wale parathas? Served hot from the pan you can't help but dig into them even when they are sure to cause you burns. Alu parathas are extremely easy to make, the true magic lies in the mashed potato mixture that you place inside the dough of the parathas. I have discovered that the spicier you make them, the more heavenly the parathas seem. Eat them with raita and you get an irresistible treat.
Alu Gosht
For a person like me who isn't used to eating meat because of the smell and taste, this suggestion might raise some eye brows. But the truth is that if the meat is cleaned properly and marinated for a healthy duration no one will have issues with this Pakistani food dish.
Alu Gosht might seem like a simple gravy dish with meat and potatoes, but truly it is so much more. With the right blend of spices and herbs one can truly accentuate the savory taste of the lamb and produce a remarkable dish.
Pakoras
This food item has to be in most people's guilty pleasure list, and there's no reason why it shouldn't be there. Pakoras are basically dumplings made of gram-flour (besan), there are so many ways in which one can make a pakora. It all depends on one's preference. Of all the varieties, the potato pakoras and the mixed vegetable pakoras are the most well-loved. Apart from Ramazan, the pakoras tend to be the Pakistani food of choice on rainy days also.
Koftas
This is yet another form of dumpling that only few people can resist. Made with either chicken or meat, yes you heard me correctly chicken too, sprawled in gravy they are heavenly forms of kebab that go just perfectly with naan and raita.
If you feel like experimenting, you can always add in some cheese in the koftas, it will only add to the taste of this wonderful Pakistani food dish.
Mince with Capsicum
Partly because it is my absolute favorite or partly because it is a widely believed fact, mince with capsicum is a heavenly treat that people have a hard time saying no to. The scent and taste of well-cooked mince with capsicum is the definition of perfect. Have it with freshly baked naans and give your taste bud something to remember for days later.
Seekh Kebab
If you have yet to try a seekh kebab, then you have been missing out on one extremely delicious Pakistani food item. Seekh kebab is a form of kebab that is long and cylindrical and as the name depicts made on a seekh atop a barbeque grill, or rather that's how it is supposed to be prepared, it can also be made at home atop a frying pan, the key to its taste lies more in the ingredients that you use to prepare the kebab mixture from rather than the technique you use to make the seekh kebab.
Pulao
Pulao is a vintage dish, a sober companion of the ever loved Biryani but a commendable rival altogether. Cooked in chicken stew it tastes extremely delectable when consumed with mint and parsley raita!
Chicken Tikka
We Lahoris can do justice to chicken tikka like no other. Most of the people I know have barbeque grills and feast on tikkas that they prepare at home. This does not only make for an excellent food dish but also for an excellent excuse for some friends and family get together parties. The secret of the tikka lies in the ingredients that it is marinated in. You marinate it well, you marinate it for long, you will get to feast on something truly extraordinary.
Ras Malayi
I like to think of it as the food of the royals, presented just right it gives an appearance of nothing less. Appetizing to look at, soft to touch and great to taste, it is the perfect dessert. Provided you want to go the extra mile for the guests that you are having over, I would suggest that you prepare this dish for them.
Kheer
Another dessert that is largely native to Lahore and served in earthen bowls to keep the traditions set in the time of Mughal Emperors alive and well.
Gulab Jaman
Whether you eat them in its syrup or without, one cannot have too many gulab jamans. It is a fetish that I have seen many people on a diet succumb to, well what can you do? How do you resist the heavenly temptation of a 'garam garam gulab jaman'.
So there you have it. The best of the best Pakistani food dishes that are a must have at every dinner table! Let us know if these videos helped.