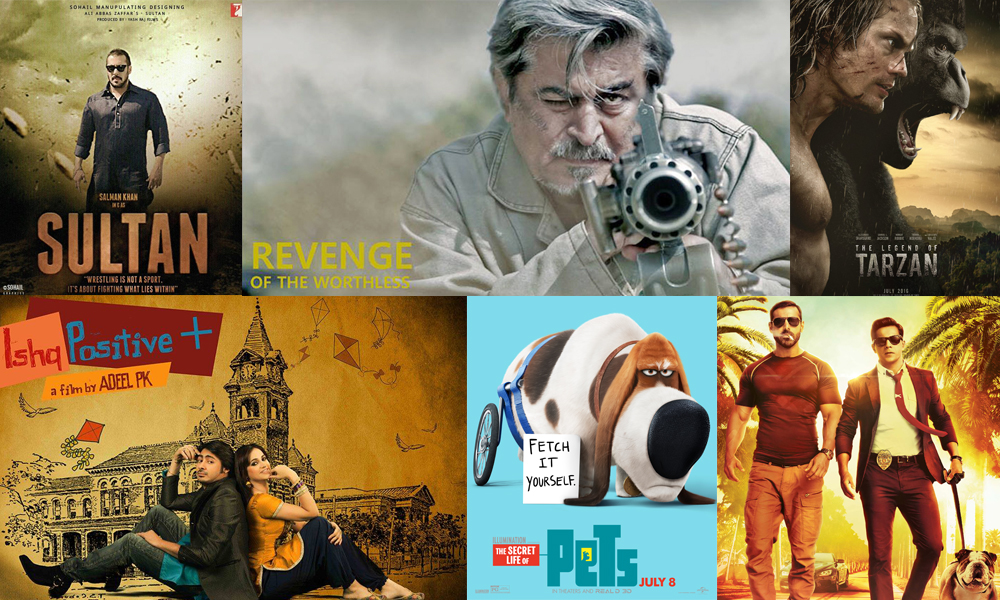 Heat and no breeze get us all a little (too) worked up but that shouldn't halt our entertainment dosage. Wondering what movies to watch this July? Well, we've got you covered for now. We have put together a list of must-watch movies that would keep you hooked to the screens.
Sparing you from all the sifting; here you go!
PAKISTANI MOVIES
1. SAWAAL 700 CRORE DOLLAR KA
Releasing on July 6th, the action-thriller 'Sawaal 700 Crore Dollar Ka' with an ensemble cast of Ghulam Mohyuddin, Javed Sheikh, Ismail Tara, Nayyar Ejaz, and Shamoon Abbasi did surprisingly well at the box office. Paired with Qurat u lain, it is Ali Mohyuddin's (Ghulam Mohyuddin's son) first movie break movies as a male lead. While the trailer doesn't reveal much, we'd have to visit the theaters to see how the story has been weaved.
https://www.youtube.com/watch?v=oEs2CTki-HE
2. ISHQ POSITIVE
Directed by Noor Bukhari, Ishq Positive is a romantic comedy that outlines the story of Rajjo (Noor Bukhari) who elopes from the house and meets a guy (Wali Hamid Ali Khan, son of the legendary singer Hamid Ali Khan) in her consequent ventures.
https://youtu.be/lxx0WK9X2iI
Striking performances by stars like Saud, Saim Ali, Ahmed Ali, Faria Bukhari and Durdana Butt along with an amazing soundtrack, the movie is surely going to be one impressive flick. Well, that's all that we can tell for now- you'd have to wait for the release to find out how the story pans out.
With the Indian star Sonu Sood doing a cameo, the much anticipated Ishq Positive is to be released on July 22nd.
3. REVENGE OF THE WORTHLESS
Primarily shot at the real locations in Swat, Revenge of the Worthless documents Swat insurgency and what people who are tormented by terrorism go through. Jamal Shah plays the role of Zarak Khan whose family refuses to leave their ancestral home and decides to fight the odds instead.
https://www.youtube.com/watch?v=kFYhpEYXh3I
The movie is the directorial debut of Jamal Shah who seems quite optimistic about the success of the movie. Roles of Taliban leaders, Sufi Muhammad and Mullah Fazlullah, have been performed by seasoned actors like Firdous Jamal and Ayub Khoso while rest of the cast includes Shamil Khan, Maira Khan and Emel Karakose. The movie is set to hit the cinemas on July 22nd.
4. BLIND LOVE
Blind Love is a romantic movie interspersed with some good action sequences. Set to release on July 22nd, the movie stars Yasir Shah and Nimra Khan as main leads with Fawad Jalal, Aamir Qureshi, Imran Bukhari and Mathira who would also be seen dancing to the beats of the item number 'Butter Jawani'. We'd have to wait till July 22nd to see how the audience responds to 'Blind Love'.
Until then watch the movie trailer below:
Bollywood Actor Sonu Sood to Make Cameo Appearance in Pakistani Film Ishq Positive
BOLLYWOOD
5. SULTAN
Sultan is a romantic sports-drama film that depicts the life of Sultan Ali Khan (Salman Khan), a wrestling champ from Haryana whose successful career as a fighter creates turbulence in his personal life.
With Anushka Sharma paired opposite Khan, Sultan promises drama, action, romance and goosebump moments where you'd actually see Salman Khan work his facial muscles; you'd see him act rather than taking his shirt off for a muscle show.
The movie was released on Eid-ul-Fitr (July 6th) as per the ritual and bagged a lot of appreciation and money.
6. GREAT GRAND MASTI
Great Grand Masti, the third installment of the film series after Masti (2004) and Grand Masti (2013), is a comedy film that revolves around three friends Meet (Vivek Oberoi), Amar (Riteish Deshmukh) and Prem (Aftab Shivdasani) who meet Ragini (Urvashi Rautela), apparently the girl of their dreams but she turns their lives into a living nightmare.
The movie was released on July 15th, 2016.
7. DISHOOM
An action-adventure film, Dishoom is about India's top batsman who mysteriously goes missing in the Middle East and two well-trained cops Kabir Shergill (John Abraham) and Junaid Ansari (Varun Dhawan) from the either side of the Arabian Sea team up for a 36-hour manhunt. Other prominent cast members include Jacqueline Fernandez and Akshaye Khanna.
The movie would hit the cinemas on July 29th, 2016.
HOLLYWOOD
8. THE LEGEND OF TARZAN
Having embraced the life in London and settled with wife Jane Porter Clayton (Margot Robbie), Tarzan (Alexander Skarsgård), now going by the name of John Clayton, had to revert to the jungle (his former home) to rescue his wife and investigate activities at a mining campsite.
The movie graced the cinemas on July 1st, 2016.
9. THE SECRET LIFE OF PETS (3D)
A 3D animated comedy film, The Secret Life of Pets is about the lives of pets after their owners leave for work or school. It particularly focuses on the life of Max who is leading a luxuriously comfortable life at a building in Manhattan.
His owner (Katie) brings Duke, a stray dog, home and so begins a course of mutual hostility but team up later to fight Snowbell, a fluffy sly bunny, who is building an army of ex-pets abandoned by their owner to seek vengeance.
Released on July 17, 2016, the movie bagged the No.1 spot at the box office.
10. STAR TREK BEYOND
A science fiction action film, Star Trek Beyond depicts the story of a USS Enterprise crew, who are halfway through to a five-year mission, get accosted and attacked by unknown aliens and are forced to abandon their spaceship.
The crew estranged on a completely unfamiliar planet and environment finds itself in a confrontation with a ruthless enemy. We all know who's going to win at the end but the fun is in how they get through it.
Due to release on July 22nd, 2016 Star Trek Beyond will be the thirteenth film in the Star Trek film series.
11. ICE AGE: COLLISION COURSE (3D)
Ice Age: Collision Course is a 3D computer-animated family adventure film. This film, which is the fifth installment of the Ice Age series, is a sequel to Ice Age: Continental Drift that was released in 2012. This time around Manny, Diego, and Sid team up with Buck in their struggle to rid a meteor strike that would possibly destroy the world.
The fifth installment in the Ice Age film series and a sequel to 2012's Ice Age: Continental Drift, Ice Age: Collision Course is slated to release on July 22nd, 2016.
12. JASON BOURNE
A spy action thriller, the fifth installment in the Bourne film series, Jason Bourne is a direct sequel to The Bourne Ultimatum (2007). It is the story of a spy played by Matt Damon who is set to uncover the truth of his identity. Damon is accompanied by Julia Stiles, Alicia Vikander, Vincent Cassel, and Tommy Lee Jones.
For all of you guys who have seen Bourne series must be familiar with how the story rolls and unfolds. Let's see what this one has in store for us.
Le Bourne shall meet you on July 29th, 2016.
Hope you guys enjoyed it. Ciao!