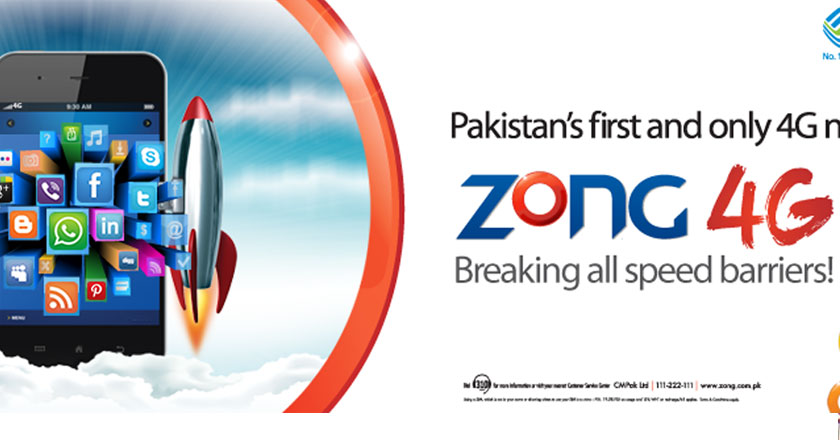 Zong has achieved a milestone for its esteemed subscribers and is now the first ever 4G network of Pakistan. 
Winning the much anticipated Spectrum for Next Generation Mobile Services, China Mobile Company will now provide its customers with the fastest services in the whole country.
Expressing his delight on this occasion, Dr. Fan Yunjun, Chairman and Chief Executive Officer, Zong said,
"I would like to congratulate the Government of Pakistan & PTA for making the bidding process extremely transparent and fair, and also acknowledge the entire Zong team who is now a part of history, as their hard work and determination has finally paid off. China has a long term commitment to people of Pakistan and Zong is committed to service excellence and believes in bringing the best technology with the virtue of the world's largest 3G and 4G operator."
On this delightful event, Zong has given its logo a more 4G customized look, making it further clear to subscribers that Zong is now the only 4G provider of the country.
With 2.79 million 4G customers and almost 225 million 3G subscribers, China Mobile Communications Corporation (CMCC), Zong's parent company is now the largest operator across the globe.
Dr. Zhao Peng, Chief Commercial Officer for Zong raised a promising hand towards every Pakistani subscriber mentioning that,
"This is a moment of pride as the consumer will now have access to the most advanced telecom technology and this is our chance to prove ourselves as the "Indispensable Digital Life Partner for Life" for every Pakistani."
New logo, new commitment, and new technology – it's surely a promise that isn't offered by many operators in Pakistan but Zong.