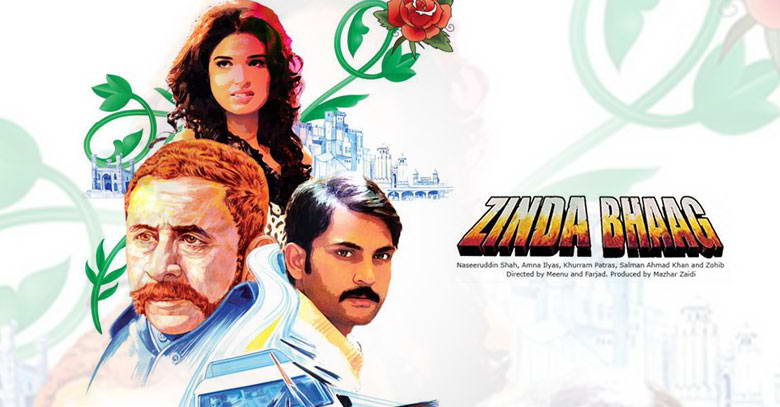 The Pakistani film industry is up in the clouds right now as an authentic Pakistani film 'Zinda Bhaag' has been nominated for the prestigious 86th Academy Awards – commonly known as Oscars – in the category of Best Foreign Language Film, a press release stated.
Four Pakistani films – Josh, Chameli and Lamha (Seedlings) – along with 'Zinda Bhaag' were nominated but 'Zinda Bhaag' emerged as winner through confidential balloting conducted in Pakistan by a panel.
It is the first Pakistani film in over fifty years to be submitted for Oscar consideration in the 'Foreign Language Film Award' category.
However, despite this being a major achievement, the finalized list of nominations is yet to be announced on 16th January 2014 by the The Academy of Motion Picture Arts and Sciences.
An estimated 71 films were nominated at the 85th Academy Awards.  The number of films for 2013 is yet to be finalized on 16th January with a presentation on March 2014.
Zinda Bhaag is a comedy packed thriller directed by Meena Gaur and Farjad Nabi. The movie comes straight out of the mohallas (communities) of Lahore and captures the lifestyle of young Lahoris. The trailer suggests that the movie revolves around the life of three friends, their attempts to settle abroad and the intense drama associated with it.
This is bi-lingual project is the mix of Punjabi and Urdu. The language is raw and it successfully manages to re-create the experience of Lahore on the big screen. The trailer has sparked interest among the younger audience and has becoming talk of the town.
With movies like 'Zinda Bhaag' now becoming the face of Pakistani cinemas, more work, better performances and greater expectations are yet to be seen.