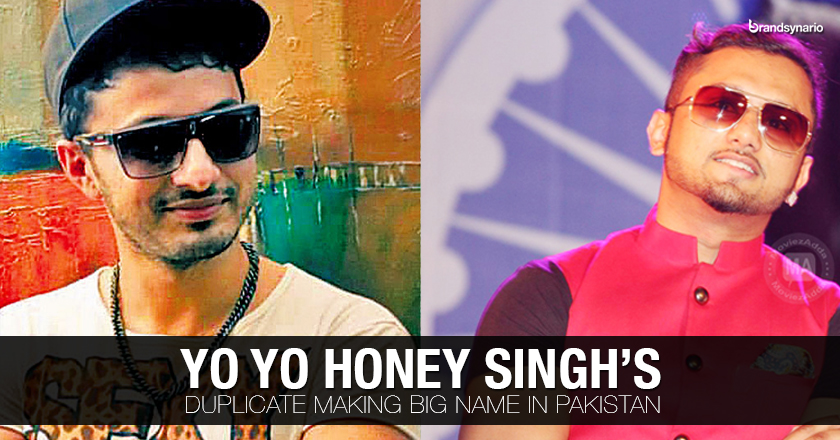 317 views
Most of the fans imitate their stars, but to look exactly  like your favorite superstar is a rarity.
Yo Yo Honey Singh, the famous Indian rapper has been the lucky one as a fan from Pakistan has been imitating the star in exactly the same mannerisms, dressing and even in his singing and dancing style but what makes the situation unique is the fact that this imitator looks exactly the same like the star himself.
This famous imitator, who goes by the name of Yo Yo Ali Jaan, has recently spurred a lot of attention from all across the border. Yo Yo Ali Jaan has also gone quite viral by gaining a lot of attention from his facebook fan page, YouTube Channel and also from his followers on Twitter.
Yo Yo Ali Jaan is gaining alot of attention for copying Honey Singh's famous sound tracks like La Paranda and Kyun Door Ho Gai to perfection.
When asked about his famous imitator, Honey Singh's representative responded negatively. Their statement was:
"No, we are not aware that there is someone in Pakistan who is imitating Honey Singh; we haven't heard this name (Yo Yo Ali Jaan) before."
But surprisingly right after two days of this incident Yo Yo Ali Jaan's facebook and YouTube accounts were deactivated.
After the deactivation, the star imitator started operating with a different nick name on Facebook and as well as on YouTube i.e.by the nick name Poko Loko Ali Jaan . The sources have indicated that this sudden deactivation might have to avoid copyright infringement by the imitator.