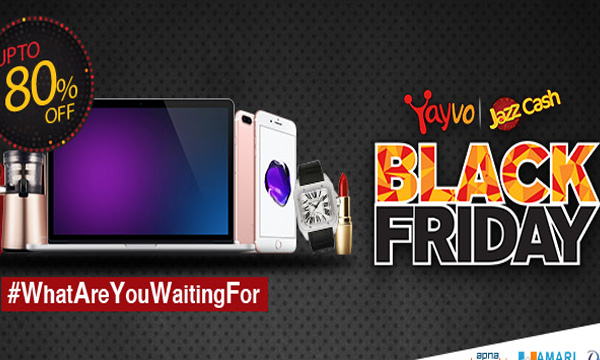 After the success of its 'Great Online Shopping Festival (GOSF)' in September, Yayvo.com; the nation's leading online e-commerce portal has joined hands with Jazz Cash to bring its customers  'Yayvo Black Friday 2016'.
Already known for fantastic discount offers and sales, on this occasion Yayvo is offering:
Discounts of up to 80% on over 1,000 products
Exclusive brand launches
Cost-effective deals
Blazing fast delivery through the TCS logistics network
Expected to be the biggest thing to hit the online shopping industry across Pakistan this year, 'Yayvo Black Friday 2016' promises to bring amazing benefits to each and every customer who visits the site with amazing deals and never before seen benefits for customers.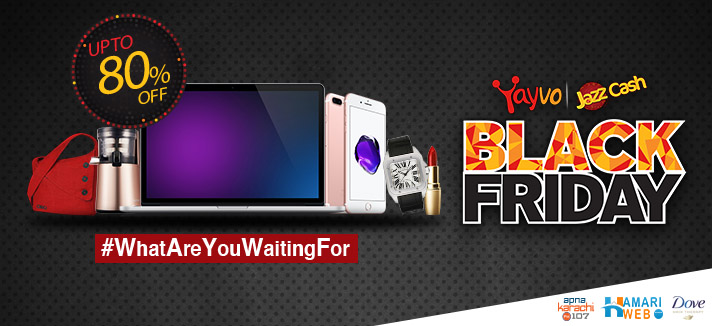 Focused on making life simple, easy and convenient for customers, Yayvo has entered into strategic alliances with:
Jazz Cash as official payment partner
In addition, Jazz Cash will topping up discounts on this event
FM107 will be the official Radio Partner for the event
"JazzCash has been at the forefront of the boom in local e-commerce industry with introduction of complimentary mobile financial services throughout the years. By continuously bringing innovation in our digital and mobile financial platform, JazzCash provides online shoppers a secure and convenient shopping experience. It is this payment security, which has played a significant role in making online shopping popular amidst smartphone users," said Aniqa Afzal Sandhu, VP Digital & Mobile Financial Services – Mobilink. "By partnering with Yavyo.com for the Black Friday Sale, we are looking to provide customers greater convenience and security in payments, while also ensuring our continuous support of the e-commerce industry."
Adam Dawood, Head of Yayvo commenting on the partnership said, "The objective of this partnership is to enable our customers to experience the best of e-commerce with amazing discounts and convenient payment systems brought to them through JazzCash. With this initiative, we plan on taking e-commerce to the next level."
So What Are You Waiting For? Subscribe Now for Yayvo Black Friday at http://yay.deals/2fhlXZh to get updates on the latest deals.
About Yayvo:
Yayvo.com, Pakistan's leading online portal is a one window shopping solution for all your needs. With an inventory stocked up with more than 40,000 SKUs, Yayvo covers niches from apparel to electronic items. One of the most recognizable and preferred e-stores in Pakistan today; Yayvo.com is transforming the online shopping experience in Pakistan by bringing together reputed national and global brands to offer customers genuine products in an fast, convenient and price effective manner.
About JazzCash:
JazzCash, a mobile financial service offering under Jazz's ecosystem has over 60,000 retail outlets across Pakistan. JazzCash offers a broad portfolio of Branchless Banking services for customers including money transfer, Online Payments Gateway, NFC enabled payments, payment of utility bills, corporate disbursements, mass payment collections, and insurance services.