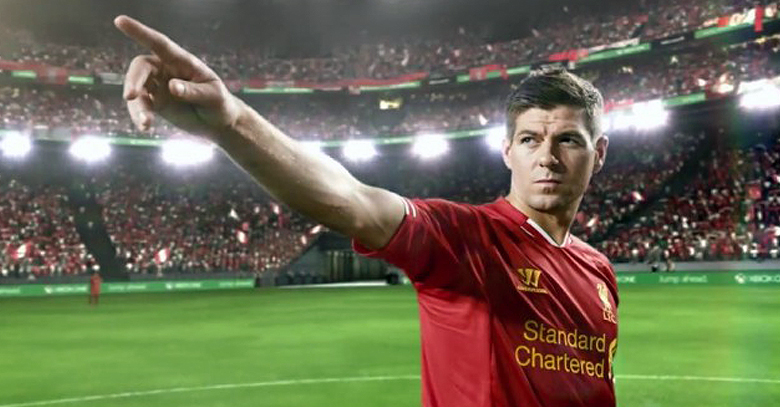 By Hassan Wasti
The stage is set and the wait is finally over, Microsoft's gaming console Xbox One is ready to hit the stores in USA on 22 November. The news came out shortly after the brand started television campaign, to promote Xbox One, titled 'Invitation' this Sunday.
The concept designed by Crispin Porter + Bogusky consists of a 90 second Ad, directed by  director of over 40 Super Bowl Ads Bryan Buckely, for Xbox One which featured a fusion of high-tech gaming, entertainment and real life.
The 90 second commercial depicts average people in everyday settings pushed into the excitement of Xbox entertainment by characters or elements of games and movies available on the much talked about console.
A gigantic robot from Titanfall crashes a stuffy boardroom to take a business executive away to intergalactic adventure. England's soccer captain Steven Gerrard asks a kid in the stands to join him on the field.
Zachary Quinto's Mr. Spock appears into a train station with a pointed invitation for a young woman waiting on the platform. In the best bit, a zombie from Dead Rising 3 signals a college kid studying in a library to join him.
The end wraps up with people in homes taking part in some Xbox One action. Buckely offers insights to the viewers on what to expect from the new Xbox, the message is well received as the commercial convinces on a fun, dynamic experience that everyone is eagerly waiting for.
This concept is centered on the fact that Xbox One is made for everyone from a business executive to a college kid. Everyone is invited to experience to be dazzled by the technology and entertainment which is Xbox One with features like gesture-sensitive menus, the ability to answer Skype calls and voice-command recognition.
The campaign is an open reply to Playstation 4's 'Perfect Day' campaign from BBH NY and signals the final stage of the head-to-head between the two giants of console gaming.
While, CP+B and Xbox One have gone a step ahead to include personalities like Gerrard and Spock ( Zachary Quinto), PlayStation has kept its campaign simple as it shows friends playing together and enjoying what the new console has to offer.