Apple has announced its highly anticipated augmented reality (AR) headset, the Vision Pro. The headset is set to hit the market early next year and is priced at $3,499.
The Vision Pro is a groundbreaking innovation that seamlessly merges the real and digital worlds. It features a sleek, ski-goggle design and boasts an array of impressive features and capabilities.
One of the distinguishing features of the Vision Pro is its ability to switch between augmented and full virtual reality. This flexibility allows users to experience a wide range of immersive digital environments.
The headset is controlled using a combination of eye, hand, and voice commands, eliminating the need for physical controllers. Apple's visionOS operating system enables users to navigate through rows of app icons simply by looking at them. Tapping and flicking gestures enable selection and scrolling, while voice commands offer a hands-free alternative. The headset is also compatible with Bluetooth accessories, such as the Magic Keyboard and Magic Trackpad, and supports integration with Mac computers.
State of the art design
The design of the Vision Pro is both elegant and functional. The glass front and aluminum frame house an array of sensors and cameras, providing users with a high-quality visual experience. The headset features a 4K display for each eye, ensuring sharp and vibrant imagery. Additionally, the headset mask, known as the "Light Seal," and the ribbed "Head Band" are adjustable and designed to fit a variety of face shapes and head sizes. Apple has collaborated with Zeiss to create custom optical inserts for those who wear glasses, ensuring optimal visual clarity.
One notable aspect of the Vision Pro is its ability to maintain a sense of connection with the surrounding environment. The device uses the EyeSight system to display the user's eyes, and in full VR mode, a glowing screen obscures the eyes to indicate unavailability. The headset also generates a realistic digital avatar by scanning the user's face, further enhancing the immersive experience. Through passthrough video, users can view the real world in full color while projecting 3D objects into their surroundings.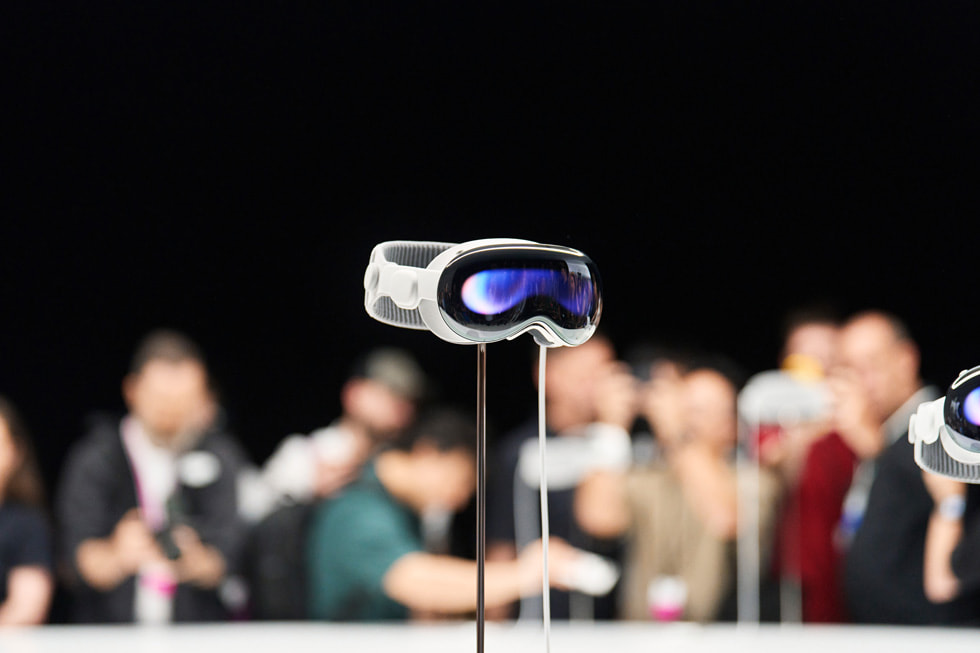 Creative features
The Vision Pro offers a range of interactive features for remote communication. Spatial audio allows users to arrange FaceTime participants as "video tiles" in a virtual room, creating a more engaging and immersive experience. Additionally, users can capture and relive 180-degree video using the integrated 3D camera, further expanding the possibilities for content creation and sharing. Apple has also secured partnerships with major content providers, such as Disney, ensuring a diverse selection of premium TV and Arcade content for users to enjoy.
Although the Vision Pro has faced years of development and delays, industry insiders have expressed excitement and optimism about its potential. As Apple's foray into the AR headset market, it aims to compete with Meta (formerly Facebook Reality Labs). Meta's Quest 2 headset has enjoyed success in the gaming sector, while their Quest Pro has received mixed reviews as a general-purpose device. With its advanced features, seamless integration with Apple's ecosystem, and strong emphasis on user experience, the Vision Pro sets itself up as a compelling contender in the growing AR market.
As the release of Apple Vision Pro draws nearer, anticipation builds for the future of augmented reality and the impact it will have on our daily lives. The device represents a significant step forward in blending the digital and physical worlds, offering users a new level of immersive and interactive experiences.
Stay tuned to Brandsynario for the latest news and updates.