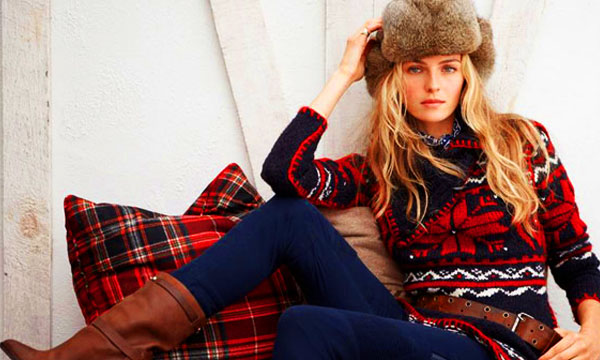 While the eternal grey, black, brown, khaki and navy are still the stars of women's wear in winter, other less traditional shades are making their mark this season. Red gives silhouette sensuality and strength, violet electrifies it, nude softens it, and yellow and orange invigorate it. Here's a roundup of the star shades for Fall-Winter 2015-2016.
Generally speaking, colors remain subdued this winter, with an emphasis on grey in particular which featured heavily in the collections, as well as black, brown, silver, gold, and navy. All classics for the season.
But the couture and ready-to-wear houses also unveiled colors that made a stronger statement this season, with a particular emphasis on red — in shades that were deep, intense, bright and dark. Violet — ranging from the darkest to the palest pastel tones — was also in evidence, as were shades of beige, yellow and electric orange. Either as highlights or as a total look.
Red is the new Black 
Numerous collections put red center stage, with a greater or lesser degree of intensity depending on the brand. Ultra-sensual red gives a sexy and modern edge to any outfit, and brightens up the season. Hermès played this card to the max in its Fall-Winter 2015-2016 collection, selecting it for coats, dresses and shirts.
Alexander McQueen also provided a series of looks dominated by this shade, as did Elie Saab, Christian Dior, John Galliano, Shiatzy Chen, Iris van Herpen, and Valentino.
Bohemian and Romantic  Nude
Beige tones are very much part of the women's wear wardrobe this winter, with a broad palette including ivory, pinkish beige and nude. Like a second skin, these tones elongate the silhouette and give it a romantic touch as a total look, and soften it when they are used more sparingly.
Chloé offered a number of ensembles in these shades. This trend was also picked up at Paul & Joe, Allude, Alexander McQueen, Nina Ricci, Max Mara and Cédric Charlier.
Violet in all its Forms
Violet was another shade that gained in importance this season. From its darkest to its palest forms, as well as its brighter shades, violet electrifies an outfit and livens up a silhouette. It was already seen a lot last winter, and this season is being teamed with shades of beige, navy and yellow. However, it was not seen very often as a total look.
Moon Young Hee, Chanel, John Galliano, Kenzo, Issey Miyake and Emporio Armani were among the fashion houses which ventured into violet this year. It was also on show at the Jonathan Saunders and J.W.Anderson shows.
Touches of Yellow and Orange
Yellow and orange are often limited to summer wear, but they held a special place in women's wear this season. From sunshine tones to mustard and saffron, yellow provides a touch of color that brings life to wintry outfits that are sometimes too dark.
And while orange was seen in very bright touches in some collections, it was generally at the darker end of the spectrum. This did not prevent it from giving a boost of energy to outfits.
These shades were seen at Miu Miu in particular, but also at Louis Vuitton, Shiatzy Chen, Valentin Yudashkin, Vanessa Seward, Esteban Cortazar, Akris, Céline, Givenchy, and Rochas. Kenzo opted to add some yellow to its accessories, especially its handbags.