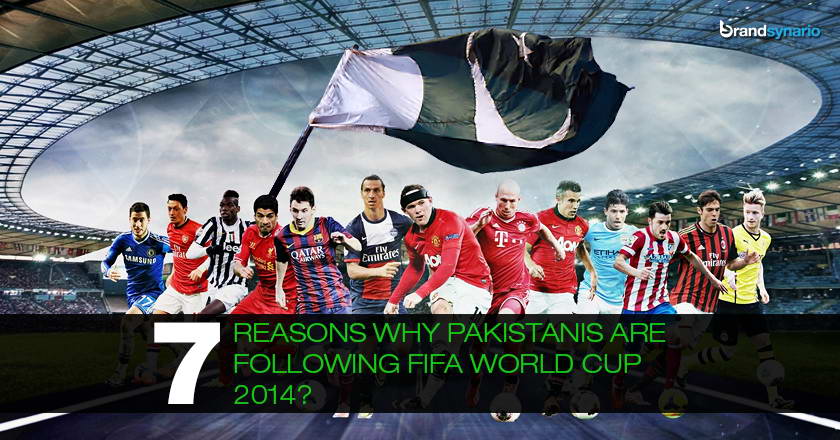 By Zoya Anwer
If the whole world is caught up by something, Pakistanis HAVE to show that they are getting caught up too.
So what is it this time? It has something to do with Brazil and involves a lot of cool Footballers, some singers and a Pakistani made Football: yes it is FIFA 2014.
Had it been Cricket, all of us would have known the reason for our deep-rooted sentiments attached with the sport but Football? Come'on, you all have got to admit that majority of the "Football fans" are just like the moths who suddenly come out of nowhere after a rainfall.
Anyhow a game is a game and here is how FIFA is being taken in our homeland:
1) The Football Itself
So what if Pakistan isn't participating? The reason why the tournament is being held is us. Had it not been for the Sialkoti talent par excellence, these teams would have been playing with some bogus, lame balls. So every time a team scores, Pakistan scores. Imagine all those Goals!
2) Newly Found Love for Football
Yes they are EVERYWHERE. These hermit fans show up every four years when FIFA arrives. They would comment on each game as if they should have been the coach.
People Football is played each year and it is bigger and better with all the Leagues and Series.
3) Pseudo Fandom
They are the worst I tell you and not to be biased but yes many of them are girls. They watch a couple of matches and learn names of few players (poor Neymaar is one of them). These are the ones who would die arguing that Messi is a Spaniard and NOT an Argentinean and Torres is English NOT Spanish.
They would have definitely cheered for Brasil when Marcelo scored for Croatia.
4) Opening Ceremony
That was a bummer no? Like if it had to be like this, Brazilians could have asked us to send school kids with the footballs instead of the display of such a boring opening. Our kids would have performed tad better I tell you.
And that 'We Are One (Ola Ola)' performance; didn't the trio of Pitbull, Jennifer Lopez and Claudia Leitte stand parallel to our judges from Pakistan Idol of Ali Azmat, Haqdiqa Kiyani and Bushra Ansari? I bet Shakira could have won the hearts single-handedly like last time with her Waka-Waka.
Like how Pakistani could it get; the sound quality was also poor and the singers complained that it ruined everything.
5) The Facebook and Twitter Commentators
They would be up well till 4 am and would update their status and tweets 90+ times with commentary on each minute plus 5 statuses or tweets for each goal or miss so that when you get up the next day all your newsfeed and timeline would be about football.
Twitter even has that new flag tweet and it is pretty cool too.
6) Street FIFA
No wonder that Cricket is irreplaceable and when the city will be shut-down people will play cricket but FIFA beings out the footballer in many of us and children and adults both are seen playing the game honouring FIFA.
7) Prediction Time
Last time it was Paul the Octopus and this time there is an Elephant Nelly and a Dubai based Shaheen the Camel. We ought to bring out our famous parrot who predicted the Cricket World Cup after all that's what parrots do and we never know our parrot might outclass these mammals.
8) Style Statement
If any random person gets bald, it is uncool but if a football player gets his head shaved then it surely becomes the style statement. FIFA surely revamps even the smallest of barber shops who place posters of these players and thanks to vacations, kids can do whatever they want with their hair after all FIFA won't be back anytime soon.
We Pakistanis know how to keep ourselves happy even in the worst of times and we believe in cherishing every positive thing so here is to FIFA 2014.
By the way, FIFA is not one word; it is not even English; it is an abbreviation for Fédération Internationale de Football Association.
Just saying. Enjoy the matches.