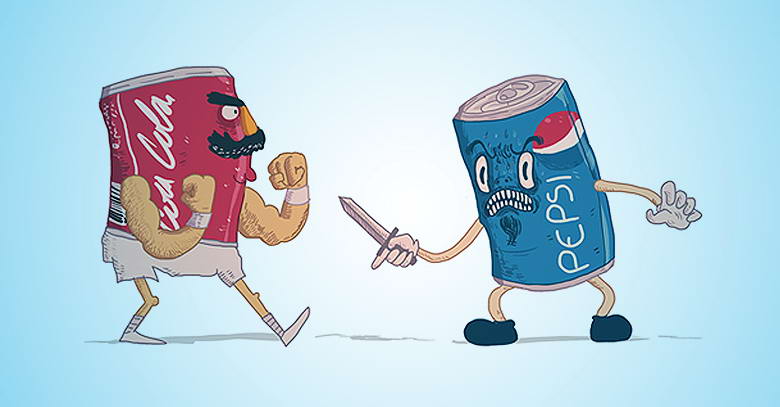 By Sidra Jawed
Throughout advertising history, brands have directly and circuitously compared themselves to other brands and have tried to make themselves look good versus competition or a category success story.
Historical Perspective
Also known as knocking copy, it was not until the early 1970s that comparative advertising was encouraged by the Federal Trade Commission (FTC) of USA to create more informative advertising
comparative advertising has become an all-out battle amongst some of the world's top brands
For brands, the underlying principle is to differentiate themselves from competition by indicating better performance characteristics.
Brand custodians are continuously under pressure of misrepresentation by rival brands, as the tone of comparative advertising ranges from scientific analysis to poking fun at competition.
Here is what happens when Comparatvie Advertiisng goes wrong:
Comparative Advertising Leads to Confusion
Advertisements that are misleading towards competition instill confusion and are an attack on a brand's reputation. Also, those that take unfair advantage of the reputation of a trademark are not acceptable anymore.
Coke V/S Pepsi: The Classic Brand War
A Pepsi commercial actually got banned that illustrated a young boy who stepped over cans of coke to get a can of Pepsi from a slot machine. The commercial, although done extremely subtly, seemingly criticized Coke and was not appreciated at all by the brand's loyal consumers.
An extensive research on Pepsi and Coca Cola observes that they have always been in undeviating competition throughout the world to grab market share. Pepsi did a tagline in one of their in house commercials declaring, "PEPSI saved you, what does COKE do?"
The censors did not allow the commercial to be shot and aired on television!
Consumers Don't Appreciate Insults
Apart from the censors, brands that continuously throw insults at each other are not lauded by consumers either, and may land in a series of law suits.
In India, Pepsi aired a Hrithik Roshan spoof commercial targeted at Coke that led to the former getting sued by Coke and Hrithik Roshan, too.
Also, the super star's fans largely disapproved of the fact that Pepsi had poked fun at their heartthrob.
Brands Usually End Up Advertising Their Competitors
An international advertising campaign that featured Dunkin' Donuts and Starbucks can be taken as a good case in point.
Dunkin' Donuts initiated DD vs. Starbucks taste test commercials where the former told consumers that are more "hard-working" people prefer Dunkin' Donuts coffee compared to the high-priced Starbucks, "elitist" coffee.
Another widespread belief is that through comparative advertising, brands end up advertising their competitors and risk getting tangled in negative collision in the process.
Advertising research commonly finds that a majority or a large minority of the audience may end up believing that a brand's competition is the one being advertised in such campaigns, with large amounts of money being spent on promoting a competing brand.
Such a promotional strategy may cost the brand heavily, with disastrous results.
Audi V/S BMW

Audi got to face the wrath of BMW loyalists in a commercial that compared Audi's superiority to BMW. BMW supporters provided very vocal mileage to their beloved brand that cost Audi a whole campaign. The result was that, BMW retained its slot as the best luxury sports car, regardless of Audi's claims.How does this advertising strategy affect potential customers?
The Brighter Side of Comparative Advertising
Research suggests that comparative advertising for newly launched brands is more believable. It is further explained that when consumers have preceding beliefs about a brand, it becomes difficult for them to get accustomed to new information about the same brand.
Hence, if consumers are already familiar with a certain brand, they would have formed their perceptions about it and any efforts to change those perceptions will most probably be wasted.
In 1997, a number of researchers – Garewal, Kavanoor, Edward, Carolyn & James – studied the impact of comparative advertising and found that it is believed to elicit more attention to the advertisement, greater message awareness, increased information processing, more favorable brand attitudes, and increased purchase intentions; all of which lead to more brand awareness, but lend lesser credibility to the source and a less favorable attitude towards the advertisement.
There are examples in advertising history where comparative advertising has worked quite well for brands with lower market shares.
Apple V/S Microsoft
Apple is a prime example of this. By creating the "Mac versus PC" commercials that give clear variations between Mac and Windows products, Apple was able to take a small bite out of the leader's market share, successfully.
Of course, those ads aren't the only thing Apple has been doing right; the brand's beautiful and unique technology speaks for itself there!
Local Market Scenario
Ufone VS Zong & Mobilink
Since, comparative adverting can be used interchangeably for either positive or negative enforcement, local advertising too deserves a mention here.
It has been mostly carried out by our telecom sector and initiated by Ufone, where the giant targeted Mobilink and Zong in its commercials. Although Zong did respond to the commercials through its advertising, certain Ufone commercials were banned by the censors.
Surf Excel V/S Ariel
Another local example is of Ariel and Surf Excel. The latter demonstrated in one of their commercials that Surf can remove stains in just one wash, while Ariel lacked this quality.
As a consumer I don't hold a very high opinion of brand wars; rather find it exasperating at times.
Comparative advertising may prove to be clutter breaking, but repetition makes it tedious and excruciating. Also, it easily becomes unethical and unprofessional, with superficial claims being made by advertising brands.
It is not easy to believe that a brand that needs to compare itself with its main competitor will be without any fallacies of its own. Why compare if they are better than the best?
In a nutshell, comparative advertising adds to the perception and equity of a brand if it is able to bring out the best in it, if it's following laws, guidelines and creative advertising techniques.
If it's truthful and not unpleasant, it can actually help customers make more informed choices.
As David Ogilvy said a long time back, "The customer isn't a moron; she's your wife!"
Hence, if your product is superior, don't hesitate to compare it with the leader and surge ahead. Truly, only the strong & confident can win the big fight!