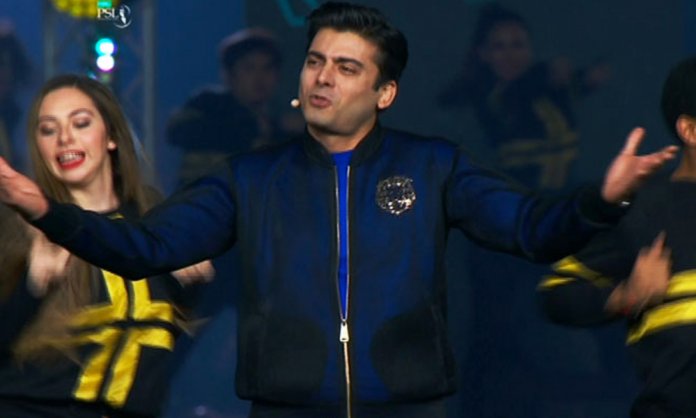 Amidst all the glamor, pomp, and pride, the opening ceremony of Pakistan Super League (PSL) 2019 was held in Dubai last week in all its magnificence.
The creme de la creme of Pakistani singers including Aima Baig, Shuja Haider, and Junoon set the stage on fire with their electrifying performances.
But it was Fawad Khan who bedazzled us and left us in awe of his performance!
If truth be told, Khan is talented to the core. His acting trysts have proven him to be one of Pakistan's hottest celebrities. The news of his comeback to Pakistan's music scene was met with eager enthusiasm.
However, Khan does not sing with the frequency that his fans would like, but when he does, his voice blows us all away.
The PSL 2019 anthem 'Khel Deewano Ka' was no different. Fawad's love for cricket and Pakistan is evident in the track. With a pumped-up beat and passionate lyrics, the latest anthem was loved by all PSL fans!
And even better was his dynamic performance in Dubai making him the showstopper of the evening!
The spectators rocked to the beat and the viewers craved for more whilst Fawad Khan blew us away.
The 'Humsafar' heartthrob's smile and swift moves melted our hearts as he set the stage on FIRE with a power-pack energetic performance that had all the ladies swooning in the audience as well as those on the other side of the screens.
The best part about the entire performance was that Fawad himself was living in the moment and was enjoying the lively atmosphere which added more fuel to the most LIT party of the year.
Watch his magic below!