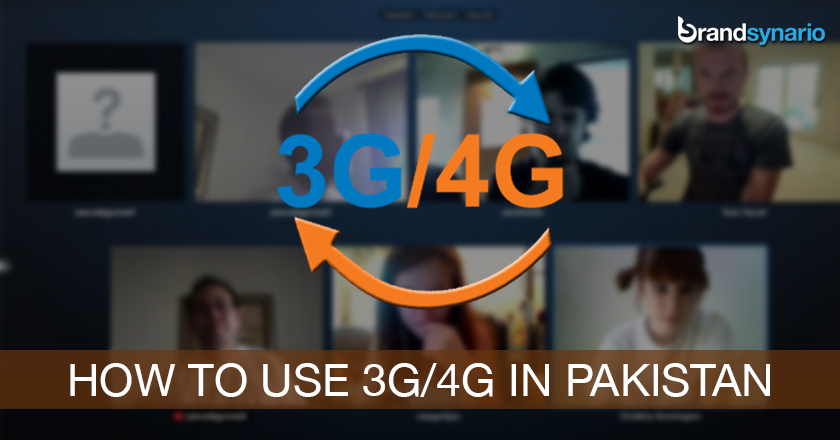 Since 3G and 4G have finally arrived in Pakistan, it is about time that we learn what can be done in this new era of technology.
This new wave of internet usage has given us the power to utilize media and technology to its fullest. Here is a list of things which, courtesy to 3G is no longer impossible.
1. No More Skype Hang Ups
Yes, You don't have to stare blankly while the Skype tries to connect you with your long distance friends. 3G will allow you to stay connected with whoever, whenever and however you want to right through your smartphone and network.
You don't need to get your phones topped up before making international calls or connect your laptop to internet anymore. With 3G usage, your long-distance friends can be right beside you in every important event of your life but this also means that your nagging relatives who live in Canada will be calling you all the time so you better set your privacy settings again!
2. No More #SelfieLove Infront of the Mirror Only
All hail to 3G/4G, your self-love will not be restricted to mirror selfies only. 3G will allow you to stay connected to your social media accounts without ever being offline. You can take as many selfies as you want (#CarSelfie, #OfficeSelfie, #HomeSelfie, #SleepingSelfie, #CrazySelfie, #WhileTalkingSelfie, #BathroomSelfie etc.) and share them right away (#SelfieLove).
3. No More Missing Out on Your Entertainment Time
We all have been there, faced it and cursed the electricity guy badly for the times when we were either following the latest episode of our favorite season or watching a movie in the middle of a night and suddenly, the light went off and so did our Wi-Fi! but thankfully we've got 3G/4G in Pakistan now; if the light goes off – we have our gadgets to kill the time.
4. Why Download When It's Online
Why waste your device's memory when you can simply enjoy it online? There are many live streaming apps like Soundcloud and Ustream that allow you to listen to music, download songs and videos on the go and with 3G it's all within your reach now.
5. Multiplayer Gaming is a REALITY Now
Never before could have any Pakistani gamer thought of playing his/her favorite multiplayer game online without having a proper internet connection, even LAN's are vulnerable when it comes to Warcraft or Battle Field etc. but what if you don't need a LAN now, what if you can play online as much as you want even while on the go with no internet ping problems or disconnections? Surely, it is a gamer's true dream, isn't it? So make your dream come true with 3G/4G.
6. You Can Even Share Your Mobile Internet with Your Laptop

There are many places in Pakistan where your internet might not work but your phone's service connection would and that's exactly what you need to power up any of your smart devices (even your laptops) with a fast paced 3G/4G internet connection. So no more getting stuck at work without internet, no more traveling while disconnected, it's all in your phone now an ultra-fast internet connection to power any of your device with much more power than any of your regular internet connection.
7. 3G will Let You Live Stream Your Favorite Matches
Pakistanis are a cricket crazy nation but unfortunately, one just can't stop working even if it's for Afridi's famous six or Kohli's crying face but things are about to change with 3G/4G. No proxy at your working place or even at your university/college can stop you from watching your favorite matches. You can even download the epic moments and highlights to review later and continue to send minute by minute updates on your social media walls.
8. Down with the No Internet Excuse
The days are gone when you can reason out with your teachers or bosses because of the internet unavailability/issues. Now all your mobile networks offer 3G/4G services, some of them are proving to be better than our regular internet connections; so no more delaying your tasks but working on time, because as they say with great power comes great responsibility.
9. Online Education & Trainings
Those of you who are studying online or are trying to gain the advantage of the free online courses available for educating yourself, now you can do that in peace without any internet worries at least.
So those of you who were thinking of studying from Virtual University or availing a free online course from Harvard or of benefiting from the vast e-data available on Khan's academy 3G/4G is what you need.
So pack up your bags and start learning Pakistan.