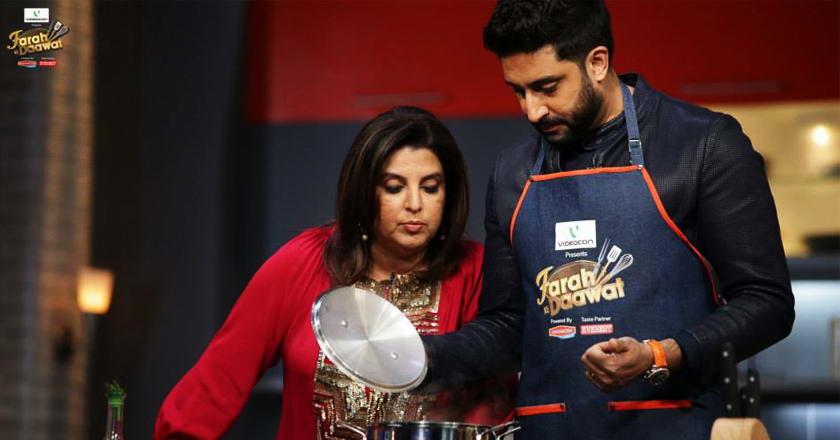 Bollywood choreographer turned director, Farah Khan, is now a chef!
Hosting the show, Farah ki Dawat, the renowned choreographer will be now be seen cooking scrumptious dishes at TV One from 1st March 2015. Joining her will be Indian celebrities like Alia Bhatt, Yuvraj Singh, Malaika Arora Khan, Shahrukh Khan, Karan Johar, Sania Mirza, Abishek Bachan, Kapil Sharma and others.
The show is originally an Indian production by channel, Colors TV and has already received much popularity with the first aired episode, featuring Abhishek Bachan cooking Dahiwala Murgh, King Khan's favorite dish.
While Farah Khan's hosting is entertaining, what the audience is more looking forward to is Malaika Arora making honey glazed chicken to Chaiya Chaiya tunes, Alia Bhatt confessing not knowing how to cook and Abhishek Bachchan admitting his preference for wife's cooking over mommy's. Farah Khan's culinary antics, celebrities making their favorite dishes, the games and food competitions in the show are keeping everyone hooked already!
On a gossip note, the show had planned a grand finale episode with Farah Khan's buddy Shahrukh Khan but the latest news claim that King Khan was a no show at the day of shooting.
While the reason given for cancelling the shoot was a busy schedule, rumors are doing rounds that SRK has some unresolved issues with Colors TV. With fans excited to see their favorite Khan on the show and Farah Khan looking forward to his famous chicken pasta recipe, here is to hoping Mr. Khan will still decide to make an appearance.