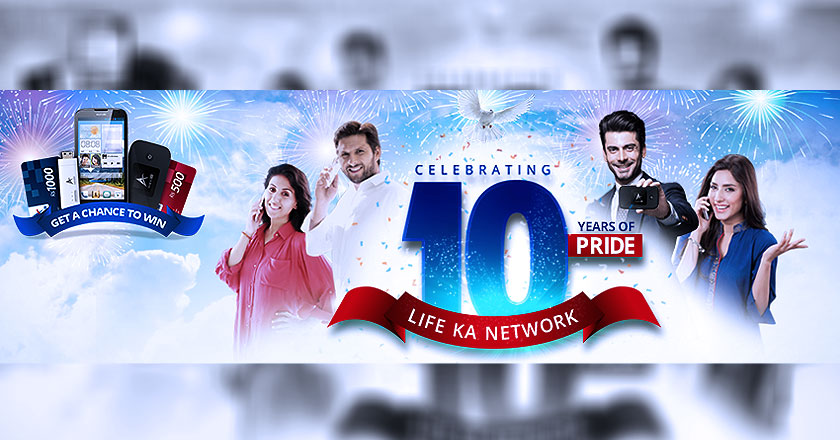 Warid Telecom celebrates its 10th year in Pakistan with its '10 Years of Pride' campaign.
On the event of its 10th Anniversary, CEO of Warid Telecom, Mr. Muneer Farooqui stated:
"Over the past decade, we at Warid Telecom have established ourselves as pioneers amongst innovative cellular service providers. Recently, we expanded into LTE services and became the largest and fastest growing LTE network in less than 6 months. The foundation of Warid's success lies with our devoted employees and loyal customers. It is their support which has led Warid to become the most trusted brand of Pakistan."
"I am also thankful to our stakeholders for their trust, to our honorable Chairman His Highness Sheikh Nahayan Mabarak Al Nahayan, Board of Directors and all our business associates involved in making Warid a success."
Warid telecom is a trendsetter and a benchmark in Pakistan's Cellular service industry. The company has a good reputation among its customer and to further improve it they have started several efforts.
To celebrate the pride in serving its customers, Warid have started an activity with the hash tag '#Warid10YearsofPride'. Customers have already started being a part of this activity.
My family needed money immediately in Lahore while I was in Karachi n it was a bank holiday #MobilePaisa helped me out! #Warid10YearsOfPride

— Kashaf (@KashafKm) May 23, 2015
#Warid is the first network who atarted to give the hisabkitab of balance after every call #Warid10YearsOfPride

— AsadQayyum (@AqCreativemind) May 24, 2015
Never settle less than the best #WaridLTE. #Warid10YearsOfPride

— AfaqAyub (@Mian_Afaq) May 23, 2015
#Warid10YearsOfPride@OfficialWarid Happiness of using #Warid is messaging Good Morning to my friend every morning

— javeriasalmanahmed (@javeriasalman2) May 24, 2015
Here are some details to participate in the activity and win prices which include Huawei G610, Warid Wingle, Warid Mifi and Warid PKR 1,000 & PKR 500 Scratch Cards.
How To Participate:
Share your #Warid10YearsofPride stories on Warid's Facebook Timeline and/or on Twitter
Your #Warid10YearsofPride stories should be around all pride moments Warid has been there for you
It is a must to use the hashtag #Warid10YearsOfPride with each story that is submitted
You can share multiple #Warid10YearsofPride stories at any time during the activity
A lucky draw will take place at the end of the activity where 10 best #Warid10YearsofPride stories will be selected as winners
Warid is an Abu Dhabi Group owned company providing state-of-art telecommunication services in Pakistan since 10 years. It is one of the fastest growing 3G and 4G network, namely, Warid LTE.
Contributed by Atiqa Shaikh.