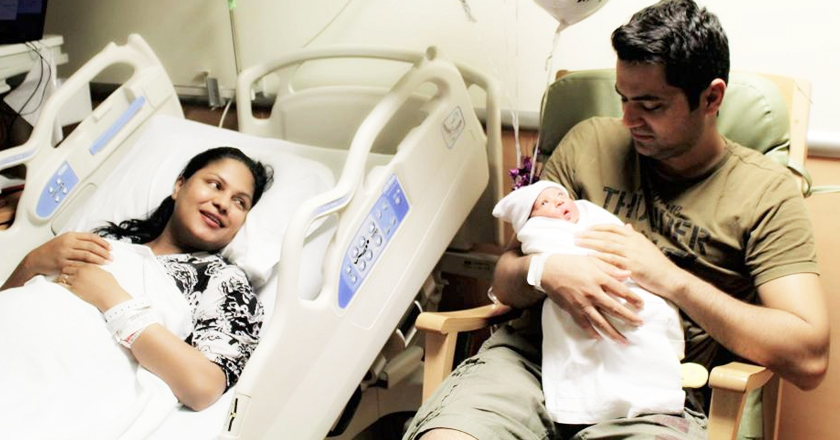 Controversy Queen, Veena Malik and her husband Asad Khan Khattak's healthy baby boy, Abram Khan is already a celeb now! Everybody knows that the kid is now on Twitter and has almost over 27,000, and the list is definitely rapidly growing.
Abram Khan is surely one popular child! 
The proud parents of the adorable kid has set up a Twitter account for the newly born right after his birth and since they have been flooding social media with his every tiny detail. The account goes by the name of @iAbramKhan and reads like a timeline, recording priceless moments of his life so far.
See for yourself;
Just setting up my Twitter. #myfirstTweet

— Abram Khan (@iAbramKhan) September 23, 2014
Awww my handsome dad @Asadbashirr loving me so much… i m so happy…@iAbramKhan loves you too… !!! pic.twitter.com/ILYNNOYC8s

— Abram Khan (@iAbramKhan) September 23, 2014
Alhamidullah my son @iAbramKhan entered home da 1st thing he did was he hold#QuranPak wth his cute hands,Subhanullah pic.twitter.com/cirvKJlMjS

— Veena Malik Khan (@iVeenaKhan) September 25, 2014
Alhamdullah I'm blessed to reach my home under the shadow of @HolyQuran1. Thank u mom @iVeenaKhan & Dad @Asadbashirr pic.twitter.com/J073G2yF73

— Abram Khan (@iAbramKhan) September 26, 2014
My first day out with Baba @Asadbashirr… My Baba is so handsome like me 😀pic.twitter.com/FfbRZNrAKC

— Abram Khan (@iAbramKhan) September 28, 2014
Guess what my baba @Asadbashirr whispering while i hold his finger… He said to me that we will go Umrah IA soon..!! pic.twitter.com/vkKEWWHyD8

— Abram Khan (@iAbramKhan) September 28, 2014
Me with my so loving Mama @iVeenaKhan …Allah Pak bless her and my Baba@Asadbashirr for giving me so much love..!! pic.twitter.com/LBI10PtpJQ

— Abram Khan (@iAbramKhan) September 30, 2014
My Hospital identity Card, when I was born, they pasted on the side of my bed and my Baba @Asadbashirr captured it..! pic.twitter.com/71gVXTndKE

— Abram Khan (@iAbramKhan) October 1, 2014