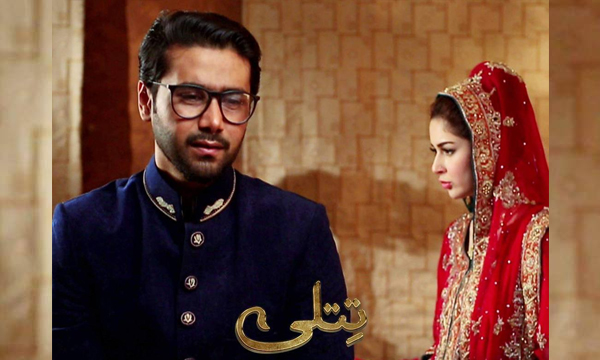 For many viewers, Urdu1's Titli might be a simple serial that would satiate their thirst for an everyday dose of entertainment! However, deep beneath the layers of dramatic moments and star power, there is so much more that its plot has to offer! With every episode, Titli unveils so many lessons for viewers to learn and carry with them every day.
Based on a true story, the drama narrates the tale of Naila-played by Hania Amir and Ahmed-played by Ali Abbasi. Three weeks down, we are seeing Ahmed falling in love with his fiancee and slowly coming out of his complex of being dark-skinned!
However, the audience will see Naila's character getting rather fierce in her materialistic perspectives with every passing chapter. Filled with contempt and hatred, she can be seen feeling repulsive towards Ahmed all the time, just because he is an average-looking guy.
Meanwhile, Naila has not forgiven her cousin Zimmi for rejecting her and keeps on rubbing in his face that he is poor. Time and again, she reminds her family members how much expensive gifts she has received from her in-laws and how they can never afford such valuable things in life.
On the other hand, we see Zimmi get drawn towards Naila's younger cousin, Zara. In the next episode, we will probably see them getting hooked together.
The wedding celebrations kick start with a bang but Naila remains in her shell of bitterness.

On the wedding day, she mercilessly breaks Ahmed's heart by declaring she never intend to marry him in the first place!
The promo of episode 4 shows Ahmed, desperately trying to save the forced nuptials, while Naila remains disdainful towards her husband.
Watch the promo for Titli's episode 4 here.
Urdu1 Titli Drama Review: Hania Aamir's Serial Highlights Our Society's Bitter Truth
We have to admit that Hania is the queen of expressions. All those who had seen her in a bubbly avatar in Janaan will be enjoying her vile look. Meanwhile, the rising star Ali Abbasi too is doing justice to his role of a guy with a soft heart.
For those who don't know, Titli, airs on Urdu1 every Friday at 8:00 pm.
Stay tuned to Brandsynario for more updates!