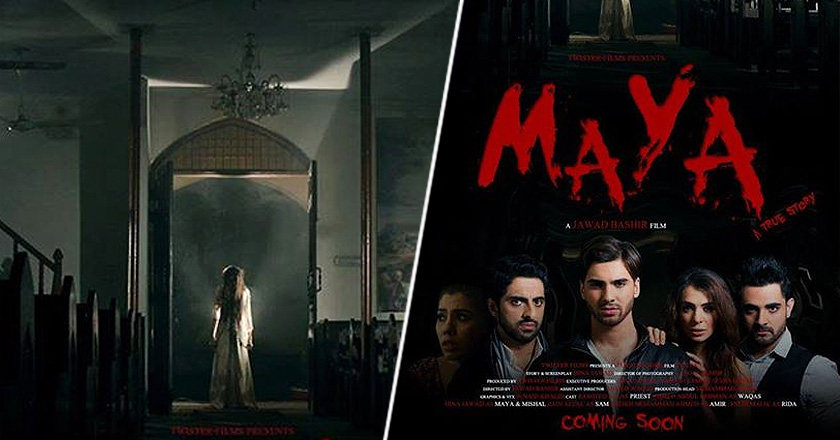 Maya, an upcoming Pakistani horror movie, has just released its first theatrical trailer. The director Jawad Bashir has high hopes for the movie as there hasn't been any decent let alone a horror movie in Pakistan in ages.
The revival of cinema has given hope to all and cinema goers have been really enthusiastic about new releases. Jawad Bashir has been inspired by Japanese horror movies and we might see 'Maya' reflect the same.
The movie has been inspired by true events which took place in Denmark. Hina Jawad heard the story and that's what inspired them to make it. The film as told by Jawad Bashir and Hina Jawad is very close to the real incident. They also said that the movie is nothing Pakistani so we might expect it to be based in another country.
The cast of 'Maya' includes Hina Jawad, Ahmed Abdul Rehman, Zain Afzal, Anam Malik, Rasheed Ali, Sheikh Mohammad Ahmed and a guest appearance by Ali Aftab & Jawad Bashir.
The trailer starts with some friends on their way to what appears to be a farm house for a party. But things go awry at the party as a murder is shown in the trailer. Next we see an unseen force trying to turn a girls hand towards her.
An evil has been set free from the grave and a curse awoken. Friends get scared and paranoid of each other as the trailer unfolds. There are shots of a church and a father warning the friends that they shouldn't have come here. A funeral and a grave s at the center of the story line it seems.
Watch the trailer below:
Lollywood Movie Maya Official Theatrical Trailer Starring: Ahmed Abdul Rehman , Hina Jawad , Zain Afzal , Sheikh Mohammad Ahmed , Anam Malik , & Rasheed Ali Guest Appearance Jawad Bashir & Ali AftabGenre: HorrorDirected By: Jawad Bashir

Posted by Lollywood Movies on Saturday, May 2, 2015
The effects look promising and the story as chilling. Let's hope this project revives the engraved horror genre in the Pakistani cinema.