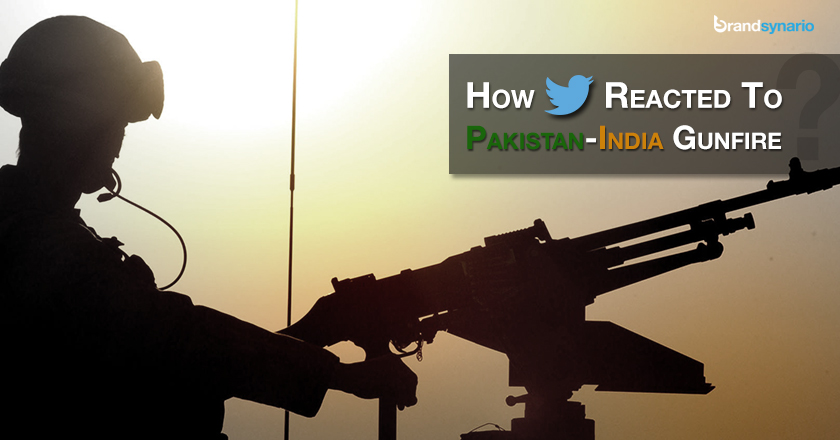 The cross border war between India and Pakistan has started once again , i.e. over the border after India initiated the fire at the shared border.
Both countries are blaming each other for the uninvited attack. While the fact remains, that the victim of this head to head retaliation between both these nuclear powered neighbors are the innocent civilians.
The death toll of Pakistani civilians has risen to 12 with a couple being killed in Sialkot by Indian Gun Fire this Thursday. While the number of injured civilians during the cross border attack is now 43.
Although, the war is being raged at the borders of these two hostile neighbors, the effect of it is clearly being felt with the rise of enmity between the two countrymen.
Soon after the start of thr incident, the micro-blogging social media Twitter fired up with citizens ranting against the opposing country. Some of the hash tags that quickly made it to the trending list of twitter, included:
#CowardModi
#IndiaIsTerrorist
#SayNoToBollywood
#BuzdilPakistan
#PakDare
Some hardcore emotions that were clearly seen through the tweets including these hash tags included:
#Indians r losrs.Their army is atcking at civilians. Bt nt at our army. Pk army is gvng solid ans to their army nt civilians #cowardmodi

— Adnan Aslam (@iAdnanAslam) October 10, 2014
India is very well trained army…….. Yes, Trained to kill unarmed & innocent people in Kashmir & LOC! #IndiaisTerrorist #CowardModi

— MuhammadAnjumKiani (@AnjumKiani) October 9, 2014
Do you think killing Pakistani Civilians on the day of Eid makes you a hero? No! It only makes you a #CowardModi

— Farhan Khan Virk (@FarhanKVirk) October 8, 2014
"@Rofl_Delhite: 16 year old kids have access to guns in pakistan. #BuzdilPakistan#PakDare pic.twitter.com/VsN396KoSd" And we play with grenades

— Talhaaayyyyyy. (@OyeTalha) October 10, 2014
165 Pakistanis killed out of which 85 are from Pakistani Army and 90 Pakistani army posts destroyed #BuzdilPakistan pic.twitter.com/gqNi6xzHXu

— Sonia Sinha #WDL (@krishnpria) October 10, 2014
The situation suddenly grew worse and Pakistani hackers had to roll up their sleeves and get down to work, instantly taking down 3 Indian websites and the news quickly made it to twitter:
Lol Indian websites hacked. #BuzdilIndia #CowardModi #SayNoToBollywood#Indiaisterrorist pic.twitter.com/Rak3GdzQQl

— A. Rafay Khan (@RafayKhanSays) October 8, 2014
It's quite clear that these messages are not just a social media trend but are a clear portrayal of people's emotions, which might get out of hand if soon the situation is not taken under control.