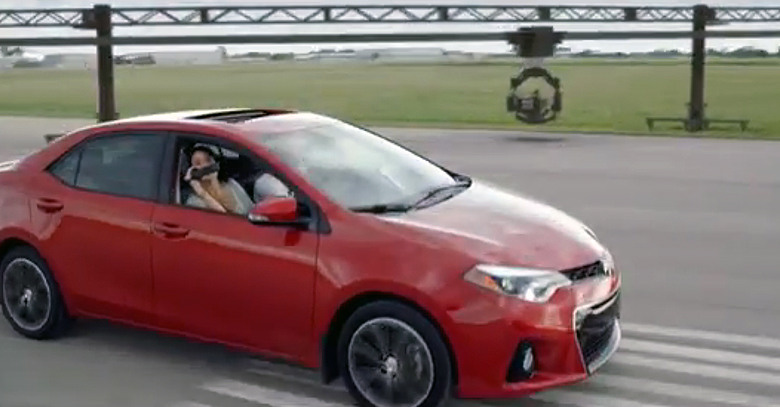 By Ufaq Ashfaque
The new Toyota 2014 commercial, created by Saatchi & Saatchi, has left audience swooning over it on the internet due to its creativity and catchy visualization. The ad captures the new Toyota 2014 edition, which was introduced on July 6, 2013, from root to tip, showing the immaculate style, design and invisible features that make the car appear like no other Toyota produced before.
The 80-year old brand launched its new car. This 2014 edition has been pitched on four major parameters: the exterior, the interior, improved technology and safety. The exterior has a unique, sleek design symbolizes mobility and class.
The TVC focuses on capturing the very style of Toyota's latest edition through various camera angles.
The ad was shot with nearly 100 different cameras, using a number of completely unique and innovative camera techniques. The ad shows the car in as many unique ways as possible. Hence, a few feel more attention has been paid to the camera techniques rather than the car itself.
The interior is laced with a hi-tech dashboard, packed with a moon roof, eight safety bags and a gated shifted which is a covered gear to amplify your driving experience.
Considering the tech-savvy nature of the new Toyota, the 2014 edition is packed with the most advanced navigational systems, along with Bluetooth facility to transfer audio files, voice recognition for avoiding theft and security breaches and a backup camera to capture all footage in case of any untoward circumstances.
Toyota is known for producing some of the world's best and most used vehicles. It has surely conquered the roads.
Beginning its journey in 1933, Toyota established itself as a brand dedicated to improving the driving experience of its consumer while providing them with a sturdy car.
The new Toyota 2014 could be the next big thing.  What's your take on it?